Learn what it takes to have a successful future from these company leaders in our new series.
Taking the road less traveled
Moving from electrical engineering to consulting firm president, Masao Namiki has taken a unique career path.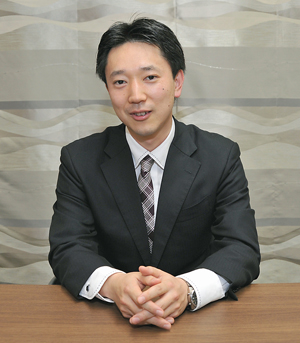 "When I go to a reunion, I'm usually in the minority," Namiki, the president of Road Frontier, said. "I feel as if I'm invited just to be someone for the others to talk about."
He had been developing chips used in mobile phones at the research and development center of Dallas-based Texas Instruments Inc. in Tsukuba, Ibaraki Prefecture, for eight years until June 2009, after completing a master's degree in engineering at Tokyo University of Science.
His current job is to provide consulting services to company presidents whose business fields vary greatly, from a human resources outsourcing company, to a flower shop to a nonprofit organization engaged in humanitarian support.
He began thinking about starting his own business in 2008. Even though he was comfortable in his job and had a relatively senior position at Texas Instruments, he said, "I couldn't see any future and wanted to be able to stand on my own."
In preparation for striking out on his own, he began studying for his financial planner certification. He chose the certification, out of many others useful for starting his own business, because he had spent a lot of time negotiating a bank loan for both his house and his parents' house. Taking out a loan was tricky, because most people do not build two houses simultaneously. He studied financial planning firsthand during his negotiations to get a loan, he said.
He received his financial planning certificate in 2008 and began counseling people who came to him with financial problems. He barely made any money from the consultations as he usually did not charge for them, he said.
The exam to become a financial planner was not difficult and he was able to study while he was still working, he said.
Namiki did not quit Texas Instruments because his consultation business was going well. It was because the company began cutting jobs after the so-called Lehman shock, in September, 2008.
After leaving the chipmaker, he obtained his MBA from Hosei University and a Small and Medium Enterprise Management Consultant Certification in March 2011.
Road Frontier, which he established in April 2011, not only does consultations, but also "functions as a combination incubation and venture capital center," he said.
Road Frontier does not have any employees, but instead has four "partners," who came up with an interesting business plan and discovered Road Frontier an ideal place to realize it, he said.
For example, one of the partners is engaged in recruiting lecture attendees. He recruits students who pay for Namiki's talks on leadership, marketing, logical thinking and other subjects.
He has also been lecturing at some universities.
"At my lectures, the subject students were most interested in was what I call katsugaku (literally meaning energy study). Some examples of this are how to express emotion, make future plans and handle trauma," he said.
Even though the katsugaku topics were irrelevant to the stated topics of his lectures such as marketing and management, students listened more carefully and students from other universities sneaked in to listen to him speak, he said.
"No business schools teach katsugaku. So I launched my school teaching it in April," he said, adding that he wants to continue the school business because he likes giving people katsuryoku (energy).
Namiki has no shortage of ambition. He has a concrete goal of increasing the number of Road Frontier partners to seven and to reach annual sales of ¥200 billion yen.
He wants to make katsugaku a recognized facet of education. He also wants to start a business to make such things as website analysis software, which he can use for his consulting jobs as well.
He would also like to create a Silicon Valley-like community for social entrepreneurs as he is currently lecturing at a social entrepreneurship school, he said.
His entrepreneurship comes from his childhood. As an elementary school pupil, he would pick up televisions and other discarded items and sell them at recycle shops, he said.
"That is probably how I came to think everything would be alright if I had knowledge and technique," he said.
Asked what he would say to potential partner candidates, the first thing was, "Have fun in your business."
"Do your business as you played at your secret hideout as a child," he said. "Business is supposed to be fun. If you're not having fun, customers will not come to you."
This series has been prepared in collaboration with Enjin Co., which produces and operates a video website, kenja. tv, specializing in profiles of up-and-coming entrepreneurs in Asia.
---