Learn what it takes to have a successful future from these company leaders in our new series.
Evolution of health care
His treatments are not designed to cure disease. The sessions are not psychological consulting or spiritual therapy. Yet, patients of the Dolphin Medicine Clinic showed remarkable improvement in their symptoms. These patients include two with cancer, including one whose disease had spread to the brain. Dr. Tadashi Matsuhisa, who runs the clinic, uses neither drugs nor performs surgery to treat his patients. He only checks patients' spines to find gaps and disorders, and "corrects nerve flows."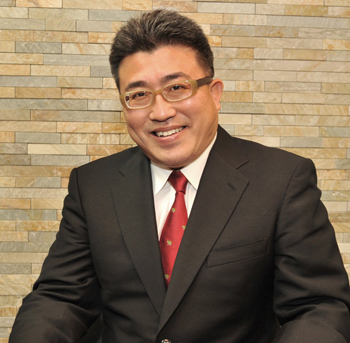 "Nerves are the pathways of divine energy, and the entire human body is governed by nerve flows, which run from the brain through the spine," Dr. Matsuhisa said in an interview in Tokyo. "With my patients, I ascertain their correct nerve tuning and adjust it so they can have more comfortable lives."
Dr. Matsuhisa does not have magical "God hands," nor is his technique something no one else can do. It is based on many years of practice as an orthopedist in Japan and chiropractic knowledge gained in the U.S. Dr. Matsuhisa improved his technique using the knowledge he obtained to create his own treatment methods, he said.
"The things I learned in Japan and the U.S. were not my final goal, but only checkpoints," he said. "I'm now trying to cure cancer and incurable diseases such as Alzheimer's and Parkinson's."
After graduating from Keio University's School of Medicine in 1992, Dr. Matsuhisa started his medical career as an orthopedist at Mie University, near his hometown in Mie Prefecture. In September 2000, he went to the U.S. to attend the Southern California University of Health Sciences and expand his chiropractic skills and knowledge.
His two years of studying in Los Angeles left him unsatisfied because he couldn't find what he was looking for at the university's College of Chiropractic. What Dr. Matsuhisa was seeking was the intangible something that makes man human.
"The chiropractic at the university was more evidence-based medicine than I thought, using blood tests and CT scans," Dr. Matsuhisa said. "The practice at the university dealt with something tangible. I believe that what makes man human is intangible and I wanted to deal with it."
Dr. Matsuhisa found the intangible something in November 2002 when he transferred to Palmer College of Chiropractic in Iowa, where he learned of the Gonstead technique of chiropractic treatment. At Palmer College there were several chiropractic clubs and organizations, and the Gonstead Club was one of those.
The Gonstead technique was very different from the methods Dr. Matsuhisa had learned and practiced until then, and the treatment was very much what he was looking for. The primary philosophy of the Gonstead technique is that the entire human body is controlled by nerve flows running from the brain through the spine, and that the organs and each part of the body are linked to the mind. It was the intangible thing Dr. Matsuhisa had been seeking.
After graduating from Palmer College in February 2005, he became something of an ambassador for the Gonstead technique. While working at a Gonstead clinic in Phoenix, Arizona, he volunteered to practice the Gonstead technique in El Salvador. In April 2009, he opened his own clinic in Kamakura, Kanagawa Prefecture. Now, patients from all over the country rush to make appointments, and his outpatient services are booked for the next six years, he said.
Yet, seeing his clinic packed with patients doesn't satisfy him. His mission now is to spread understanding of the Gonstead technique among patients, and to spread the practice of it among doctors, Dr. Matsushisa said. That is why he spends much of his time giving seminars and lectures to both patients and doctors, sometimes spending more time on those than on seeing patients. However, it's not an easy job.
"Many doctors and chiropractors come to my seminars only to learn the techniques, and that disappoints me," Dr. Matsuhisa said. "The Gonstead technique can't be mastered in one day or in one seminar, because it takes time and training. What is important is to understand the principle of the practice."
Drugs and surgeries in modern medicine only treat disease "symptoms," but they don't cure the diseases themselves, Dr. Matsushisa said. Rather, they reduce people's congenital ability to heal illnesses and diseases, he said.
"My idea is to make patients consider why they became sick and change their minds and attitudes on life," the doctor said. "The ultimate goal of my practice is not only to cure the symptoms of a disease. It's to make patients fix their lives with their own innate energy and without drugs."
His view is very different than conventional medical practices.
Through his experience of practicing modern medicine and the principles of chiropractic knowledge, Dr. Matsuhisa has created his own new system of health care, in which he restores people's innate healing ability using his hands without drugs or surgery.
This series has been prepared in collaboration with Enjin Co., which produces and operates a video website, kenja.tv, specializing in profiles of up-and-coming entrepreneurs in Asia.
---