Learn what it takes to have a successful future from these company leaders in our new series.
From the bottom to standing on his own
Akihiko Shiba has been through a lot.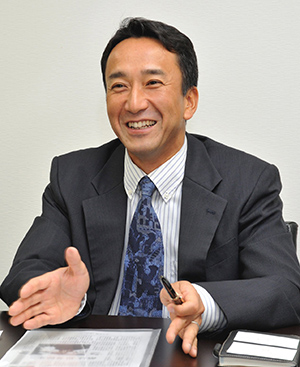 The first phase of his career went off on a flying start as he became an elite bureaucrat at the National Police Agency. He even acquired a Master of Business Administration when the agency sent him to the Yale School of Management. But a scandal in an organization he was later assigned to forced him to leave the agency after over eight years on the job.
Then, after undergoing pressure to pass the bar exam during three years of unemployment, he finally became a lawyer.
"I went down to the bottom, but now in my job, I am making use of the lessons learned from the worst experience in my life," said Shiba. The 46-year-old runs Shiba Management Legal Office in Tokyo, which provides legal advice on risk management to clients.
Upon graduating from the University of Tokyo after majoring in law, Shiba entered the National Police Agency in April 1991. When he was later assigned to the Kanagawa Prefectural Police Department, some police executives there covered up illegal drug use among police officers.
In the crackdown of Kanagawa police officers, Shiba's case was also sent to prosecutors in November 1999. Shiba had never been arrested and prosecutors decided not to indict him. (If he had been indicted, he would probably have received a prison term, which would have disqualified him to be a lawyer.)
However, Shiba quit the National Police Agency in December 1999 due to pressure from the agency, even though he loved his job.
He was then dating the woman who would become his wife.
"I thought she would leave me when I quit the force. Instead, she supported me and we got married the next month, in January 2000," he said. "I was at the lowest place in my life and she saved me."
He then began studying for the bar exam, going to a cram school for law students. The other students were mainly in their 20s, while he was in his early 30s.
"Right then, I thought I did not want to work for a large organization. I wanted a job I could do with my own abilities. I also thought it would be better for me to have some sort of qualification and do something good for people and society," Shiba said, explaining why he wanted to be a lawyer.
He had been effectively unemployed for three years until he passed the bar exam. During that time, he was not worried about the future as he and his wife were both "optimistic people," he said. Rather, he enjoyed studying law, he added.
After passing the exam, Shiba had another turning point in his career when he met Tadashi Kunihiro of T. Kunihiro & Co. Attorneys-at-Law, a Tokyo firm that specializes in providing advice on compliance and risk management.
Shiba had job offers from several large law firms, but decided to work for T. Kunihiro & Co., which had just a handful of employees.
He also liked the fact that risk management was something in which he could use his experience as a police officer, and Kunihiro was eager to hire him.
At Kunihiro's firm, Shiba learned that his responsibility was to give advice that is often what his clients do not want to hear.
"I should say what I have to say to clients. When scandals happen, clients must somehow bleed; they have to come clean and go public with the truth, and punish people responsible," he said. He knows from his experience the extensive damage that can come from delaying such actions.
"The keyword for compliance is transparency," he said. "Now is the time of great transparency. Even if something is not visible now, you never know when Internet postings or whistle-blowing from insiders will shed a spotlight on scandals."
Therefore, organizations should make everything transparent all the time, and must not do something they cannot explain to the public, he said.
Those lessons from his experience at Kunihiro's firm became part of Shiba's wisdom.
"Mr. Kunihiro was a great man, and I could perform many interesting jobs with him. But I wanted to stand on my own feet," Shiba said, explaining why he established Shiba Management Legal Office in 2010.
Like Kunihiro's firm, Shiba's law office helps clients when they become involved in a scandal. Shiba's team investigates detailed facts and gives advice on whether and what to announce to the public, and whether and how to punish the parties involved. The work also includes giving advice on creating rules that can help prevent scandals.
"I think I am a very rare breed," Shiba said. "I may be the only person in Japan who has an MBA, is a former National Police Agency officer and a lawyer. On top of that, I have the experience of a nearly life-long failure."
This series has been prepared in collaboration with Enjin Co., which produces and operates a video website, www.kenja.tv, specializing in profiles of entrepreneurs in Asia.
---