Learn what it takes to have a successful future from these company leaders in our new series.
Doctor moonlights as musician
Perhaps like a comic book super hero, singer-songwriter Hitoshi Yatsuka has a second identity. When he puts on his doctor's coat as the chief doctor of his Yatsuka Seikeigeka Naika Clinic, he goes by his real name, Nobuyuki Fujita. The orthopedics and internal medicine specialist also founded music company Teatro alla Soka in 2008, through which he performs with his stage name.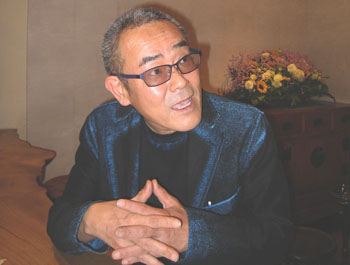 The birth of "Hitoshi Yatsuka" dates back five years ago when he was drinking with a hostess at a bar near his clinic in the Yatsuka district in the city of Soka, Saitama Prefecture.
"I was chatting over a drink with a hostess about my hobby watching operas and ballets. Then we said, 'If there is a Teatro alla Scala, why shouldn't we have a Teatro alla Soka?' " Yatsuka said.
He did not have any prior singing experience except for the occasional karaoke song. At first, he didn't take this idea of a Soka version of the famed opera company in Milan, Italy, seriously.
Then his cousin started a business creating websites and asked Yatsuka for some work. So Yatsuka commissioned his cousin to create a website for Teatro alla Soka, which encouraged Yatsuka to turn his musical hobby into something serious and continuous.
Until last year, Teatro alla Soka had never released CDs with Yatsuka's songs, only songs by his clinic's staff or other singers. Some of these songs can be heard in family restaurant chains such as Jonathan's and Gusto, he said. Both chains belong to the Skylark Group.
Not all his patients appreciate Yatsuka's musical engagement, he said. The number of patients has slightly increased, but "some patients criticized me that I am not taking my doctor's job seriously."
"I guess patients who understand jokes remain my patients," he said.
His staff also had funny reactions when he started Teatro alla Soka.
"They looked at me as if I were a weirdo," he said. "But soon, they got used to the idea and joined me."
Drinking at a bar again gave him some direction in his musical pursuits when a man he met there told him he used to be a professional-singer-wannabe and had released some CDs in the past.
"The guy told me I should release CDs, too," Yatsuka said. "So I did."
He has so far released two CDs — "Hitoshi Yatsuka's Heavy-Meta-Devil-Bop-Bi-Di-Boo" and "Hitoshi Yatsuka's CM Song Collection" — singing songs he created. He will release a third CD, "True Love," in August. That same month, he will also release an English-lyrics version of "Heavy-Meta-Devil-Bop-Bi-Di-Boo."
The first CD was released in August 2012 and mainly contains love songs and ballads. The second CD, released in April, is a collection of songs advertising various local businesses mainly in Soka.
On YouTube, "Heavy-Meta-Devil-Bop-Bi-Di-Boo" has had 1,100 views and "Datte Soka no Yoru damon (Because it's the night in Soka)," a song from the second CD, has had more than 1,000 views.
Yatsuka wants to make Teatro alla Soka economically sustainable, but it has posted a cumulative loss of about ¥6 million in its five years of existence, he said.
His future goal is for Teatro alla Soka to organize a musical, with, of course, him performing in it.
The name of the musical is "The John O'Groats," which is the name of a bar in Soka. The plot centers on four beautiful female customers who come to the bar and talk about their lives. Yatsuka wrote the script a few years ago.
"When we did it in the lobby of our clinic, we could not dance because the space is too small. The audience numbered only about 30 people, mainly neighbors. Not many patients," he said. "I want to do this on a much bigger stage."
The native of Hiroshima Prefecture was born in 1956. He came to the Tokyo area at 18 and graduated from National Defense Medical College. He was first employed at a hospital but quit and did various part-time jobs, earning little money.
He realized it was important to take a job seriously. Thus, he founded his own clinic in 1991.
"It was exactly when the bubble economy burst. I borrowed money and was in great financial trouble at first. I became a guarantor for my friends who had also borrowed money," he said. "I was sleeping at my clinic every night for the first year and went to a consumer financing company every month in order to pay salaries to my employees."
Asked if he is cut out for being an employee, he said, "Everybody wants to be employed and do whatever they want at work because they want to avoid risk. But that's really a lucky situation. So, there are two options: Start your own business or build a perfect human relationship in your company."
This series has been prepared in collaboration with Enjin Co., which produces and operates a video website, www.kenja.tv, specializing in profiles of entrepreneurs in Asia.
---