Learn what it takes to have a successful future from these company leaders in our new series.
Taking a new approach to cancer
Cancer, which covers several diseases, is one of the most fearful health conditions. Modern medicine has not completely overcome the phenomenon of unregulated cell growth.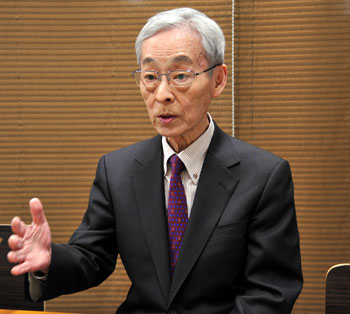 Shunichi Magara, the director of Somon-Hachioji Clinic in Hachioji, Tokyo, is a doctor who conducts cancer treatment without the use of anticancer drugs that are normally administered.
As a specialty clinic in cancer treatment through immunotherapy, the clinic has treated over 2,700 cancer patients since it opened in 2003 and currently has 300 regular patients.
Magara, 74, approaches treatment with patients by counseling them to make daily changes, including to dietary habits and ways of thinking about cancer, while also making use of acupuncture. His treatment has received recognition from Masahiro Sugawara, a physician at the UCLA Health System, who even asked Magara to treat an acquaintance.
Magara, whose father was a doctor as is his brother, was born in Niigata and graduated from the School of Medicine of Niigata University. He has also worked in obstetrics and gynecology.
When he was in his 50s, he suffered from hives and for a while he took antihistamine medication that was said to be the best for the symptoms.
"But once the effects of the medicine wore off, my skin started to itch again," Magara said during a recent interview with The Japan Times in Tokyo.
One day, he flipped through a health magazine and found an article saying that garlic soup works well for asthma sufferers. Since both hives and asthma are allergic reactions, Magara just tried garlic soup without thinking too seriously about it. Then, after three weeks of drinking the homemade garlic soup, his hives were gone.
"I was astounded by the fact that a piece of garlic can surpass modern medicine and stunned by the potential of natural healing ability," Magara said excitedly.
Since then, he started studying about garlic and its ability to heal human diseases and noticed how important the dietary habit is for people to treat diseases. Thus, for example, he recommends to his patients not to eat animal products.
"As the research progressed, I gradually realized how great a power the human capacity for natural healing is, something that I had never seen," Magara said.
He noticed that in order for people to enforce the immune system that prevents as well as rids diseases, people needed to improve the performance of their lymphocytes. Thus, he started treatment to work on the autonomic nervous system, in relation to the immune system, through acupuncture and moxibustion therapy.
As some research reports sometimes say that from one to 300,000 people died due to adverse effects of drugs, Magara doesn't use drugs in his treatments, except some natural herbal medicines.
The treatment approach Magara most values and believes is most important is to change people's consciousness.
According to Bruce H. Lipton, an American developmental biologist and author of "The Biology of Belief," genes and DNA can be manipulated by a person's beliefs.
"The idea that genes control biological functions is now getting old," Magara said.
According to Magara, when people are told that they don't have much time left, the symptoms of a person who then becomes shocked and disappointed about the future will get worse. The symptoms of those who still have hope for their future and are willing to live do not get worse as quickly and sometimes even become better.
Hence, he teaches his patients to have totally optimistic minds through counseling and by showing previous precedents of fully recovered patients.
He said that when he examined some of his patients with CanTect, a cutting-edge gene testing equipment, it proved that after his treatments, the effects of both cancer-promoting and cancer-suppressing genes changed from before his treatments.
Magara has written three books: "Gan wo Naosu Shikumi wa Anata no Karada no Naka ni Aru (The mechanism to cure cancer is within your body)" (2007), "Gan, Shizenchiyuryoku no Bakajikara (Cancer and the super power of natural curative ability)" (2009) and "Gan wo Naosunoni Kusuri wa Iranai (Killing cancer without using drugs)" (2012), which states the detailed ideas of his treatment for cancer.
He sometimes holds health seminars to provide tips to help cancer patients have a better quality of life. The next such seminar will be held on April 6 in Osaka.
This series has been prepared in collaboration with Enjin Co., which produces and operates a video website, www.kenja.tv, specializing in profiles of entrepreneurs in Asia.
---