Learn what it takes to have a successful future from these company leaders in our new series.
Progressing by not looking back
"The enemy to your development is always yourself."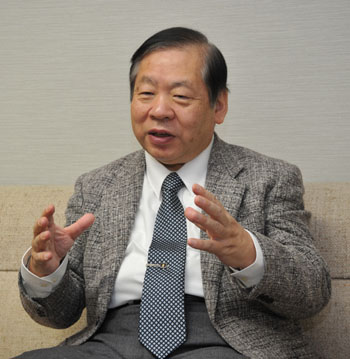 This is the motto of Hideyuki Kurihara, the director of Kurihara Eye Hospital in Hanyu, Saitama Prefecture, who makes sure he always says this to younger doctors.
The active, energetic 66-year-old says he never stops evolving, whether as a doctor taking responsibility for patients or as an individual seeking self-development.
In his neat gray suit and with his mild manner, answering every question in a recent interview in Tokyo with a smile on his face, Kurihara's looks may be deceiving. But in his eyes, there is the strong will of a person with the drive to succeed, who says what he means and means what he says.
After he graduated from the graduate school of Iwate Medical University in Morioka, Iwate Prefecture, Kurihara worked as a manager at the ophthalmology department at the Hachinohe JRC Hospital of the Japanese Red Cross Society in Aomori Prefecture. He then went on to become a professor at Toyama Medical and Pharmaceutical University.
Later, Kurihara returned to his native Saitama to establish his hospital. For nearly 30 years, Kurihara Eye Hospital has functioned as a community-based hospital. The hospital offers leading-edge medical care for various conditions, including myopia and hyperopia as well as surgery for cataracts and glaucoma, through several doctors and state-of-the-art medical devices.
Medical technology continues to progress quickly and doctors are always required to keep pace with the latest developments.
"Experts know a specific field well, but doctors need to have high knowledge and skills in many areas, just one is not enough," Kurihara said. "When you face a patient, you can't say, 'I can take care of this part, but not that part.' "
In addition, doctors are required to acquire a profound understanding in each area to explain to patients and their family in understandable terms what the symptoms are like and how they will treat them. Offering accurate information encourages the patients to go into treatment and eliminates concerns from family members, too.
Kurihara stresses a constant determination for development and improvement in skills and knowledge.
"As people get older and acquire more knowledge, it becomes difficult for people not to think about what they have achieved so far," he said. "But, when they hope to progress, it is very important to completely focus on what they have now as if at a new starting point."
Regardless of position, doctors will face an unknown situation that may require them to ask a younger staff member for advice.
"We always have to try to find a better way than as it is," he said. "It is very important to look at yourself in an objective way and to listen well to others."
To do so, not only doctors but also people in general have to try to have as many experiences as possible.
Kurihara is never satisfied with the current situation and that is one of the reasons he has many hobbies and starts new things every year. Since he was young, he has loved reading books and has an interest in many fields, including tanka, arts and history.
After working at his hospital in Saitama, Kurihara goes to Tokyo to take various classes, for example in photography. When he is in the hospital, he is the head doctor and people address him with honor. Once he is in a class, he is just one of the students there to learn from the teacher.
"It is very fun if you can enjoy the gap," he said, smiling. Interacting with various cultures and fields will help people see many different worlds, enriching them in the process, he adds.
"If you don't make any efforts, you can't even maintain the status quo, but only go backward," Kurihara said. "All we can do is just try and do it. There is no time to look back."
This series has been prepared in collaboration with Enjin co., which produces and operates a video website, www.kenja.tv, specializing in profiles of entrepreneurs in Asia.
---