Learn what it takes to have a successful future from these company leaders in our new series.
Developing an alternative business model
Kazuki Kinoshita started Dresh to fulfill the origin of the company name, a combination of "dream" with "wish." Defining himself as a surprise planner, he looked back on how he became one.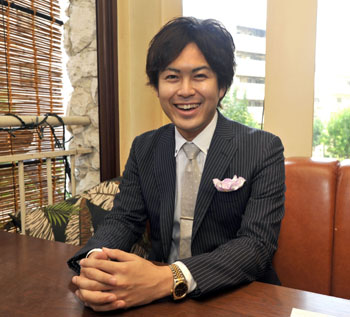 "This is a name I created for the job I am doing now," Kinoshita said.
"When I was a high school student, I suffered from depression. I couldn't go to school. I questioned the meaning of life and what happiness really meant. After thinking for about two years, I reached the conclusion that happiness depended on your own feelings. You only live once, so I decided to enjoy each moment of my life," he said.
After entering university, Kinoshita started wondering why everybody worked.
"Things like water and food are necessary to survive, but work is a means for living. I observed many grown-ups forcing themselves to work unhappily. I didn't want to do that. I wanted to pursue enjoyment. I felt happy when I was playing. But to play, you needed time and money," he said.
While still wondering about work, he ran into a friend at school carrying a pamphlet on how to become a certified public accountant.
"Going through the pamphlet, I thought this might be a good job. So I started studying and passed the exam in my fourth year at college. I worked for four years as an accountant," he said. "My reason for becoming one, however, was to have the time and money to play. So I strained to get my job done and leave the office exactly at five. I went out after hours with my friends to have a drink, go traveling and so on."
But eventually, another question arose in his mind.
" 'Shigoto,' or 'work' in Japanese, means to 'serve' someone. Being an accountant meant that during the work hours, I had to serve. My basic thinking to live happily hadn't changed. I vaguely thought that everything would become 'play time,' if my work hours could be changed into play," he said.
Hence, he quit his job and went on a soul-searching trip for about a year.
"I realized that I wanted to work to make people smile happily. That was still an abstract image. The keyword I eventually arrived at was 'surprise.' I wanted to provide emotional satisfaction and content through surprise. Hence, I became a surprise planner," Kinoshita said.
That turnaround in life took place around late 2009.
"But I still did not have a concrete plan on what to do. So I attended many meetings, listened to what others said and encountered a special person who decided my destiny. Receiving various external stimuli, I eventually made a breakthrough," he said.
This was also the time he went to Tokyo Disneyland.
"I've always been a great fan of Disneyland, especially their shows and parades. They make people smile from their heart. I suddenly noticed this was what I should be doing. I thought that I should become the person that will make everybody smile happily, by creating a theme park that exceeds Disneyland."
According to Kinoshita, there are two kinds of dreams.
"One is a dream that you are determined to achieve. Another is a vague wish that will end as a mere dream. I am resolute to realize my dream. This requires a means. You have to separate work from a money-making business," he said.
"As a surprise planner, I plan various events such as cruise boat parties and so on. I often cover the expenses because I simply want to see the happy, smiling faces of those attending," he said. "As a sure income source, I am doing overseas business to introduce various patents and rights to Japan, provide consultation on the latest marketing skills and tools, and so on.
"I also lead an entrepreneur nurturing school called the Expert Academy to develop what I call 'smart grown-ups,' especially young people of my generation who have dreams but do not know how to realize them. I provide support until they can stand on their own feet, find their goal in their jobs and become experts in their own fields," he said.
Kinoshita hopes to eventually work with those graduates of the Expert Academy at his surprise planner events.
He also noted the importance of grown-ups to have their own dreams and work in earnest to realize them "because children couldn't possibly have a dream if there isn't a role model around them."
As for the coming few years, Kinoshita plans to expand his business globally. He hopes to open Dresh World in 2015.
"Parades and events can be disseminated around the globe through so-called flash mobs. They can also be linked to town revitalization movements, which would bring media attention," he said.
"My motto is 'A dream doesn't exist in your life. Instead, a dream creates your life.' If you change and become content, the people around you will also become content. Such mental affluence is crucial," Kinoshita said.
This series has been prepared in collaboration with Enjin Co., which produces and operates a video website, www.kenja.tv, specializing in profiles of entrepreneurs in Asia.
---