Learn what it takes to have a successful future from these company leaders in our new series.
Conveying Japanese sensibilities properly
Traveling light with his carry-on bag by his side, Masahiro Nakata is ready for another business trip.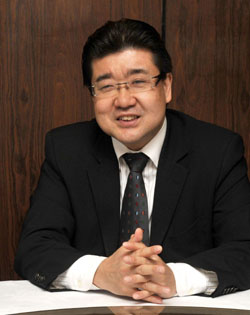 "Anywhere that I am with my laptop, that place becomes my main office," said Nakata, the CEO of Xenlon Co.
Though already operating four Chinese restaurants in the Tokyo metropolis, Nakata's mind has been directed toward China and beyond for many years.
"We started our Shanghai restaurant four years ago to serve exquisite Japanese cuisine. My mission, I believe, is to convey the Japanese values and culture properly to our customers, both within and outside Japan," he said.
One good example is the recent boom in Japanese tuna among Chinese gourmets.
"Until we entered the market, Indian tuna was mostly served by Japanese restaurants in the locality. We served Japanese tuna instead, and people appreciated its outstanding tastiness," Nakata said.
In such ways, Xenlon has contributed to the Japanese tuna fad among the Chinese.
As a next step, Nakata has opened a beauty salon in Shanghai.
"When people get richer, they seek to live longer. They also want to become healthier and stay beautiful. Hence, I have teamed up with Japanese doctors to provide special treatments at our salon using Japanese cosmetics," he said.
"The Chinese know the high quality of Japanese cosmetics, and the techniques of Japanese aestheticians are outstanding. I am happy that our guests feel invigorated and beautiful after getting treatments at our salon," Nakata said.
Word-of-mouth news travels quickly, and the salon is doing good business.
Another area that Nakata is currently stepping into is health food.
"There is a medicinal wood called neem that has been known, from around 4,500 years ago, to have strong medicinal effects. Many people in Asia today are overeating or turning to fast food that contains a lot of chemical additives. As neem has a strong detoxifying effect on the human body, I have established a health food company for checking its medical efficacy through our R&D (research and development) activities, and to start selling it in the Philippines," Nakata said.
Geographically speaking, Nakata's current interest is now geared toward how he should strategically enter inland areas of China, as well as Vietnam, Myanmar, India and perhaps Thailand.
Despite his broad visions, he has no intention of stepping out of one country to enter another in short intervals, however.
"You need probably two to three years until your goodness is properly understood and appreciated. Although our business must make money, we should also add on a distinctive creativity to our business model to be successful," he said.
"In China today, goods and brands are everywhere, and you can buy them if you have the money. But after buying, what do you do and where do you go with your expensive clothes and handbags? People need advice to wear clothes fashionably. They need places to go. I also stress such 'invisible software' creation because the Japanese are very refined and advanced in those areas."
In that context, Nakata thinks it most important to develop and nurture good people.
"The Chinese society today is over-competitive, and some may only go after money. Some wouldn't care if they sold pirated products. Some don't have pride or moral standards. Some restaurant owners come to me, asking for our menu or recipes. But those elements are not enough to run a good restaurant.
"The invisible software like manners, close attention to customers and so on becomes the key. Young Chinese staff pick up such senses by working at our place. Though some quit, others stay on and grow into good business partners," Nakata said.
"Although Japanese food has boomed throughout the world, some cuisine like sushi adopts a very conservative, conventional apprenticeship. I think such situations should be changed by establishing a college to train sushi masters systematically," he said.
As for the business environment in today's world, Nakata says: "Businesses around the world are literally globalizing. But Japan is being left behind because the people really don't talk about the truth. The government, the administration and the media are all keeping their mouths shut. You couldn't expect the economy to grow under such conditions.
"Work is not something painstaking that you have to endure. Work itself should represent your lifestyle. When seen from outside, Japan is a treasure vault of numerous businesses. The map of the global economy will completely change if the Japanese start learning English seriously and going overseas with their cultural skills, including some of the software I just mentioned. Mere skills become outdated, but culture becomes the subject of respect and importance as it grows older."
Not one to mince words, Nakata had a warning for Japan.
"Japan today is digging its own hole and aggravating its sickness. If you get sick, you should think about curing it yourself by using your brain," he said.
This series has been prepared in collaboration with Enjin Co., which produces and operates a video website, www.kenja.tv, specializing in profiles of entrepreneurs in Asia.
---