Learn what it takes to have a successful future from these company leaders in our new series.
Global CPA balances present with future
Satoru Miura is a certified public accountant who operates Miura CPA Office, a licensed tax account corporation in Musashi-Kosugi, just outside Tokyo in Kanagawa Prefecture. Miura was recently interviewed on his profession and his insights on the business conditions of Japanese corporations today and toward the future. Excerpts of the interview follow: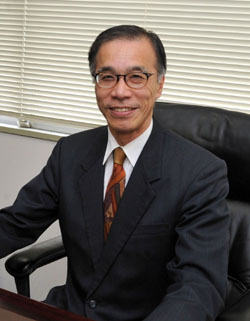 Why did you decide to become a certified public accountant?
I watched my father work as a lawyer. He was independent, not joining a big firm. He inspired me to become a professional and earn money with my own skills. Being your own boss seemed to be the way to go.
Having such an ultimate goal in mind, I first entered a large company specializing in computerized accounting after graduating from college. This was my necessary first step because I thought I needed experience. I then became independent and established my own accounting company in 1990.
Tell us about the scope of your job.
A certified public accountant not only specializes in audits, tax laws and accounting. Today, we are requested to provide advice on monetary issues and make proposals on managerial strategies, including in securities, insurance, real estate and so on. Dealing with all the money flow, it is quite natural for an accountant to get deeply involved in the management of a company.
I feel most rewarded working as an accountant when my advice is welcomed and accepted by my client.
You've talked about the term "prompt processing." What do you mean by that?
I am a person who hates to leave things half finished. When an issue is at hand, I want to tackle it and resolve it right away. That is what I mean by prompt processing.
The strength of my operation is that my office can make a 360-degree response to whatever question is raised by a client. We accept any kind of questions related to corporate management.
When my office receives a call, I visit the client right away. You cannot expect that kind of footwork from a large accounting office.
Tell us about your pricing system.
There is no such thing as a defined price list for a public accountant in Japan. Everybody competes freely. That is why the new, young people who have just become accountants offer their services at a very low price. They have no experience or connections.
You build your own relationships and reputation over time by offering good services that respond well to your clients' needs.
How do you view the business condition of Japanese companies? How are they operating now and what is the outlook?
The Japanese economy has already entered the stage of maturity. I don't think the economy will rebound to the level of high economic growth it experienced for about 50 years after World War II.
Today, things are tough in general, with only a handful of companies making a profit. There are also situations where small firms have no successors to whom they can hand over their businesses.
Meanwhile, the younger generation born after the bubble burst has never experienced economic growth. Hence, they seem to have a completely different set of values. They don't aspire for higher positions at work. They don't want to become business leaders. However, they also are aware of the tough conditions of other countries, which are much worse than Japan. They, therefore, stay on in the lukewarm environment of Japan, where they still can survive.
But conditions are likely to change soon. Corporate-related laws in Japan are being revised, allowing more and more mergers and acquisitions to take place. The nation's economy is not in a healthy state, either.
You also are a certified public accountant in the United States.
That is another distinction I achieved for myself. The accounting system is becoming unified and standardized throughout the world, and Japan is no exception. Knowing the International Accounting Standards (IAS) defined by the International Financial Reporting Standards (IFRS) becomes crucial for conducting business into the future, from a global perspective.
Does that mean that you will eventually expand your business overseas?
Not necessarily, but you have to be able to respond flexibly to the vehemently changing global economy of today. Some of my clients are obliged to go overseas because their transacting partners are going out of the country. I should be prepared for such instances.
I am fully aware that conditions greatly differ from country to country. But I would like to take on the challenge of doing business overseas, if the opportunity arises. To have some confidence in operating in the U.S., I am studying English right now.
This series has been prepared in collaboration with Enjin Co., which produces and operates a video website, www.kenja.tv, specializing in profiles of entrepreneurs in Asia.
---