Learn what it takes to have a successful future from these company leaders in our new series.
Discovering paths to succeed fairly, steadily
Yasutomo Ohshima, CEO of Ohshima Industry Co. in Fukuoka Prefecture, has transformed his father's company from a small ballast distributor to a business comprised of construction and logistics services.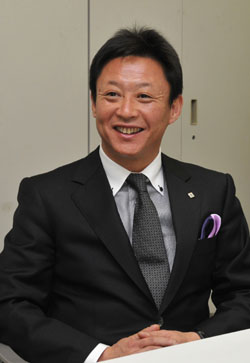 But in his childhood days, Ohshima had no intention of taking over the family business.
"I wanted to become a professional baseball player," Ohshima said.
It was not just a dream but a real possibility for him. He was a top-rated junior high school baseball player in Fukuoka Prefecture, where he was born, so he could attend the prestigious Minoshima High School in Wakayama Prefecture, which was a regular participant in the annual National High School Baseball Championship. He spent three years as a member of the baseball team managed by the late Tadashi Bito.
Due to his father's illness, however, Ohshima returned to Fukuoka after graduating from high school and took over the family business.
He started re-establishing the company by entering the construction business. The company grew, building roads and bridges that local governments and administrative sectors ordered.
"These were some big contracts, but you have to keep winning them, which is not so easy," Ohshima said. Moreover, all work came to a complete standstill when it rained.
"I wanted the company to have a steadier income. So I bought a 4-ton truck and launched a logistics business 13 years ago," Ohshima said. "Although the profit may be low, it is stable once the routes are fixed."
Today, 60 percent of the company's ¥2.5?billion in annual sales come from the logistics department, according to Ohshima. The company's 100 heavy-duty trucks travel the highways between Fukuoka and the northern Kanto and Hokuriku regions, carrying the cargo of major Japanese freight companies.
On the siding of each truck's cargo container is the word Ganbaru.
"It's not saying 'keep trying' nor 'let's keep trying' to somebody, which may sound meddlesome, but 'I keep trying!' — I just wanted to declare that I do my best," Ohshima said.
The words may echo the way Ohshima was as a baseball player in his high school days. Another lesson he learned from the baseball field is finding a way to win fairly.
"If you try winning by 80 to 20, you will incur hatred against you. I try to win by 51 to 49. Although we won't earn a lot, we won't make a loss. And this is still a victory," Ohshima said.
In order not to lose, Ohshima believes in certain important tenets: "No accidents," "No mistakes" and "Never be bad to clients."
"Then our clients will be satisfied with the company. That's a key to getting repeat orders," Ohshima said.
All the employees, from engineers in the construction department to drivers in logistics, are familiar with the company's philosophy, sometimes directly delivered by Ohshima.
Another point of his management is that Ohshima never calls his logistics employees drivers nor lets them call themselves that.
"I always call them company member," he said.
According to Ohshima, long-distance truck drivers tend to be on the road alone for long stretches, but he wants each of them to be very conscious of being a member of an organization.
"Now our clients call us the Ohshima Troupe," he said with a laugh.
Having re-developed Ohshima Industry since he succeeded his father, Ohshima is not thinking about further expansions in scale. Branching out into another field might be worthy of consideration "if there happened to be some suggestions of opportunity," Ohshima said, adding, "as long as it would support our current business."
As for the succession issue, he wants to break from the past.
"The company should not be Yasutomo Ohshima's anymore. We should further strengthen our company so that it will survive and last as an organization," Ohshima said.
Ohshima Industry is building toward a future beyond a family business.
"That's my homework for the coming years," Ohshima said.
This series has been prepared in collaboration with Enjin Co., which produces and operates a video website, www.kenja.tv, specializing in profiles of entrepreneurs in Asia.
---