Learn what it takes to have a successful future from these company leaders in our new series.
Environmental business changes for better
Compared to when he established Waseda Environmental Institute Co. in 2003, CEO Hiroshi Onoda feels a stronger social demand regarding environmental issues today.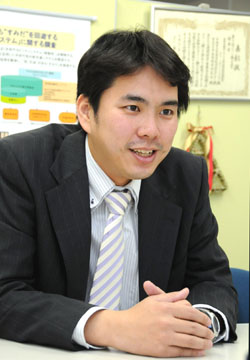 "People are more aware of global warming and reducing carbon dioxide emissions. Especially after the Great East Japan Earthquake and the rolling blackouts it caused, methods of tackling energy issues have accelerated," he said.
Onoda founded Waseda Environmental Institute while working on his doctorate at Waseda University when his professor advised him that their area of expertise — findings on life cycle assessment, an analysis of the environmental impact of a product during its life — could be a business opportunity.
"When I first chose my major, it was not like I had this grand ambition to change the global environment myself. I was simply interested in the environment. However, my image of environmental issues was solving resource problems or global-scale issues, and I was surprised in a good way that making environmentally friendly products or designing recyclable products is also part of this field," he said.
Onoda said that his company is feeling the impact of the March 11 disaster. The company's products under development, such as rechargeable batteries or the Home Energy Management System (HEMS), are in demand due to the disaster.
"Electricity used to be like air, which we take for granted, but after March 11, it made us realize we could be out of power," he said. "Ensuring the safety and security of power is a business opportunity for us."
In a broader aspect, Onoda perceives that the idea of energy infrastructure has changed. Energy policy used to be handled by the state government and major energy operators. Since concentration also can lead to risks being taken, the trend is to take a decentralized approach.
"An example of this on a local scale would be a residential photovoltaic system. Post-quake houses should be built with backup power supplies," he said. "Companies also need to think about generating their own energy, and since this will influence the whole economy, we need tax breaks or subsidies."
Onoda feels that all parties involved, such as the government, industries and local pubic entities, should define their role in order to deal with energy issues.
"People talk about renewable energy or 'smart cities,' but there is still no clear business plan, and they are not sure how to move forward," he said.
Onoda also believes in the notion of sharing and building this infrastructure.
"Energy-wise, for people who live alone, it is better to have a place to gather during the day. This place of gathering means sharing, or a community. Another example would be car-sharing," he said.
The electric power supply can also be shared, where surplus power can be sold to neighbors, leading to less energy consumption. The same applies to garbage, where one's trash could be another's fuel resource. This idea where communities share and renew each other's resources and capabilities will also cut costs.
"The installation cost of solar panels or rechargeable batteries may be high, but in such cases several houses can share this together. Environmentally friendly energy doesn't have to be costly, but it's more about building the structure to use resources that already exist, like solar energy," he said. "Of course, the existing business scheme needs to change and I would like to take on the challenges in this area. Having experienced the disaster, I think we really have to change."
With increased demand from society to produce greener products, many major enterprises have developed and proposed their ecofriendly positions to the public. Onoda sees this as part of those companies' corporate social responsibility (CSR) activities rather than environmental business, and that we are still in the early stages in terms of environmental issues.
Whether environmental and economic goals can be pursued simultaneously depends on how people look at it. Small to medium-size enterprises with smaller budgets will also benefit from reviewing energy and efficiency issues to reduce costs. By looking into waste and reviewing where that cost can produce a profit, there are still many things that can be done.
"If this leads to renewable energy, then we need to change the social system. Our company is in the position to advise companies on the path they should be heading," he said.
Onoda believes his company is facing a major turning point. Consulting was the core business of this company, but he intends to shift more into areas with growth potential, such as an energy solution business for small and medium-size housing companies, rechargeable batteries and HEMSs. Another area of focus is providing information on automobile recycling, such as the green point system, which shows the carbon dioxide reduction achieved for each recycled part.
In addition to working in the business field, Onoda is an associate professor at Waseda University's Environmental Research Institute, where he aims to shape the university's advanced research studies into a profitable business cycle. He plans to maintain and pursue his involvement in academia, while fulfilling his duty as the CEO of his university-launched venture company.
This series has been prepared in collaboration with Enjin Co., which produces and operates a video website, www.kenja.tv, specializing in profiles of entrepreneurs in Asia.
---