Learn what it takes to have a successful future from these company leaders in our new series.
Closing the educational gap among Japanese
Masataka Harada is the principal of GLS Yobikou, a juku (cram school) in Meguro Ward, Tokyo, that helps students study and prepare for the entrance exams for Japanese junior high schools, high schools and universities.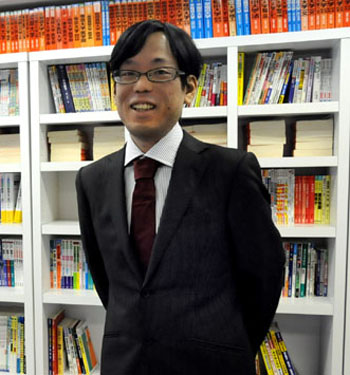 Based on his experiences, Harada is guiding his teachers on ways to master the art of teaching to enhance the learning experience for students.
For Harada, born in Fukuoka Prefecture in 1982, studying at school was not a problem and everything was very easy. He got good marks in tests even without studying. His teachers even asked him to help his classmates who had difficulty understanding certain subjects.
"That is when I started teaching others and came to like teaching," he said.
Harada's life wasn't all that easy, however.
"When I was small, I had to stay indoors because of asthma. That's when I had a lot of time to read books," he said. "I loved reading, and read through most of the books written by such prominent Japanese writers as Soseki Natsume and Ogai Mori."
Since he was excelling in his studies, his parents put him into a cram school while he was in the fifth grade.
"That was really a shock. Until then, I didn't even know that entrance exams existed for junior high schools," he said. "So in the beginning, I didn't have a clue what the teacher was writing on the blackboard at the cram school."
He started from the lowest level, but by the time he took the junior high school entrance exams, he had become one of the best students at the cram school.
Seeking to become independent and live away from home, Harada chose to enter La Salle High School in Kagoshima, an all-boys boarding school that offers six years of schools, from junior high through high school.
"It was a great school, and I enjoyed studying there," he said.
In his third year at La Salle, Harada took the entrance exam for the University of Tokyo.
"It was a natural matter of course, as many of my friends took the exams and got in," he said. "My parents recommended me to apply to the department where many students eventually become lawyers or go on to pass the national public service exam to become top-class government officials. There was no questioning, and I just got in without thinking deeply about it."
But soon, Harada discovered that his choice and action had been a mistake.
"All those around me had thought through their choice and had a clear goal and vision as to why they had come to the University of Tokyo. In contrast, I didn't know what I was doing in a department that I wasn't even sure I wanted to be in. I definitely loved physics and mathematics more. I even thought of entering another university," he said.
He thought hard about his life and his future, until he finally reached a conclusion: "I want to teach."
Hence, in 2005, Harada set up a small cram school in his apartment.
"I took in a handful of students that came to know about my place through a website I had created. I appreciated that I could earn just enough to keep me going," he said.
But word-of-mouth traveled fast and after about three years, his cram school started booming. With more and more students coming to his place, he moved his operations to the current location over a year ago.
"The greatest difference between GLS and other cram schools is that my place teaches the process of learning. It's like manners. You repeat the process until the habit of studying becomes a natural, integral part of you," he said.
"At the same time, I continuously communicate with each student to think about the meaning of studying. Then, I confirm whether the student has really digested what he or she has learned, through the process of what I define as Shadow Teaching. This is where students are requested to teach the knowledge absorbed to others in their own words. Because if you automatically memorize something without thinking, you can't possibly explain and convince others on what you have learned," he said.
Harada cites his many students who have passed the entrance exams for the top universities in Japan as proof of the effectiveness of his teaching method.
"If the current education method in Japan were good and effective, no such thing as an educational gap would have occurred," he said.
"Japan is a country without natural resources, except for its people. And if we don't do something about our education system now to improve our human resources, our country will be in serious trouble in the near future," Harada said.
This series has been prepared in collaboration with Enjin Co., which produces and operates a video website, www.kenja.tv, specializing in profiles of entrepreneurs in Asia.
---