Learn what it takes to have a successful future from these company leaders in our new series.
Doctor brings medical care to local homes
There was the hum of the fax machine and the murmur of the nurse over the phone somewhere in the background as Dr. Toshihiko Kaneko sat in the consultation room for the interview. The place seemed no different from any other private clinic. Quite unexpectedly, however, the place turned out to be "a 24-hour clinic," as Kaneko offhandedly explained.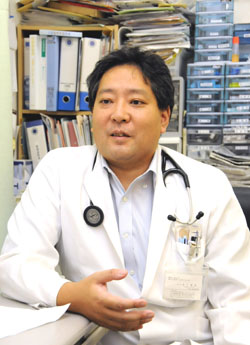 Located in Saitama Prefecture just off Higashi Kawaguchi Station on the JR Musashino Line, Kaneko is the head of the Saitama Home Clinic, a locally based institution offering home medical care.
"When I opened this place in December 2002, there was still much talk on the importance of home care by the Ministry of Health, Labor and Welfare. But in reality, not many doctors were offering such medical services," Kaneko said.
"In town, there already were too many private clinics. This meant that I had to be different in order to survive. On the other hand, I knew there was a steady rise in the number of elderly people. Hence, I felt home medical care would be welcomed in my neighborhood," he said. "Furthermore, I found it suited my character to visit each patient at home for treatment."
Currently, Kaneko serves around 300 patients living within roughly a 10-km radius of his office, covering the cities of Kawaguchi, Hatogaya and Saitama. On his first visits, he goes to each home and spends over 30 minutes to an hour listening to and diagnosing each patient.
"Many are old people that have difficulty walking or are completely bedridden. I listen carefully to find out their true needs and feelings. I know each patient's name, face, conditions and personality. I get close to the family members who take care of the sick at home, too," he said.
Kaneko, who specializes in internal medicine, allergies and anesthesia, said that longtime treatment of the elderly often leads him to having to delve into terminal care.
"I find great meaning and pride in my work when I am thanked by or receive letters of gratitude from the family members after the patient passes away," he said.
During his childhood, Kaneko loved to read science and medicine-related books. His vague adoration for doctors soon became a more concrete goal of becoming one as he started visiting his family doctor.
"I really liked him because he was good, kind and gentle. I dreamed of becoming a doctor like him. I even reported to him when I passed the entrance exam to enter the medical faculty of Nihon University," Kaneko said.
But after graduation, the hospital internship that followed turned out to be far from Kaneko's ideal. He had to be on the go 24 hours a day, 365 days a year.
"For the first five years as a trainee, I was working at the hospital every day with no rest. I didn't get to know my own patients. I could spend only a few minutes on each person," he said. "I began questioning that situation and eventually concluded that home medical care was the direction for me to go."
Upon deciding his course, Kaneko looked through the want ads and found a practitioner who had just opened his own home medical care clinic.
"Because there still were only a few doctors specializing in that field, I was lucky to have discovered this good doctor, whom I studied with and worked under for several years," Kaneko said.
"I also took up an MBA course in management, marketing and finance at my alma mater, so that I would be prepared well enough to manage my own clinic when the time came. Having had no training or knowledge until then in such non-medical fields, studies in those areas proved to be exceptionally meaningful. But it took me four years to complete those courses," he said.
After that, he withdrew ¥10 million from his bank account.
"This was the capital I needed for starting up my own clinic. It was the precious money I had saved up over the years working as a hospital trainee," he said.
However, Kaneko had no big-name connections. He was also an unknown. Hence, he had to do his own rounds of sales pitches to people such as care managers at hospitals and home visit care stations.
"I still remember the day very clearly when I had my first patient through the introduction of a hospital. I was happy and relieved, but already one month had passed since I had opened my clinic," Kaneko said.
Today, Kaneko operates the clinic with the help of another doctor and two nurses.
"My place has grown to a certain extent, but there are still ups and downs. Home medical care requires profound knowledge in various areas, including internal medicine, orthopedics, dermatology and psychiatry. From a managerial viewpoint, I should hire more quality medical specialists that can offer specific, professional advice. From an individual level, I want to study more and become the best possible home medical care doctor in Japan," he said.
In the future, Kaneko would ideally like to offer a medical service "as if it were a convenience store that operates 24 hours a day. It should be a place that allows each patient to choose the specific medical service really needed or wanted. That service should be home-delivered, too."
Ultimately, Kaneko seeks to create an advanced model in home medical care by reviving and modernizing the traditional Japanese medical approach of having a general practitioner visit each household to treat the patient according to the specific condition.
This series has been prepared in collaboration with Enjin Co., which produces and operates a video website, www.kenja.tv, specializing in profiles of entrepreneurs in Asia.
---