Learn what it takes to have a successful future from these company leaders in our new series.
Easing children's anxieties over doctor visits
A visit to the doctor generally tops the list of things children dread, leaving pediatric waiting rooms filled with crying and screaming babies and children. That it not the scene patients encounter at Kitahama Kid's Clinic, located in Kajigaya, in the Kanagawa Prefecture city of Kawasaki. Clinic Director Dr. Tadashi Kitahama strongly believes that seeing a doctor shouldn't be something to fear, but that it should be something fun that children look forward to.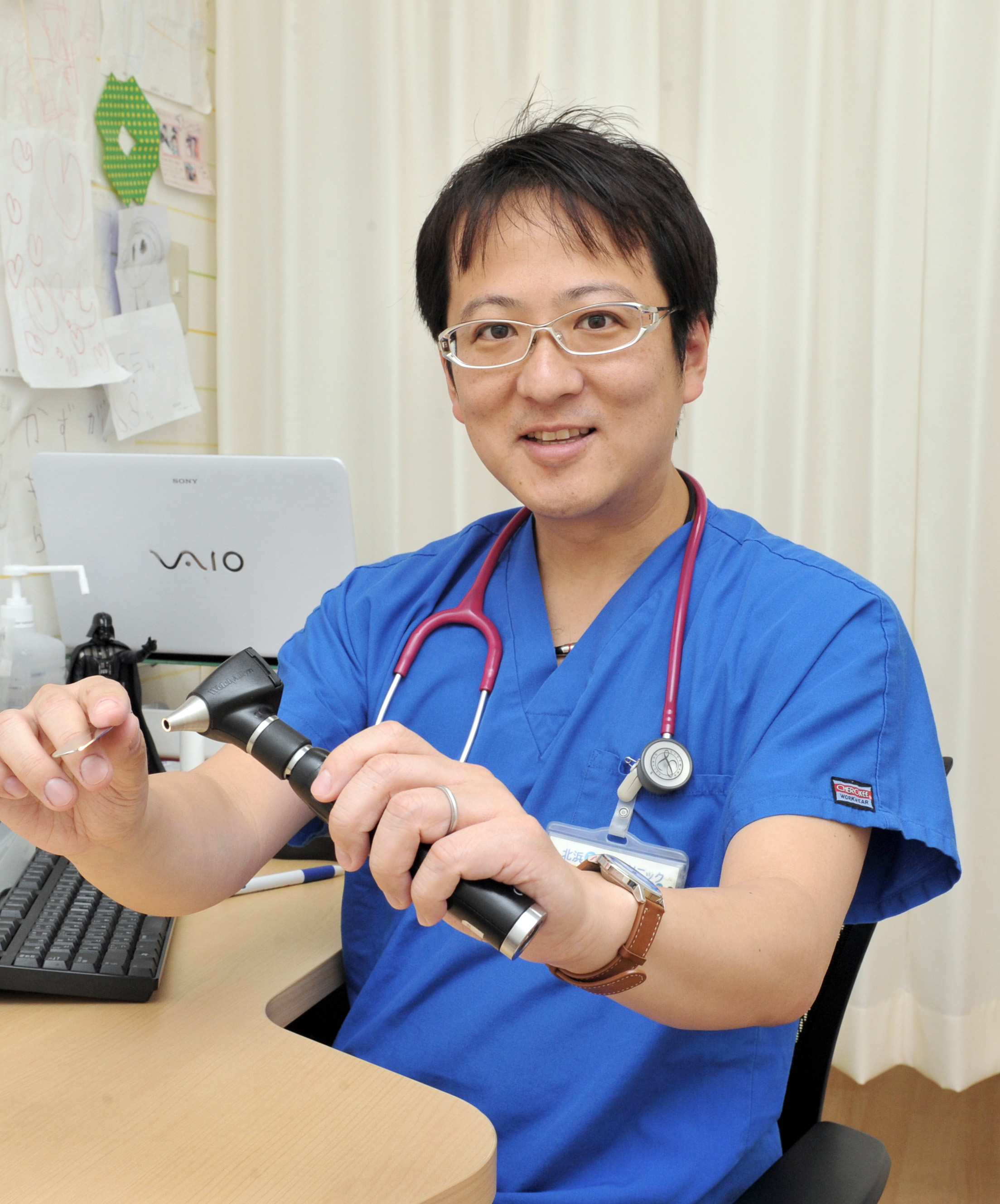 Kitahama Kid's Clinic is filled with popular Disney-themed decor and cheerful music. Kitahama noted: "Children who come to our clinic for the first time may cry, but from the second visit on, most of them are comfortable and fine. They learn that I won't hurt them. In fact, some children don't want to leave and there are others who come in even when they're not really sick."
The clinic's policy is to treat children as painlessly as possible, while minimizing prescriptions and tests. "I didn't want the clinic to be a scary place for children. Instead, I wanted it to be a place children enjoy visiting," he said.
Situated in a residential area, the clinic's first patients were children from around the neighborhood. Today, Kitahama's patients visit from all over Japan, including Hokkaido and Kyushu. After reading Kitahama's blogs on atopic dermatitis and allergies, many patients who believe their children suffer from these come to Kitahama for treatment.
Kitahama noted that many of these children are only suffering from symptoms similar to atopic dermatitis and simply require moisturizing and proper skin care. For children with food allergies, the belief today is that administering small doses of the allergen before a child turns one year old prevents extreme allergic reactions, although they may show some minor symptoms.
Kitahama believes that a pediatrician should be able to treat all facets of children's ailments, not limited to just ears, noses, throats and skin, but also muscles and even mental issues. Not only physical, but also mental issues such as bullying or school fights could be discussed during consultations. "That's what a primary care pediatrician should be like. If I feel the child requires treatment by a specialist, then of course I'll refer them, but the initial contact should be with a pediatrician who can treat all aspects of children."
Through treating patients, Kitahama feels that parents are keeping their worries to themselves, due to the proliferation of nuclear households. Child rearing is a lot of work and parents are stressed out. He said: "I think it's important for the primary care doctor to listen to parents' problems and help them unwind. I may not be able to solve all the problems, but parents are often relieved by just sharing their worries."
Aside from physical and medical questions, some parents ask Kitahama about child rearing and even birthday present ideas. Kitahama aims to be a parent's reliable adviser. As the clinic celebrates its sixth anniversary this year, he said: "I think the fact that many patients choose our clinic means that there is a need that I successfully fulfilled. I would like to find doctors with the same vision, mindset and professional knowledge and build franchise clinics in all 47 prefectures.
"More and more patients have been visiting us for a long time. A baby that was screaming on her first visit becomes older and is now a big sister telling her baby sister she doesn't have to cry. It's wonderful to be able to see this growth process. I have my own children, but being able to experience thousands of children growing up is both fascinating and rewarding."
Although he was unable to continue operations, Kitahama also founded Blue Lagoon, the first and only day care center for sick children in Kawasaki at that time. Staffed with pediatric nurses, children were cared for in separate areas according to their illnesses. Extremely concerned about decline in birthrate, Kitahama feels it is important to provide services for young people so they will want to have more children.
"Working couples have to take a day off from work if their child gets sick. If a day care can handle these sick children, then parents won't have to take time off. Instead, they might feel that it's enjoyable to raise children and want more kids," he said.
Kitahama felt there was a strong demand and thus opened the day care next to his clinic. Despite the positive feedback from users, Blue Lagoon eventually had to close its doors due to financial difficulties, unable to gain understanding and financial support from public administration. However, Kitahama still firmly believes there is demand for such a day care and hopes to open one in the future.
This series has been prepared in collaboration with Enjin Co., which produces and operates a video website, kenja.tv, specializing in profiles of up-and-coming Japanese entrepreneurs.
---