Learn what it takes to have a successful future from these company leaders in our new series.
Proper tooth alignment key to lasting health
The cleanliness of the decor, tropical aromas and Hawaiian music at the Yoshii Orthodontic Clinic in Chofu, Tokyo, makes patients feel as if they are at a seaside resort rather than the dentist.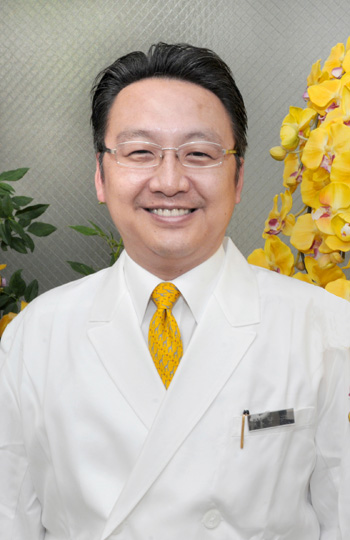 Third-generation owner Kenichiro Yoshii always tries to offer "the highest-quality medicine in the highest-quality environment."
"We keep up on the latest treatment techniques, our machines are up to date, and we hire a professional cleaning company. We want the details to be perfect for patients and give them the best feeling," he said.
Regarding the background music, he decided on Hawaiian music after trying jazz and other genres. "Hawaii is soothing to everybody," he said, adding that he personally likes visiting the islands.
His clinic specializes in orthodontics and does not treat decayed teeth or other oral issues unless his orthodontic patients need such treatments. While orthodontics is not covered by the national health insurance system, it is very important for oral health.
Orthodontics aims to straighten teeth and corrects patients' bites. As patients get older, it will help prevent gum disease and potential health problems such as tooth loss. Poorly arranged teeth have gaps between the teeth, creating perfect spots for plaque to develop. Additionally, good occlusion is said to help brain function and maintain the beauty of the face.
Unfortunately, compared to the U.S., orthodontic treatment seems to be less common in Japan, leaving people with poor tooth alignment. Yoshii thinks this has to do with a lack of understanding of cavities, tooth alignment and prevention. Patients with good dental understanding would want the best treatment using the best materials and would be willing to pay the extra cost, instead of getting basic insurance-covered treatment.
Under the Ministry of Health, Labor and Welfare's 80-20 campaign the government is aiming to achieve Japanese oral health by having people retain 20 teeth at age 80. Such people hardly have protruding teeth or underbites, Yoshii said.
Yoshii also regards informed consent with patients very important and takes great care to make sure patients understand everything about their treatment, including its benefits, risks and costs. He believes in providing sufficient support to prevent rebound after orthodontic treatment ends.
"Adjusting tooth positioning is the main focus of orthodontic treatment, but maintaining good arrangement after treatment is equally important," he stressed.
Yoshii Orthodontic Clinic's quality is guaranteed as it gained the ISO 9001 certification, the world's most widely recognized quality management standard. Third parties on quality management periodically inspect the clinic, Yoshii said.
As his grandfather and father were dentists, becoming a dentist was a natural step for Yoshii. Of the dentistry disciplines, the decision to become an orthodontist came naturally to him as well.
Besides the fact his father was an orthodontist, he thought that orthodontic treatment was popular in the U.S. and he felt that Japan would probably follow suit.
On the fact that the orthodontic treatment is not covered by insurance — one of the reasons few Japanese undergo the treatment, he said he would like the health ministry to understand and try to make the public aware of the benefits of good tooth arrangement.
He remembers the lessons he was taught by his father and knows that he must never stop trying to provide the best treatment for his patients.
Some patients — who visited many dentists for orthodontic treatment, but were not happy with the results — have come to the Yoshii Orthodontic Clinic.
Such cases are difficult because Yoshi has not seen the patients' original tooth placement. However, that does not stop him from doing his best for such patients.
"I told them my clinic will be the last stop for them. I make it my responsibility to end their dentist hopping," he said. "I treat their teeth with the same care as I would my own."
Yoshii also noted his excellent staff. He has some dentistry engineers who create plaster replicas of patients' teeth and gums, orthodontic palatal expanders and other devices at the clinic.
"I expect my staff to perform their best when they are wearing their lab coats. I tell them to do what's best for patients at all times," he said.
Yoshii says he is careful to cater to the five senses in his clinic. Hence a pleasant aroma fills the clinic, fresh flowers are delivered on a weekly basis, and the clinic is a clean, polished, sanitary place with regularly waxed floors. "I also tell my staff to use their sixth sense to offer the best services for patients," he said.
As for his future goal, he said: "I want to make mine the world's best orthodontic clinic. I want this place to be the place where everybody wants to receive treatment. After all, I want myself to be the best of me," he said.
This series has been prepared in collaboration with Enjin Co., which produces and operates a video website, kenja.tv, specializing in profiles of up-and-coming Japanese entrepreneurs.
---