Learn what it takes to have a successful future from these company leaders in our new series.
On the scent of success, Xbal's CEO blazes trail for diversity and innovation
"Scent reflects your personality," is the mantra that Xbal Co. CEO Kusumi Okuda always kept in mind as she strove to bring her company's signature perfume to the world.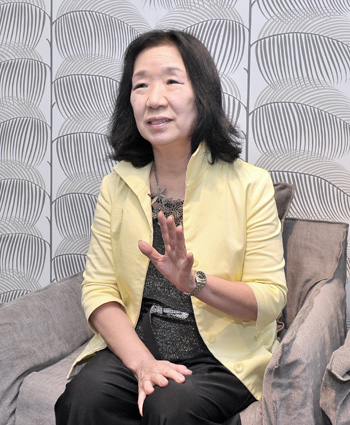 The perfume is called Joli Cadeau, or "lovely gift" in French. "I had been wanting to produce perfume for more than 10 years before I finally found an OEM company that I was happy with," she said.
"They spent a long time trying to understand what I had in mind," she added. There was no room for compromise in making something that would reflect the wearer's personality.
Okuda felt the time was right, too. When she had first started thinking about making perfume, she went all the way from Osaka to Tokyo, Shizuoka and other locations in search of a factory that she could work with, but she could not find one that satisfied her needs.
When her company took over her parents' real estate business, she chose to concentrate on improving its financial situation and decided to put the perfume project on the back burner.
"When the time isn't right, things just don't fall into place no matter how hard you may try," she said. "But when I happened to think about it again after many years, it took no time at all for me to run into the right people, and things started moving."
With more robust company finances, she could afford to invest in the new business.
The OEM company she found was in Osaka, just a short distance from her own office. "Nowadays, the fact that you do not have your own factory to produce goods doesn't mean that you can't become a producer. All you have to do is to find people who are as serious as you are about turning your ideas into something concrete," she said.
Focusing on what you are good at, and sharing tasks and responsibilities to achieve goals effectively, are approaches Okuda learned as a junior high school teacher during the first 17 years of her professional life.
"Class management and lesson planning have a lot in common with business management," she said. She describes how making the best use of 50 minutes in class is just like giving the most effective presentation in business.
"When I was well-prepared for the lesson, everything went well and students stayed focused," she said. "When I lacked preparation, I was just rambling and the whole class lost focus. You face similar situations when you are running a company."
Teachers bear responsibility for student development, and they also need to manage parental expectations.
"There were so many elements and skills in education that could be translated into business insights and strategies. That's why I thought I could be useful in the world of business after I quit my teaching career at the age of 41," she said.
"Teaching in a junior high school is a physically demanding job. I thought it was time to make way for a younger generation and restart as a business owner, something that I could continue to be for the rest of my life."
Okuda's company has no age restrictions for employees either. "Happiness in life, I think, is having a place to go and things to do. The sense of being needed keeps you young and active," she said.
Some of her employees are already past retirement age, but she has no intention of letting them go as long as they are willing to work. "Their experience is beneficial to the company," she said.
Okuda also plays an active role in the Women's Assembly of the Osaka Chamber of Commerce and Industry. "Through the activities of the Women's Assembly, I got to know a widowed female president who had taken over her husband's company without much business knowledge, but it turned out that her female perspective, intuitive ability and sophistication were a breath of fresh air for the company," she said.
She thinks diversity of gender, age and background is essential in sensing what people are seeking at a moment in time. With inspiration gained from the diverse team surrounding her, Okuda is already looking ahead and planning what comes after Joli Cadeau.
"I'm planning to produce cosmetic products. It's not a wholesale change from the perfume business, but it's still a new field for us," she said. "But we are not hesitant. There is no such thing as perfection, and trial and error is what makes the process interesting," she said. Gender and age are no limit for entrepreneurial minds.
This series has been prepared in collaboration with Enjin Co., which produces and operates a video website specializing in profiles of up-and-coming Japanese entrepreneurs.
This series has been prepared in collaboration with Enjin Co., which produces and operates a video website, kenja.tv, specializing in profiles of up-and-coming Japanese entrepreneurs.
---