Learn what it takes to have a successful future from these company leaders in our new series.
Accounting Porter bridges gaps for Japanese firms entering the Thai market
According to the Ministry of Foreign Affairs' latest annual report on Japanese nationals overseas, the number of Japanese living in Thailand has shown a steady increase, up 4.3 percent year-on-year, while Japanese companies have seen a 3.4 percent increase. While these numbers have been climbing annually, many Japanese companies face challenges upon entering the Thai market, due to various business practices and cultural differences.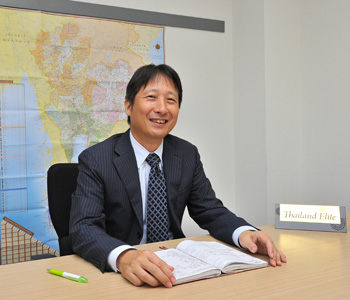 Based in Bangkok, Accounting Porter aims to resolve these issues by offering support in diverse areas in addition to outsourcing accounting and bookkeeping services. "Accounting Porter is an accounting firm that is like a neighborhood accounting firm that can help with information such as work permits. I think we are being helpful in many areas," said Kazuhiro Tadano, managing director of Accounting Porter during an interview in Tokyo.
Tadano outlined Accounting Porter's uniqueness in three areas. "First, we strictly meet our deadlines. In Japan, this would be considered nothing special, but in Thailand this is sometimes difficult to achieve," he said.
For companies that have outsourced their accounting, many come to see Tadano when they are considering changing their accounting firm, and often their concern is whether Accounting Porter can meet deadlines. Due to differences in reporting systems, clients are in search of firms that can fulfill Japanese financial reporting standards to send to their headquarters in Japan. "In our case, many of our clients are publicly listed companies, and we can deliver monthly reports within as little as two working days, depending on our contract," said Tadano.
"Secondly, we have a Japanese person in charge who will report to our client's Japanese counterparts. This Japanese person is responsible for reviewing and personally reporting to clients' Japanese managing directors. We often see in other firms, local staff handling everything without reporting to, or involving, a Japanese person in the process, leading to complaints from clients," he said.
"Thirdly, as a matter of professional accounting, we prepare and review consolidated information for consolidated financial statements for parent companies. This is difficult to handle unless you are Japanese with an accounting background in Japan, as statements need to be adjusted to Japanese standards," said Tadano. Accounting Porter has people with the necessary accounting backgrounds, so questions can be answered and matters resolved on the spot.
Satoshi Aikawa, a Japanese CPA, tax accountant and managing director of the Tokyo-based Atagoyama Accounting Firm, visits Bangkok every month for a week to review and report to his clients there. He also looks after the Singapore office.
"We also have a group office in Myanmar. Our director there, Hirosuke Setoyama, is also a Japanese CPA and works in Bangkok two weeks every month. From the clients' perspective, they feel a sense of security working with CPAs who used to belong to major auditing firms, or in my case, I used to be the CFO of a publicly listed company," said Tadano.
Through another group company, Asset and Accounting Advisory, Tadano is also involved in the real estate consultation business. "Aikawa and I jointly established this company to do real estate consultation and asset management in Thailand," said Tadano. "Jalux is one of our major clients. Recently they completed the development of a serviced apartment in Sri Racha, which has the second-largest number of Japanese nationals after Bangkok."
Additionally, Tadano is personally involved in Snow Town, which is an indoor village featuring snow in the Gateway Ekamai shopping mall.
Accounting Porter is also an authorized sales representative for the Thailand Elite Program, a government-sponsored membership program that offers long-term tourist visas and various privileges. "It's a multiple tourist visa for five, 10 or 20 years. Members receive services such as staff waiting at the airport to escort members to fast-track immigration processes and limousine services from the airport. Actually, it's proven quite popular and we have members applying almost every week," said Tadano.
Tadano is mindful of finding ways to keep his staff motivated. "Thai people enjoy company gatherings and company trips, which are rare in Japan now. Last month we had a party to celebrate our company's fifth anniversary. This year we will go to Okinawa for our company trip since there is now a direct flight from Bangkok. Being Japanese, I hope to show the charms of Okinawa to Thai people," said Tadano. Additionally, as the social security system in Thailand is still not well established, a good benefits package, including health insurance, is also important for the employees.
As for his future vision, Tadano hopes to establish an accounting service firm in all member countries of the Association of South East Asian Nations. They are currently applying for a business license in Vietnam for their Ho Chi Minh City office.
This series has been prepared in collaboration with Enjin Co., which produces and operates a video website specializing in profiles of up-and-coming Japanese entrepreneurs.
This series has been prepared in collaboration with Enjin Co., which produces and operates a video website, kenja.tv, specializing in profiles of up-and-coming Japanese entrepreneurs.
---