Learn what it takes to have a successful future from these company leaders in our new series.
Home-Quality Co. sources handy household items to improve lives of Japanese
"Things that are handy" is the ongoing concept that Sadayuki Miyagata and his company, Home-Quality Co., Ltd., adhere to when seeking out products to sell. As a general merchandise wholesaler and product planning company, they have dealt with a number of household goods, as well as self-developed agricultural equipment, based strictly on that concept.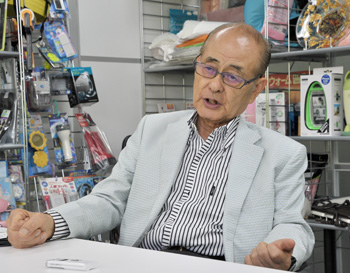 "I've spent a lot of time traveling around the world to look for products that could be useful for Japanese people," Miyagata said. The meeting room was filled with unique items he'd discovered on his overseas travels and also from trips within Japan such as a non-slip hanger from Germany, a wool duster from Australia, a Japanese microwave rice cooker and so on. "Each item has its own story of how it got here, though it's impossible to talk about them all," he said.
Despite the considerable effort he puts into hunting inspiring commodities, not everything can become a long-term seller because good ideas are often copied, stolen and pirated. "It is a cat-and-mouse game. We find a great item and introduce it to the market. Soon someone makes something very similar and starts selling it at a cheaper price. We need to keep looking for new things," he said.
It is not as simple, though, when it comes to original inventions. "It takes us several years to develop our products. We need to make sure our investment pays off," Miyagata said. Indeed, it took him two years of travel, visiting farmers from Okinawa to Hokkaido in all kinds of environments and climates to have them try out and provide feedback on the prototype of one piece of agricultural equipment they produced.
"It's like my own child. Of course we want to protect it the best we can," Miyagata said. "That is why we put in the extra effort into obtaining patents," he continued.
Shell Powder 12, a multipurpose cleaning powder made of 100 percent calcined shells and carbon, is another one of the company's patented products. "Other than cleaning the kitchen, and sterilizing and deodorizing pet items or textiles such as carpets and sofas, it can be used to wash fruits and vegetables to get rid of residual pesticides, wax and antiseptic," he explained.
HQ-22, a deodorizer utilizing the odor removal power of natto, or fermented soybeans, belongs to the same line of environmental, ecological and health-conscious products developed by the company. Although natto is famous for its strong smell that is not easily gotten rid of, this product borrows the decomposing effect of the bacteria found in natto.
"What is different about this product is that it does not just mask the foul smell with a chemical fragrance like many other commonly used air fresheners do; it eats away other micro-organisms that emit odors," he explained. "It is 100 percent natural. No toxic chemicals such as alcohol, surface-active agents or ammonium salt are used, so it is safe for plants and animals, as well as people," he added.
Due to the proven safety and scent-free nature of the products, they are used in hospitals, nursing homes, hotels, restaurants, food processing facilities and other places where sanitary requirements are especially strict.
"While protecting our products so they cannot be easily imitated, it is equally important that we achieve our sales goal," Miyagata said. "As a company of our size, we cannot spend big money on television commercials. It is the repeat customers and word-of-mouth that help us stay in the market," he added.
"It's impossible to compete with big players in terms of mass marketing strategies," he continued. As a businessperson who started his career as a salesman of agricultural equipment after graduating from high school, Miyagata knows well that the quality of products and the passion to sell is a strong tool to win customer satisfaction and feedback, which is the most important thing in penetrating the market with the limited resources he has.
Although their products are not as famous or competitively priced as those made by larger companies, they are steadily increasing their market share and are now beginning to sell in overseas markets. "Nowadays, the export and import controls are becoming more stringent in most countries, but Shell Powder 12 and HQ-22 can easily be shown to have no toxic chemical substances," he said
"The purposes of HQ-22 and the places it is used are the same as they are in Japan. Our prospective customers outside Japan are finding our products useful, just as I have imported what I thought would be handy if we had it in Japan," he continued. Miyagata's eyes are always open for ideas to make people's lives more convenient.
This series has been prepared in collaboration with Enjin Co., which produces and operates a video website specializing in profiles of up-and-coming Japanese entrepreneurs.
This series has been prepared in collaboration with Enjin Co., which produces and operates a video website, kenja.tv, specializing in profiles of up-and-coming Japanese entrepreneurs.
---