Learn what it takes to have a successful future from these company leaders in our new series.
Key of Life CEO credits his entrepreneurial savvy to stint at Keyence
Masashi Hato, founder and CEO of financial consulting company Key of Life, had envisioned starting his own business during university and decided to join Keyence to acquire the skills needed to become an entrepreneur.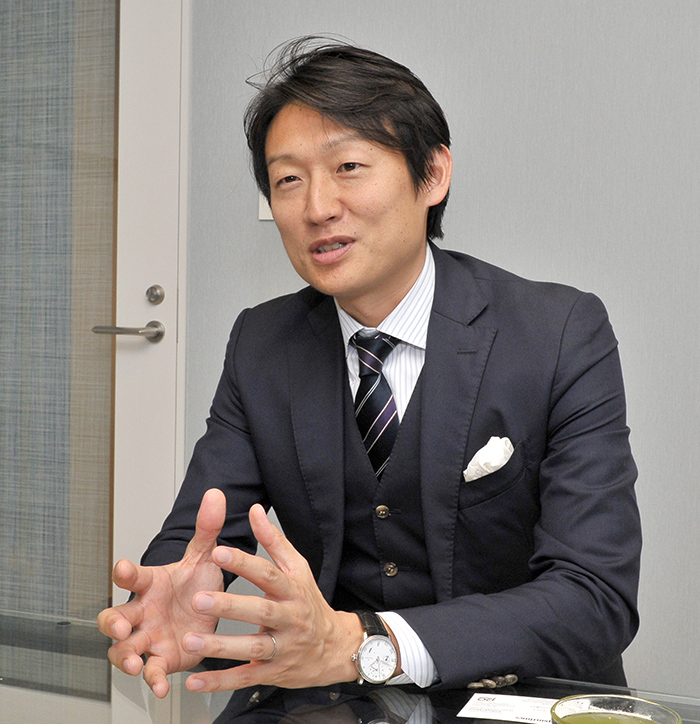 With a surprising 50 percent profit margin, Keyence is a manufacturing company specializing in factory automation, focusing on product planning and development. Hato was ranked No. 1 in sales for four years thanks to a strong conviction to learn and achieve tasks, eventually moving to corporate planning and reporting directly to the president. "This is the company's core department with only 20 members, where I got to meet the chairman who built Keyence from scratch once every three months. He is like a god in the company," Hato said in an interview in Tokyo.
About the time Hato felt that he had gained everything he intended to learn there, he was introduced to an older person who started his own company while he was a university student, reminding Hato of what he had originally wanted to do.
Upon starting his own business, Hato had three key factors in mind. "First, do something I enjoy. Second, my past experience should be meaningful in this area. Third, there needs to be high added value and usefulness for others," said Hato. "The financial business fulfilled all these three areas."
Unless others find this business valuable and beneficial, it will only be self-satisfaction. Hato felt there was potential to introduce financial product information that people were unaware of, such as products not available in Japan or overseas real estate.
Once Hato left Keyence, he realized that scams to deceive ill-informed people are common in the financial world. Still, in today's information society where negative news travels fast, he believes that only honest and legitimate businesses will survive, while fraud schemes will fade away.
Key of Life is composed of independent financial planners who can share useful information gained from their affiliate partners. As independent financial planners, they are in an unbiased position to compare all available financial products for their clients. Their financial product development team gathers innovative product information from all over the world, enabling Key of Life to share such information with their clients.
Initially, Hato became interested in this industry as he felt there was a large gap between information that he knows and information that those with tens of billions of yen have access to. "I want to find out about that information and share it with people around me," said Hato.
Hato's future goal is to make Key of Life Keyence's successor company. He named his company Key of Life out of respect for Keyence, which was named after key of science. "We should enjoy what we are doing and we ourselves should become the product," he said. Hato hopes to visit the legendary Keyence chairman in two years to report his accomplishments at Key of Life.
Hato aims to create freedom in terms of both money and time. Having money allows people to be free and gives them opportunities to experience things they find interesting. Hato and his team will achieve results for those people interested in that knowledge. Financial business is only building the foundation for Key of Life and Hato aims to deliver further added values, such as to introducing his clients to luxurious resorts around the world.
For now, Key of Life plans to gather 500 clients, which would be a manageable number to meet in person. Currently 90 percent of his clients are interested in financial information. "What would we want to do once we have achieved certain financial goals? I think people will want to experience something wonderful. When we created our company website, I thought financial consultation is only part of what we want to achieve. Our goal is perhaps to share a way to enjoy life," said Hato. "Since financial products are mostly long term, once you have a contract with a client, a long-term relationship will start. As long as we win, our clients will win, too. We are in the same boat."
Regarding his future dream, Hato says he wishes to have freedom. "To have the discretion so that I can do what I want to do when I want to do it. If I see something interesting on TV, I want to be able to visit the place and experience it. If there is something exciting, I could start a business with someone. I would like to have such freedom and power," said Hato.
This series has been prepared in collaboration with Enjin Co., which produces and operates a video website specializing in profiles of up-and- coming Japanese entrepreneurs.
This series has been prepared in collaboration with Enjin Co., which produces and operates a video website, kenja.tv, specializing in profiles of up-and-coming Japanese entrepreneurs.
---