Learn what it takes to have a successful future from these company leaders in our new series.
Spreading the appeal of 'junmai' sake
In spite of a decline in overall alcohol consumption and youngsters shifting away from drinking, recently there has been something of a boom in sake consumption.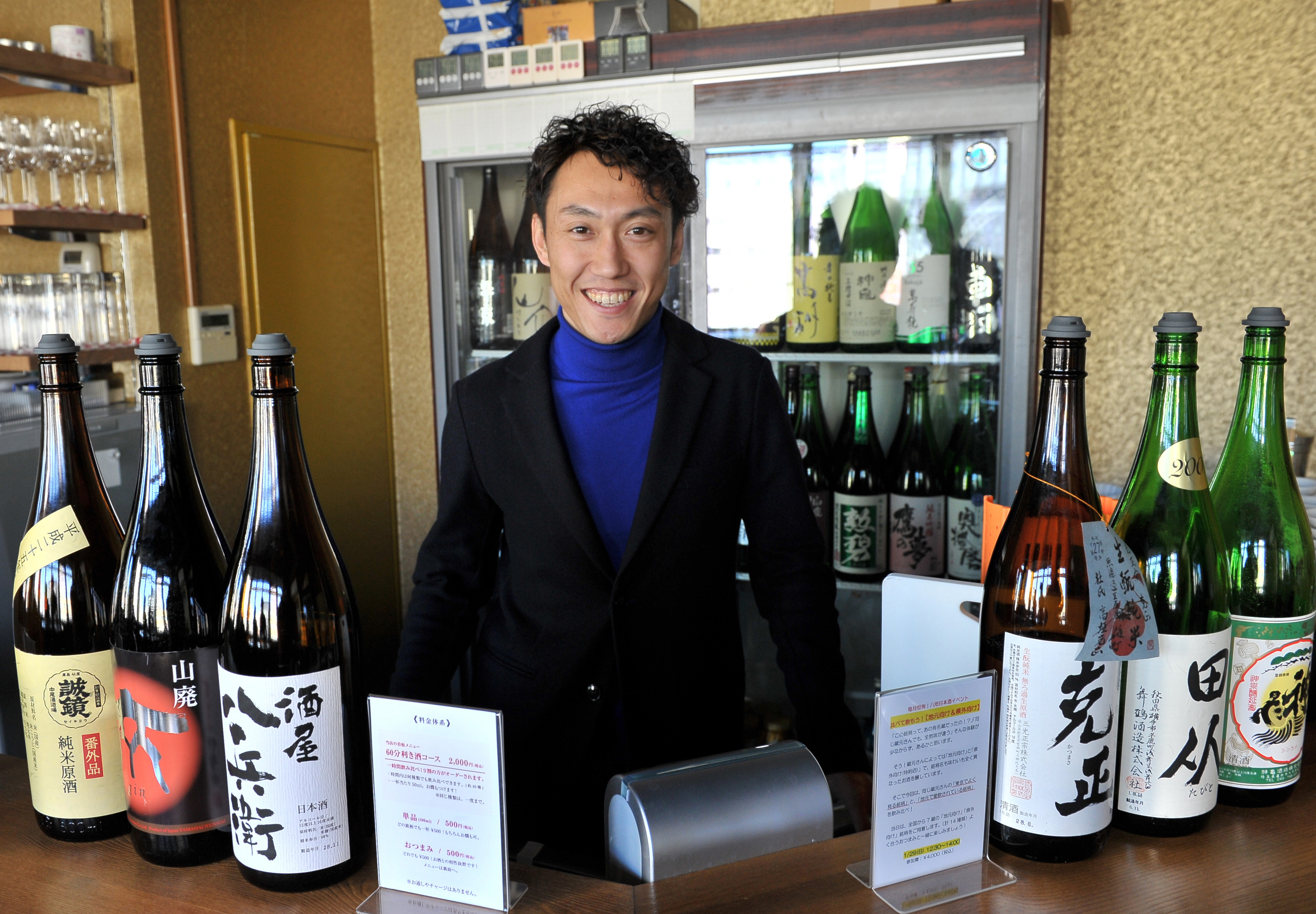 One of the leading pioneers in this field is Masamori Yamamoto, CEO of Magneticfield Inc., which owns and franchises Yata, a new style of Japanese sake bar that specializes in junmaishu, or sake produced only from rice with no added alcohol.
After ending his career as a soccer player in 2005, Yamamoto joined family business Nakamuraya, a neighborhood liquor store that offers delivery services to the local community.
Once he took over the business from his father in 2010, Yamamoto focused on making purchases directly from kuramoto (sake brewers) that he personally visited and only dealing with brands he had confidence in. This also meant discontinuing sales of other products, such as beer and whisky, as well as terminating traditional businesses with regular customers.
"I wanted to stimulate liquor shops, so I started Yata," he said. "I wanted people to understand the appeal of sake."
Yamamoto himself was completely fascinated by the depth of the sake world when he first started. Today, his passion lies in revitalizing the sake industry and introducing the beverage to the world, while being a pioneer in his community.
In 2012, Yamamoto launched the first Yata in Nagoya, since there were no bars or restaurants with in-depth knowledge serving sake at that time. Currently there are two Yata in Nagoya, three in Tokyo and a franchise in Sapporo, with more scheduled to open.
Yamamoto said, "90 percent of our customers order the kikizake, a sake tasting course where they can taste different kinds of sake for ¥2,000 an hour."
"Over thirty brands are in stock, and the bar managers will talk with guests and offer the sake that best suits their tastes. Communication is most important here at Yata," he said.
The decor at all Yata bars is simple and stylish in the tachinomi (standing bar) style to allow customers to experience sake in a casual atmosphere.
"During my liquor shop days I noticed some customers weren't sure of what they wanted. We ask what kinds of food or fruit they like and guide them to the most suitable sake option based on their preferences," he said.
Yamamoto created the kikizake course to introduce customers to sake and allow them to gain an understanding and experience the appeal of the drink. Customers can drink any sake they like, but are not allowed to repeat the same brand and they can also try kan (heated) or hiya (chilled) sake. He aims to showcase sake's appeal and educate customers so they will know what type of sake they prefer, not in terms of brand name, but in terms of taste.
Yamamoto developed the Yata franchise packages to achieve his passion of stimulating liquor shops.
"I can train staff to run the bar as professionals," he said. "Other businesses may be able to imitate our style, but they can't copy our operation, especially the customer consultations by bar managers. Yata's staff will discuss, select, offer explanations and pour the sake for customers. The best part of enjoying sake is comparing the different tastes."
Yamamoto wants to expand Yata franchises with those who hold similar beliefs.
Furthermore, Yamamoto designed the franchise package in order to expand globally and stimulate a sake boom overseas.
"Recently, sake has become internationally trendy, but it is still seen as a second wine in terms of positioning," he said. "I want sake to compete on its own, not as a pairing with meals. Since sake's unique flavor changes with the shape of the glass, we only serve tsumami (nibbles) that complement and bring out the taste of sake, instead of serving larger meals.
Currently Yamamoto is discussing expanding Yata with overseas hotels. Although prices will vary depending on the country, Yata's unparalleled business style will be the same anywhere in the world to deliver the unique sake culture and tradition.
"We are scheduled to open in Nagoya's Kitte building and that will be our first bar in a commercial facility," Yamamoto said. "With actual overseas expansion in mind, I am currently reviewing some aspects, such as would people overseas really appreciate isshobin (1.8-liter bottles). Unfortunately, sometimes sake quality is adversely affected and served abroad due to improper storage. We need to educate to ensure the sake is handled and stored properly."
He added, "I believe that there is no better timing than now to spread and popularize sake throughout the world. I've established the Yata style and it's been accepted. We are like evangelists and Yata is the sake bar that can educate people about sake."
This series has been prepared in collaboration with Enjin Co., which produces and operates a video website specializing in profiles of up-and-coming Japanese entrepreneurs.
---