Learn what it takes to have a successful future from these company leaders in our new series.
Realtor aims to show foreign investors the value of property in Japan
The first two years were hard for realtor Yuta Suzuki, the president of Japanese property sales, management and consulting company SU Partners, Inc.
He got into the business more than a decade ago, but being unable at first to pull big-name clients and lacking particular skills, Suzuki stayed in the office until the last train of the day, every day, cold calling potential clients under pressure from his boss to reach his monthly quota.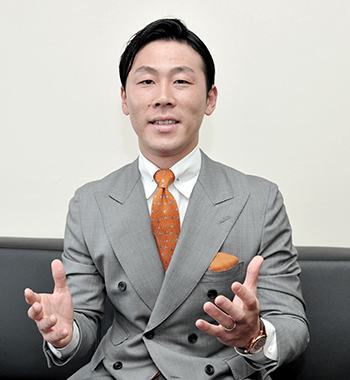 "It was the typical old-school style of real estate sales," Suzuki reminisced in an interview in Tokyo. "Sometimes we neglected our customers' needs, putting priority on selling what we had to sell to make our quotas."
Over the next few years, he developed his own sales skills and gained specialized knowledge and information on real estate in Japan, making his quotas but not liking that style.
"So, I decided not to follow suit when I founded this company. I will make this company the one that prioritizes clients' needs more than any other in the industry," he said.
That is the corporate standard Suzuki holds in one hand, while in the other he holds on to a corporate mission to show foreign investors the appeal of real estate in Japan.
SU Partners currently deals with real estate properties for investment, mainly apartments in residential towers in complexes in Tokyo and surrounding areas.
Demand for investment in real estate properties in Japan is thriving, in particular from foreign investors, ahead of the 2020 Tokyo Olympics, Suzuki said.
In the first four months of this year, foreign investors purchased Japanese real estate worth ¥900 billion. Purchases of about ¥2 trillion are forecast for 2017, he said.
Demand from affluent Chinese investors is not as strong as before due to slowing economic growth in China, but that has been made up for with increasing demands from investors from Southeast Asian countries such as Singapore, Indonesia and Malaysia, added Suzuki, who recently returned from a four-day trip to Singapore.
"Singapore is a regional hub of Southeast Asia, and a lot of information converges there, as do investors" he said. "The value of real estate properties in Japan is very high and very appealing to foreign investors. I want to sell that high value in foreign markets."
The plan, however, will not be materialized over the next few years, as Suzuki will focus first on domestic operations to put the company on track for stable growth by developing the company into the right size, the president said.
SU Partners has an annual turnover target of ¥20 billion within three years.
Suzuki said by the time the company reaches that target he aims to have 50-60 people on staff, about three times the current staffing level.
This year, the company is adding a few staff every month and plans to hire a dozen-plus college graduates in April next year, bringing the workforce to 30-40 in 2017.
"I don't want to go after the two different goals at the same time, because I may fail to reach either if I'm stretched too thin," he said. "When the company is big enough and on a stable track, then I can focus on foreign markets."
As the company grows, the challenge Suzuki is now working on is how to meet the ¥20 billion target while maintaining the client-first policy. One strategy Suzuki has in mind is to curb the increase of experienced workers in the company.
"Ideally, I want to see 70 percent of the workforce of this company be new college graduates," he said.
It is true that experienced workers — compared with new graduates — make larger revenue contributions thanks to connections with potential customers and established sales techniques. But it is also true that their skills are sometimes based on the old-school sales techniques that Suzuki wanted to get away from. He does not want to see old-school sales attitudes predominating at his company.
"My message to rookies in this company is to make mistakes," he said. "You make a mistake and you come up with a way to not make the same mistake next time. That helps you in the long run, and that is how I made myself what I am now."
This series has been prepared in collaboration with Enjin Co., which produces and operates a video website, kenja.tv, specializing in profiles of up-and-coming Japanese entrepreneurs.
---