Learn what it takes to have a successful future from these company leaders in our new series.
Amid surge in foreign investors, real estate chief puts customers first
Norihiro Kaneko, president of real estate agency Housing Success, feels demand from foreign property investors growing.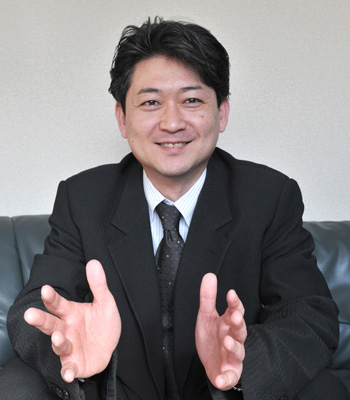 "There are some cases in which foreigners living outside Japan want to buy real estate in Tokyo. We welcome them and advise them on taxes and other issues. If they have questions we can't answer, we find the information and get back to them," Kaneko said at his office in Tokyo's Nerima Ward.
Foreign customers, especially Taiwanese and other Asians, have been on the increase recently, he said.
Some customers buy or rent houses to live in, while others are buying for investment purposes. Besides Asians, Western men with Japanese wives are also common because Nerima Ward is a residential district with convenient access to busy stations such as Ikebukuro and Shinjuku.
"Lately, there are more and more people in real estate who introduce properties, close a deal, but don't help customers obtain financing from banks. However, we take care of that and propose the best financing solutions," he said.
Kaneko, who is proud of his agency's focus on professionalism, holds a financial planning license and can advise customers on financing, as can his seven employees.
His practice of offering comprehensive service comes from his philosophy of wanting to make people happy.
"We follow the golden rule of treating others the way we would like others to treat us. It's basic, but very important," Kaneko said. "We don't focus too much on something tangible, but rather on how customers feel. We would like to do something that leaves customers wanting to say 'Thank you.' "
Housing Success, which Kaneko founded in January 2004, heavily emphasizes its customer relationships and sends both email and direct mail to renting customers and flowers to both buyers and sellers every year on the anniversary of their deal closings.
When customers introduce other customers, Housing Success gives gifts to both the introducers and those introduced.
Kaneko is living proof that people can be successful as long as they work hard, regardless of their educational background.
He was an active child who spent much of his time playing as a student.
"I wanted to be number one at everything, including fighting," he said. He was the type to go all out in pursuing what he wanted, but would do absolutely nothing for something he was not interested in. Because of this he dropped out of high school.
He later began going to high school at night and upon graduation, began working at a car wash, where he learned about customer service.
"Many customers were rich and drove expensive cars. That inspired me to want to drive such cars," he said.
At the age of 21 or 22, he thought of buying a house and found out that people need to take a takken license to deal in real estate.
"I had a vague notion that obtaining my takken would probably guarantee my future employment," he said. "I didn't have any skills then, but thought I could get a license even without a good education."
He passed the takken test on his first try, while some people spend as many as 10 years trying to pass.
"It's a test on a subject that isn't very interesting and everybody has an equal chance to pass. I think concentration is the key," he said.
One of the car wash customers introduced him to a real estate agency, which opened the door to his career. His job was to manage rental properties for landlords.
His did his job well and the president offered him a position as a subsidiary president. But Kaneko turned the offer down because "it is meaningless to be a hired president," he said.
The next agency he worked for mainly dealt in buying and selling real estate. At the job interview, the interviewer told him there is a lot of turnover in the industry, hinting that he thought Kaneko might be the type to job-hop. In reply, he simply said, "Fire me if I am no good."
Kaneko was always in top 10 out of about 60 sales people at the company and later changed course to become a developer.
Overall, he spent about seven years working for agencies before establishing his own.
Since then, Kaneko has never forgotten to provide the best service to customers.
"I will continue to raise the bar on the levels of work I do and the satisfaction my customers have," he said.
This series has been prepared in collaboration with Enjin Co., which produces and operates a video website, kenja.tv, specializing in profiles of up-and-coming Japanese entrepreneurs.
---