Learn what it takes to have a successful future from these company leaders in our new series.
E-money card reader developed to cut hospital red tape
At train stations, on buses, in restaurants and convenience stores, it is a common sight in Japan to see people paying minor charges by swiping prepaid e-money cards on card readers.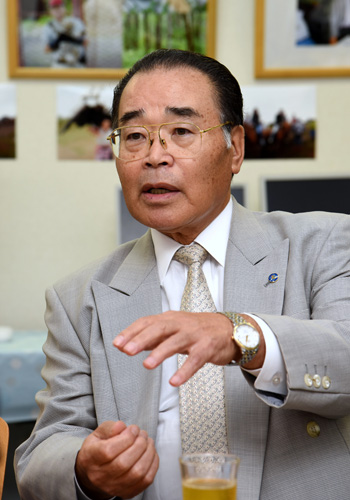 So why not in a hospital or clinic? That was the idea behind Tokyo Medicom, a Tokyo-based developer of devices and terminals to help hospitals and clinics streamline their back offices and reduce paper.
The company introduced its system, called KAZAPi, last autumn, allowing hospital and clinic patients to pay with existing prepaid e-money cards. The card reader is small enough to fit on a reception desk and can read 13 different kinds of e-money cards, which are mostly used for public transport and shopping.
The accepted cards include nanaco from the nation's largest convenience store chain operator Seven & I Holdings, WAON of supermarket chain operator Aeon, and JR East's Suica. With the system, it will be much faster and easier for hospital accounting staff to do their jobs, and patients don't have to dig through their wallets looking for ¥1 coins, believes Yasuo Tsunenaga, the chairman and founder of the company.
"It's believed that it takes about two minutes for a patient on the younger side to complete payment at hospitals and it takes more for elderly patients," Tsunenaga said in an interview in Tokyo. "We can save time with this system."
As the system is available only for small charges up to about ¥10,000, it is not suitable for major payments such as those for surgeries, Tsunenaga said. But it is handy and convenient for the small fees typically charged at such places as dental clinics and pharmacies, he said.
"I expect the system to make a significant contribution in differentiating one pharmacy from another, as patients would rather go to a pharmacy with a shorter wait time to fill their prescriptions," Tsunenaga said.
One unique thing about the system is the points program.
Some e-money card users gain points every time they use the cards for shopping or transportation. Accumulated points can be used for discounts on future purchases.
Hospitals and clinics, however, are not allowed to issue such points, because charges and prices of medical services and prescription drugs are determined under Japan's health ministry regulations and laws. It is against the law for hospitals and clinics to issue discount points to patients, because it is regarded as offering discount services and products.
The KAZAPi service, however, doesn't conflict with the law because hospitals and clinics are not the issuers of the points; rather, it is the card companies, Tsunenaga explained.
Tsunenaga founded Tokyo Medicom in 1975 after working at a life insurance company engaged in corporate pension products. While working there, he built ties with doctors while formulating pension plans for hospitals and clinics.
In speaking with doctors and hospital operators, Tsunenaga heard many of them grumbling about the cumbersome work of filing receipt forms, which are monthly claims to Japan's national health insurance system to receive payment for the costs of treatment and prescriptions covered by the system.
"I heard that every time doctors had to do that job, they would get help from their wives and end up in fights with plates flying," Tsunenaga said with a laugh, noting this as one of the reasons for founding the company.
Since then, Tokyo Medicom has been developing products to make the back office work of hospitals and clinics easier and faster, including systems for electronic patient records and electronic receipt forms for health insurance claims.
As Japan's health ministry encouraged paperless receipt formats, almost all hospitals and clinics nationwide have introduced the e-receipt systems, Tsunenaga said. But electronic medical record systems are not that popular yet, with only about 35 percent using the systems, he added.
That is why the company's head office has a room with terminals for doctors to practice working with electronic medical charts. Tokyo Medicom now offers remote services to users of its terminals, with both a doctor at a clinic or hospital and a Medicom employee able to see the same screen. The Medicom employee can assist the doctor fill in and compile their e-medical records and e-receipt forms.
"We were the first to introduce the e-receipt systems, and we now cover all of the back office work at hospitals and clinics," Tsunenaga said.
This series has been prepared in collaboration with Enjin Co., which produces and operates a video website, kenja.tv, specializing in profiles of up-and-coming Japanese entrepreneurs.
---