Learn what it takes to have a successful future from these company leaders in our new series.
Entrepreneur turns to India to realize ¥100 billion dream
His companies' current annual sales: ¥2.2 billion. His dream: A ¥100 billion turnover in 10 years. How to achieve it?: India.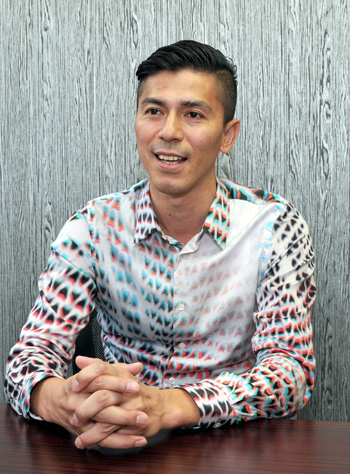 "I like vocalizing my dream, which encourages me to really achieve it," said Atsushi Kogahara, president of Kyoeisha Inc., K-House, K-House Japan and K-House Food India Ltd. at his office in Tokyo's Shinjuku Ward on Aug. 7. The first three operate Japanese restaurants in Japan and the latter operates Japanese restaurants and related businesses in India.
"We will become a ¥100 billion company in India. We're serious," says the front page of the website of K-House India.
With the passion of spreading Japanese food culture to the world in his heart, Kogahara traveled to various countries in Asia.
He found India an attractive market because Japanese food has not been popular, but India is a pro-Japan country.
He was also impressed with creativity of chefs there. When he took a tour to eat only Japanese food in India, he encountered a chef doing artistic things with ingredients, such as a wasabi container made of raw carrot.
"When I saw that, I thought it would be interesting to use Indians' creativity," he said.
His Indian company opened its first restaurant in November 2013, and currently has four, with two in Kolkata and two in Delhi. His Japanese companies have 39 restaurants, 29 of which are in hotels, with breakfast accounting for more than half of sales.
His Indian restaurants serve mostly izakaya (pub) foods, tempura, teppanyaki-style barbecue, nabe hot pots, ramen, udon (noodles), sushi, edamame soybeans, tofu and many other foods. They also plan to have Chinese and Italian foods arranged in a Japanese way.
While he mostly only operates restaurants in Japan, he plans to also grow rice and vegetables, process marine products and import ingredients from Japan. Such projects will account for most of the future growth for the ambitious ¥100 billion in sales.
On rice, Kogahara said his Japanese restaurants in India mainly use Japanese rice produced in China, California rice and other types of rice, adding that the Indian government has not been helpful in importing rice from Japan because India has abundant rice.
That's why Kogahara decided to grow Japanese rice in India, which is not free from challenges as the climate is very different from Japan.
But he is fortunate to find a partner, ASK, a rice wholesaler in Yamagata Prefecture that has know-how in developing Japanese rice, and set up a joint venture between ASK and his Indian company to start growing Japanese rice in Kolkata in July 2014.
Kogahara had rice harvests last November and in April and he plans to start growing rice in Chennai in September and in Pune next year.
Kogahara is also planning to grow vegetables on the Deccan Plateau, which makes up much of southern India.
It's not as easy to buy fresh vegetables in India as it is in Japan, he said. Raw vegetables often grow looking too old for Japanese consumers' standards because the temperature is too high. Also, the water is not very clean and Japanese consumers may have upset stomachs after eating fresh vegetables washed in the local water.
Instead, he is thinking of packaging fresh cut vegetables by using technology to eliminate water droplets, he said.
On processing marine products, his Indian company will begin cutting, freezing and packaging fish at one restaurant in November.
He said he also wants to consult the fishery industry on fish processing methods, such as removing internal organs and blood immediately after catching tuna on fishing boats.
India does not have a custom of eating raw fish, so they do not know how to process raw fish properly, he said, adding that tuna from the Indian Ocean are mostly caught and taken to Thailand, China and Japan, and are rarely brought to India.
Of course, it is unclear if these projects outside of the restaurant business will turn out successfully.
Among the challenges he faces in India is the difficulty in obtaining various licenses. For example, restaurants cannot obtain liquor licenses until restaurant construction is finished in India, he said.
Hiring qualified people is also difficult, as he wants his restaurants in India to have one or two Japanese as the chef or a manager supervising 15 to 25 Indian employees.
"Japanese people should supervise and make sure the appearance and taste of food be consistent," he said. Indian chefs sometimes make Japanese food spicier than it should be because Indian people like it that way, he added.
Kogahara said it was not easy to recruit in Japan for people to work in India.
"I run into people who have been to India, but about half of them are not fit to work for my company. More frequently I find people who have not been to India but find our business model attractive and my ambition interesting," he said.
Kogahara's ambition does not stop at the food business. In the future, he wants to build schools in India.
"I want to give poor children opportunities to study. Also, my schools would serve Japanese food for school lunch and children could learn Japanese culture," he said.
This series has been prepared in collaboration with Enjin Co., which produces and operates a video website, kenja.tv, specializing in profiles of up-and-coming Japanese entrepreneurs.
---