Learn what it takes to have a successful future from these company leaders in our new series.
Language program aims to help kids with disabilities
Yoko Araseki, president of Angel Cosmo Inc., is the creator of a unique approach geared to help children who have difficulty speaking. Called the Araseki Language Development Method, its creator said: "I developed it from pure need. I wanted to do something to help those children who remained speechless despite going through various public programs."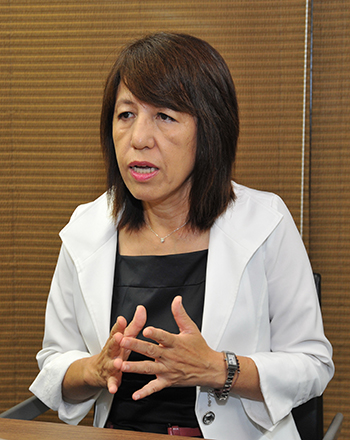 Araseki started her own private preparatory school 34 years ago to help children excel in their school subjects. "My classes had many children with various disabilities and teaching those children required a completely different approach from teaching other children," she explained.
Teaching children with various developmental difficulties such as autism and Asperger's syndrome gave Araseki valuable experience. In her years of teaching, one experience remains unforgettable. "A grandmother came to me with her 5-year-old grandchild who had been diagnosed as autistic. The child was completely speechless. But the child started speaking short sentences less than three months after receiving my training," she recalled.
If a 5-year-old could make such progress, Araseki thought she could get better results if she started with younger children, "because 90 percent of the brain completes its growth and development by six years of age," she said. Considering the problem further, she eventually created the Araseki Language Development Method.
In a nutshell, Araseki's approach is based on the intelligence factor theory. It is known that the intellectual activities of people are comprised of the six intelligence factors of remembering, acknowledging, assuming, associating, reviewing and transmitting. Each factor stimulates the brain by relating with existing figures, shapes or words. Ultimately, the overall process heightens the intellectual level of a person.
Therefore, Araseki takes the approach of first showing numerous figures and shapes to a child. "I prepare a bunch of cards with matching figures or shapes. For example, say there is a card with an apple. I then help the child find another card with an apple from the pile of cards. Placing the two cards in both hands of the child, I repeatedly say that the two are the same. After putting the cards away, I repeat the same process with another pair of images," she explained.
Araseki says that acknowledging which two things are the same is the first step in speaking. Repeating that same process over and over at home serves as the breakthrough.
But one alarming thing that Araseki said was that out of 100 children who cannot speak, only 15 have real disabilities. "It's very likely the remaining 85 children haven't had the proper opportunity to nurture their linguistic skills at home with their parents," she said.
What does she mean by that? According to Araseki, the number of children with speech problems shot up about 10 years ago, corresponding to the rapid spread of smartphones. "Mothers tend to be fiddling with their smartphones instead of looking into the eyes of their children while breastfeeding or bottle-feeding. The lack of such human contact greatly affects a child's ability to speak," she said.
Araseki created 10 specific checkpoint questions that are closely related to a child's speaking ability. They are: Have you given your child a toy horn or whistle to blow? Have you limited your child's TV watching time to less than one hour per day? Are you making sure your child can see your mouth while you are talking? Are you reading your child five or more books a day? Have you been sending your child to a day care center for six hours or more per day since your child was two years old? Are you maintaining proper physical contact with your child when bathing together? Are you kissing your child's face, throat and other areas often and affectionately? Are your child's teeth crowding their tongue? Are your child's fingers or toes bent unnaturally inward or outward? Are you kindly and gently teaching your child the names and meanings of things?
The questions are universal, and can be applied to any child with a speech problem anywhere in the world. "I came up with them through my 34 years of experience teaching around 50,000 children. They are the crucial factors toward finding a solution as I continue searching for ways to enable every child to speak," she explained.
Araseki deeply believes that the time has come when medicine is linked with education. She also thinks that medical treatment, education and love are all required to bring up a healthy child. She therefore wants the Ministry of Health, Labor and Welfare of Japan to approve her language development method.
Taking her ambition one step further, Araseki said: "Since many in the world today are using smartphones, I'm currently developing an app for my training method. Once my method is approved by the government, I'd like to introduce it to the world in English."
This series has been prepared in collaboration with Enjin Co., which produces and operates a video website, kenja.tv, specializing in profiles of up-and-coming Japanese entrepreneurs.
---