Learn what it takes to have a successful future from these company leaders in our new series.
Changing the real estate game
The office entrance is finished in sand-washed timber siding that bears the corporate name logo: Nine Gates. Inside the thick wooden door, a putting mat with golf balls spread across the turf occupies one side of the wooden floor. Meanwhile, the far wall is decorated with a couple of surfboards. Unless told, one wouldn't guess this is a realtor's office.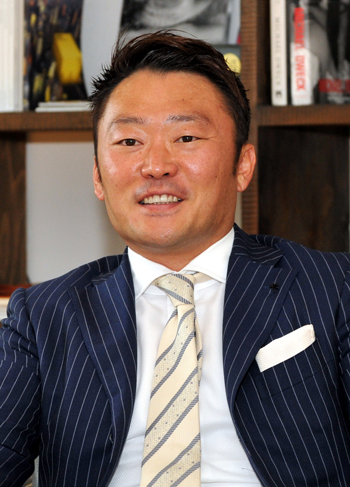 Working hard and doing his best to be the top salesman in his previous company, Tomoyuki Mochida, CEO of Nine Gates, eventually found himself taking care of business without stressing out too much. "But I didn't feel content. I wanted to create a seamless workflow of finding a good property, conducting an honest sale and taking good care of my customers long after selling a property," he explained.
Since such a work model didn't exist at his former workplace, Mochida established Nine Gates in December 2009, together with a colleague who shared his sense of value. "This was just after the 'Lehman shock.' You could see that everybody was unhappy. So, I focused on unburdening the hearts of those around me through my work as a realtor," he says.
Starting off with capital of ¥30 million, the company's revenue reached ¥5.4 billion in just five years. This year, its sales figures are likely to reach ¥7 billion.
But Nine Gates is no different from other realtors in the sense that it uses the same sales channels as others. "What's different is our stance toward our job. We sell each property, wishing our customers, whom we refer to as the cast, to enjoy a more fulfilled, enriched life. Ultimately, we want them to become Nine Gates' fans," Mochida said.
To that end, customer relationships at Nine Gates continue long after a sale; a contrast to the general approach of realtors where customer relationships end as soon as a property sells. "But you must realize that from a customer's viewpoint, their relationship with a property starts from the purchase," noted Mochida.
Therefore, what Nine Gates did was create Club ING, which regularly invites past and present customers to such things as seasonal events and parties at top-tier hotels. By doing so, Nine Gates creates and enhances good company-customer relationships. Such relationships have contributed to 90 percent of new business coming through referrals from past customers.
As for the staff that currently number 40 in total, Mochida wants them to work hard yet cheerfully, sharing his philosophy of earning money while making other people happy. Hence, Mochida spends generously to train the staff, "not to become good realtors, but smart, attractive people," he stressed. Since his stance is well understood by the staff, the employee retention rate is 100 percent.
Additionally, Mochida has an annual Family Day to gather the families and parents of staff from around the country, "so that they can see with their own eyes how their daughters and sons and so on are doing at Nine Gates," he explained. Mochida recalls one deeply touching moment when a father, who himself is also an outstanding salesman, came sat at his daughter's desk and said, "I'm so relieved to see my daughter growing with a fine job working here at Nine Gates."
Being a realtor, it is a prerequisite for the Nine Gates staff to be able to thoroughly explain about each property they handle. "But to be honest, we still have a long way to go in building customer satisfaction. I'm also always concerned as to whether our customers are happy or not with the property we have sold them," says Mochida.
Seeking to enrich and share the value sense of the cast with everybody involved, including the families of the staff, Mochida is currently undertaking several projects in the district that everybody finds exciting, yet profit-earning.
"I want Nine Gates to grow into a well-known brand. I want it to become a professional group of realtors that is smart and attractive on top of being business-oriented," said Mochida. What Nine Gates is today is the result of an accumulation of what they have retained and respected as interesting over the years despite having a high business potential.
The next step is to take a consolidated action that integrates creativity with profitability and the people's preference in Nine Gates. This heavily depends on the capability of the staff that has so far proven competent.
"There are three key factors I stress to my staff as realtors: First is to have a sharp, discerning eye to find a good property, second is to calculate the profitability, and third is to always have a sales mind," said Mochida.
On top of that, Mochida stresses that they always have to think of ways of increasing the number of customers who become true fans of Nine Gates well into the future.
This series has been prepared in collaboration with Enjin Co., which produces and operates a video website, kenja.tv, specializing in profiles of up-and-coming Japanese entrepreneurs.
---