Learn what it takes to have a successful future from these company leaders in our new series.
Image-enhancement firm LinkPro aims for top
LinkPro Co. President and CEO Bill Haraguchi boasts that his firm's technology is the world's best.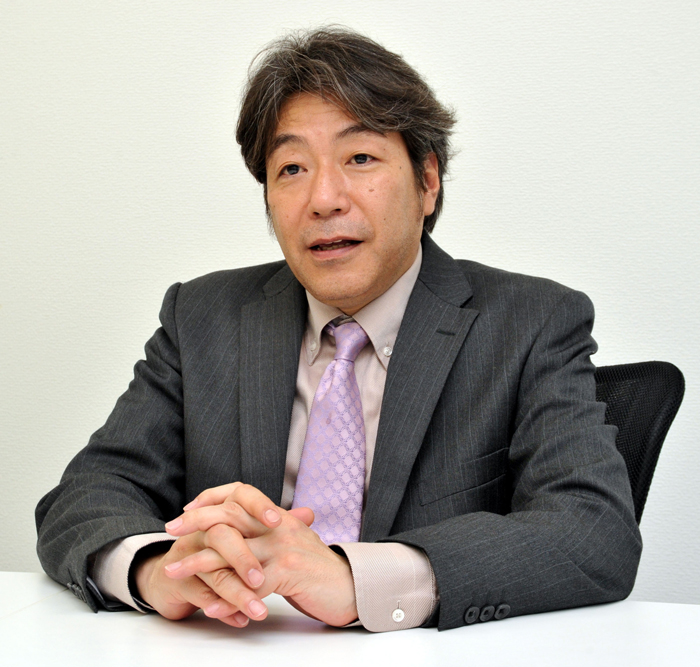 The Tokyo-based company's main product is an image-enhancing technology dubbed Alter One, which improves, for example, hazy or blurry images of crime suspects captured on surveillance cameras.
"We've become the world's best in image-enhancement technology. We've compared technology with our rival's and I'm sure of it," Haraguchi said at his office in Chuo Ward on May 8.
Alter One can also improve images taken at night, in heavy snow and under other adverse conditions.
Another technology, dubbed Kekkai, helps detect moving objects. For example, it is used in a device to automatically release a noise disturbing to birds. Airports use the product to keep birds away from runways to avoid collisions. Kekkai can differentiate between birds and airplanes.
Haraguchi said he would like Kekkai to be the world's top choice in moving-object detection technology.
LinkPro's customers include the makers of cameras and other equipment used by police, the Land, Infrastructure, Transport and Tourism Ministry, the Meteorological Agency, airlines, helicopter companies, construction companies and other organizations.
But those are users of the company's higher-end products. It is also developing cheaper versions, which Haraguchi hopes can be used by cosmetics makers as sales tools to get a close-up look at their customers' skin. The company is also developing technology used in smartphone cameras, as well as professional cameras.
For inexpensive items, Haraguchi is considering, for example, a printed circuit board costing a few thousand yen to be used in professional cameras, he said, adding that the board will create fairly inexpensive cameras.
LinkPro was founded less than three years ago, but it spent most of that time on research and development, and only began seeing revenue in January.
In LinkPro's business year ending in May, the company is expected to post sales of ¥200 million, and hopes to reach ¥1 billion next year and ¥1.4 billion the following year, Haraguchi said.
The company has not sold much overseas yet, but it is in negotiations — via manufacturing partners — with companies in China, South Korea, Malaysia, Europe and the Middle East.
Image-enhancement and moving-object detection technologies account for more than 80 percent of the company's revenue, while other businesses such as system integration services, account for the rest.
Haraguchi stressed that his company will never develop anything customized for a specific customer. If he is approached about such an order, he will negotiate to share intellectual property between his company and the customer, he said.
"Such business is a one-time business, but we have to support it forever. We would have to stay up all night to meet deadlines and fix bugs," he said, explaining why he never wants to develop customized technology for a customer.
Such a philosophy comes from his passion to make what he wants to make.
Spending the majority of his childhood in the United States, his first job was at a trading company, where he launched a department developing graphic technology.
At 29, he left the company and entered the BMG Victor music label, where he was also developing graphic technology. At 32, he joined another company as a founding member to develop a graphic server system.
At 35, he founded his own company developing signage technology.
"My company was doing pretty good, but the Great East Japan Earthquake in 2011 hurt my business as companies cut down on advertising," he said.
About three years ago, the then-LinkPro president contacted Haraguchi, who became an adviser a little more than a year ago.
He became president in May last year, and the company began making image-enhancement technology in July.
"I thought we needed a core technology and for us, that was image-enhancement technology," he said.
LinkPro once joined a bid for a prefectural police department that was using another company's technology for image-enhancement, but Haraguchi thought he could do it better, he said, explaining why he chose it to be LinkPro's core technology.
He probably bet correctly, as he collected ¥300 million last year to hire the engineers needed to develop, mainly, image-enhancement technology. Separately, LinkPro was granted a ¥10 million "manufacturing subsidy" by the Tokyo Metropolitan Government in June last year.
Haraguchi, who owns 42 percent of LinkPro, aims to expand his company and is planning to collect an additional ¥150 million this year.
He would like to hire people who do not compromise, he said.
"We don't want to make anything unless we aim to be the world's No. 1," he said.
This series has been prepared in collaboration with Enjin Co., which produces and operates a video website, kenja.tv, specializing in profiles of up-and-coming Japanese entrepreneurs.
---