Learn what it takes to have a successful future from these company leaders in our new series.
Mustard Seed Academy takes cram schools to the next level
Hajime Nakazawa's cram school is very different from other schools.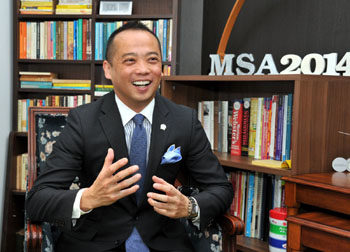 Its strict focus on English is just one of the factors that make the school unique.
The Tokyo-based Mustard Seed Academy, of which Nakazawa is founder and CEO, has students read books used in Stanford University master's courses and memorize 20,000 vocabulary words, way more than the number necessary to pass Japanese university entrance exams.
"We don't only want to help students with their university entrance exams. We want to help them become future entrepreneurs," Nakazawa said. "We are doing many things other cram schools don't."
There are no complaints from students over having to learn things that won't appear on the entrance exams because "they already know we are different and only different students come to us," he said.
Mustard Seed Academy operates its namesake cram schools in the Ichigaya district, Tokyo's Shinjuku Ward as well as in Shizuoka. It has an enrollment of about 150 to 180 students. About 40 percent of its students pass exams for Waseda, Keio and Sophia universities, he said. Another 40 percent pass the exams for other "excellent" universities, he added.
Since its foundation in 2005, the cram-school company has never been in the red, nor has it had any debts, he said.
The focus on English produces Mustard Seed alumni who are capable of working on the global stage, and some students opt to study abroad.
A Mustard Seed Academy pamphlet mentions one example of a student heading overseas. The pamphlet tells of Mizuto Aoto, a young man who quit high school, worked part time and went to Mustard Seed Academy with the goal of becoming a neurologist.
Nakazawa persuaded him to go to the U.S. with the goal of getting into the University of California, Los Angeles, which is reputed to have a top neuroscience program. Aoto went to Santa Monica College in 2009 for premed and successfully entered the neuroscience program at UCLA, according to the pamphlet.
It seems Aoto was inspired by some of Mustard Seed's classes, which nurture strong English skills and encourage entrepreneurship.
Mustard Seed Academy has recently formed relationships with universities in Britain, Ireland and the U.S. and three or four students will probably go to those universities this year, Nakazawa said.
One of the English texts its students read is "What I Wish I Knew When I Was 20: A Crash Course on Making Your Place in the World" by Stanford University professor Tina Seeling.
Another book students read is "The Willpower Instinct: How Self-Control Works, Why It Matters, and What You Can Do to Get More of It" by Kelly McGonigal, a health psychologist and lecturer at Stanford University.
Regarding vocabulary, the cram school has students study 20,000 words, Nakazawa said. Consequently, every student knows "at least 12,000 words," he said.
"Interestingly, the students don't complain about learning the vocabulary," he said. "In fact, many of them say they've wanted to do something like it."
Asked why the school focuses on English, Nakazawa, who obtained a master's degree in divinity in the United States, said it's because the subjects that appear on the entrance exams mean that English is likely to be most useful in the students' future.
He also said he has no intention of adding English conversation or TOEIC (Test of English for International Communication) to the curriculum.
"Studying TOEIC doesn't give students the skills to have in-depth conversations or write dissertations," he said.
Mustard Seed Academy has native English teachers who focus on speaking and listening skills. These teachers, along with some of the Japanese teachers, help prepare students for living and studying overseas, Nakazawa said.
His cram school does not have any students from the so-called excellent high schools that frequently appear in the media for turning out high numbers of students who pass the University of Tokyo's entrance exams.
Instead, typical students are those who devoted their time to sports at public schools or those who dropped out of high school for various reasons, he said.
Regardless, the first thing Nakazawa teaches every new student is to "be responsible for your life."
He encourages students to wake up early and won't accept late homework or assignments. He also makes sure academy teachers won't help students unless they ask for it. Instead, teachers encourage students to make mistakes as many times as they need to while learning something, he said.
Nobuhito Arai, 19, passed his exam and will go to Keio University in April. He said he appreciates Nakazawa for teaching him to "never set a limit and to keep challenging yourself."
Nakazawa's remark encouraged him to take the exam for Keio, which he felt was "way beyond my reach before," Arai said.
Another student on his way to Keio is 19-year-old Shinya Kimura, who was not sure how memorizing so many English words would help him, but is now glad to have done it, he said.
"The English I learned here will be definitely useful in my life," Nakazawa said.
This series has been prepared in collaboration with Enjin Co., which produces and operates a video website, kenja.tv, specializing in profiles of up-and-coming Japanese entrepreneurs.
---