Learn what it takes to have a successful future from these company leaders in our new series.
Style, comfort inseparable for maker of handmade shoes
Here are some questions for ladies. You're planning to travel abroad for 10 days with your friends. How many pairs of shoes do you plan to bring? Or, when you go shopping in a fashionable shopping district like Ginza or Roppongi in Tokyo, what kind of shoes are you going to wear?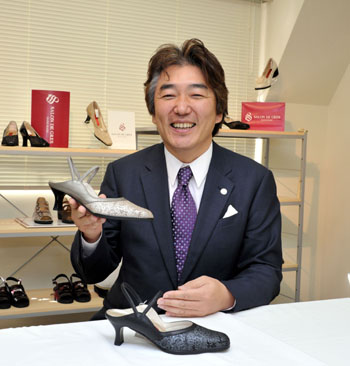 A pair of elegant high-heel pumps may be a fashionable start to your shopping, but after walking for three hours, they may prove to be a painful choice. A pair of loafers may be suitable for touring old temples in Thailand, but you may hesitate to attend a cocktail party in them on the last day of your trip.
Masatoki Kuremoto, president of Osaka-based handmade shoemaker Salon de Gres Co., Ltd., has been working to solve dilemmas like this by offering women shoes that are not just fashionable but also comfortable.
"There are many fashionable, decorative women's shoes on the market, as well as casual shoes. But it is not easy to find something between the two," Kuremoto said in an interview in Tokyo. "Our company's mission is to offer comfortable shoes to meet the two demands at the same time."
Comfortable shoes have been popular among female customers in Japan over the last decade, and some shoemakers are meeting this demand. Among them is Salon de Gres, established in 1979. The company's claim to fame is that, from beginning to end, its shoes are made in Japan entirely by hand.
Under Japanese law, a leather shoe is entitled to bear a "made-in-Japan" label if the "upper" part, meaning the part or parts that cover the toes, the top and sides of the foot and the back of the heel, is attached to the sole in Japan. This rule applies even if the upper parts are made in a factory outside Japan.
There are seven stages in the shoe-making process, including cutting the pattern out of a sheet of leather, sewing, shaping the sides and other components, attaching the sole and nailing the heel to the sole. Each stage has more fine handcrafting steps, roughly 50 in all.
Salon de Gres craftsmen complete all of these steps in Japan. It takes as long as a month to make a pair of shoes, said Kuremoto, who succeeded his father, Toshio, the founder of the company.
"It costs us, but we are proud of it," he said. "The quality we offer can never be achieved in mass-manufacturing using low-cost labor."
Kuremoto's confidence in his products is also backed by the company's policy of using genuine leather, and by the company's skilled craftsmen who have decades of knowledge and experience in working with leather.
Leather is a living thing and it stretches, Kuremoto said. A leather hide may appear to be seemless, but it has several parts, including the belly, the rump and the back.
Each of these parts stretches in a different direction, and the extent of the stretch depends on temperature and moisture.
Mixed use of those parts, or use of the wrong parts, creates wrinkles on the surface of a shoe, or produces uncomfortable shoes that can hurt the wearer.
Shoemakers have to be adept at knowing which part of a sheet of leather is suitable for which part of a shoe, and in determining to what extent the part will stretch. It usually takes a shoemaker about 10 years to acquire these skills. The professionalism of Salon de Gres craftsmen supports and maintains the high quality and reputation of the company's products, Kuremoto said.
That reputation is spreading not only among Japanese customers but also among people in other parts of Asia, including Taiwan, Thailand and Singapore.
One thing Kuremoto noticed about customers in those markets is that many are unaware shoes can cause health problems, especially bunions, the most frequent result of uncomfortable shoes.
A bunion is a deformation of the toe, with the big toe forced inward. It is widely believed that the deformation is caused by long-term use of uncomfortable footwear, especially tight-fitting shoes with pointed toes.
Japanese women have long accepted this risk, considering a bunion an unavoidable price to pay for fashionable high-heel pumps. So do their counterparts in other Asian markets, Kuremoto said. But he also said a bunion is "an avoidable health hazard" and he wants them to know that.
The 50-year-old president also said he wants his business to expand to meet growing demand from Asian customers.
At present, about 70 Salon de Gres craftsmen produce 120,000 shoes a year. That production is suitable for the current size of the company, and fast expansion of the business could damage the quality of its products, as well as the company's goal to be a worldwide brand, Kuremoto said.
"We are not satisfied if consumers choose our products only because they are comfortable to wear," Kuremoto said. "We want them to choose our products based on the Salon de Gres name. I want to make such a brand out of the company."
This series has been prepared in collaboration with Enjin Co., which produces and operates a video website, kenja.tv, specializing in profiles of up-and-coming Japanese entrepreneurs.
---