Learn what it takes to have a successful future from these company leaders in our new series.
Xebec smooths the future edges of deburring tools
Norihiko Sumiyoshi, the president of Japanese deburring and polishing tool maker Xebec Technology Co., has a unique dream. He wants all metal process engineers, regardless of nationality, to come to his company "to have some drinks."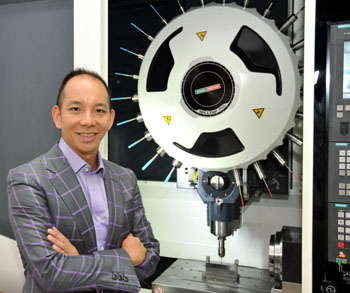 Xebec Technology, of course, is not a bar. It is a maker of deburring tools that smooth the edges of metal plates, tubes and other half-finished metallic materials. Deburring tools are used at factories to trim left-over ledges or wings on edges produced in the process of cutting metal parts. Any left-over metal ledges may injure workers, or result in malfunctions, especially with precision instruments.
For metal process engineers, deburring has been a pain in the neck for a long time because it is time-consuming and mainly done by hand. Automated deburring, either by machine tools or chemical processing, emerged years ago but solved only a small part of the problem.
"Even with our deburring tools, only less than 10 percent of current deburring problems can be solved," Sumiyoshi, who became Xebec's president in 2007, said in an interview. To solve the remaining more than 90 percent of the deburring problems, Sumiyoshi opened a research and development center south of Tokyo this June called Xebec Plus (+). The plus sign represents an intersection, reflecting his wish that the center become a place to meet engineers from all over the world.
In a corner of the center, there is a bar. He wants engineers, Xebec's customers and business partners to gather at the center to discuss deburring problems over drinks to generate unique ideas for solving them.
"I want to hear engineers all over the world say, 'Let's go to Xebec to have some drinks,' " Sumiyoshi said.
Xebec Technology's predecessor, Xebec International, was formed in 1991 by Sumiyoshi's father, Takehiko Sumiyoshi. Xebec Technology was founded in 1996. Norihiko Sumiyoshi, born in 1972, didn't join his father's company after graduating from college. After working at trading giant Mitsui & Co., Sumiyoshi engaged in setting up joint ventures before joining Xebec Technology in 2005 to work in overseas marketing. Sumiyoshi didn't disclose the company's annual sales or profit.
His desire, which is to free all engineers and factory workers from manual deburring, was not formed in a day. The primitive shape, or the very first idea of his dream, sprouted when he was specializing in the development of robot guide dogs at the graduate school of Keio University.
Through his experiences communicating with visually impaired people, Sumiyoshi learned a lesson that a barrier or hindrance narrows a person's possibilities.
With a guide dog's help, even a person with visual impairment is able to go out shopping, dining or attending a music concert. With a guide dog's help, the person becomes active and positive in living his life, challenging things he thought were impossible to do. Without a guide dog's help, such person becomes reluctant to go out, to communicate with others, and becomes negative, giving up opportunities to do something new even before trying, Sumiyoshi said.
For engineers and factory workers, deburring problems are something like impairment, Sumiyoshi said. Factory workers have to spend a lot of time trimming the edges of metal tubes and plates by hand. It is a waste of human resources because he believes workers could be doing things that are more productive.
Manual deburring work narrows the possibilities of the engineers and factory workers, Sumiyoshi said. He wants Xebec's deburring and polishing tools to be a sort of guide dog to free engineers from the time-consuming work so he can reduce costs and metal processing steps. To achieve that, however, it is not good enough just to apply Xebec's deburring tools. Factory chiefs and production line operators have to understand how to use Xebec's tools and put them into the production lines, Sumiyoshi said, just like a visually impaired person has to communicate with his guide dog, accept that it is a part of him, and make the best of it.
For a long time, engineers thought burrs were inevitable and unpredictable. They thought it was impossible to predict their size and location. Sumiyoshi said this is not always true. Burrs are controllable and predictable, and that is why automated deburring is possible. His mission in the metal processing industry is to change engineers' preconceptions of burrs and deburring, he said.
"Xebec Technology is not just a deburring tool maker, but is also a deburring consultant," Sumiyoshi said. "We want to be, and will be, the last answer to solving deburring problems in the industry."
This series has been prepared in collaboration with Enjin Co., which produces and operates a video website, kenja.tv, specializing in profiles of up-and-coming Japanese entrepreneurs.
---