Learn what it takes to have a successful future from these company leaders in our new series.
Adherence to safety issues brings trucking company success
Trucking companies such as Hishiki Unso are always looking to find ways to transport cargo faster and cheaper, but this has often led to drivers becoming overworked or involved in major accidents.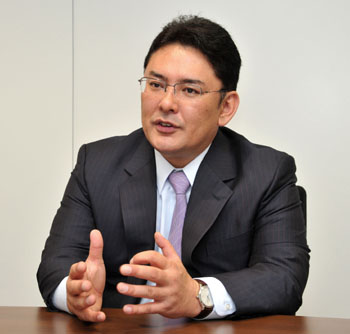 Before Hishiki Unso President Hirokazu Hishiki installed a new digital tachograph system in his company's trucks in October 2009, the company had been involved in 34 accidents in the previous 32 months. Afterward, it logged only 11 accidents between October 2009 and January 2012. There hasn't been a single accident since February 2012.
The digital tachographs allow drivers to monitor themselves and avoid overworking.
"A single accident could be fatal for a transportation company," said Hishiki, 43, explaining that the process of uncovering the cause of an incident could reveal if a company was not following safety regulations. "And that is what I would never want."
The Sosa, Chiba Prefecture-based company, established by Hishiki's father in 1971, mainly transports such products as flour and pet food for major milling companies.
Hishiki is not just some second generation company head without experience. The eldest child in his family, Hishiki was born the year before the company was founded. He said he bore witness to its "ups and downs, including serious accidents."
After graduating from university, he went to business school and worked as a driver for a major transportation company for three years. "Those experiences and the mentors I met inspired me to develop my business philosophy," said Hishiki, who has put priority on compliance.
When Hishiki suddenly had to take over the family business at age 30 when his father got sick, the first thing he did as president was to strengthen its management base by enlarging its warehouses and increasing business connections.
The new warehouses allowed the company to conduct its logistics operations more efficiently and to branch off into packaging pet food and recycling irregular noodle products into feedstuff.
Under Hishiki's management, the company steadily grew during his first 10 years, with annual sales of around ¥700 million, twice as much as in his father's time. Today, Hishiki Unso operates nationwide with 45 trucks and 55 employees.
Hishiki, however, admitted that, as often is the case in his industry, its operations were not always conducted in compliance with regulations.
"I would deserve criticism for business failures stemming from my lack of ability," he said, "but I could never tolerate accusations that my company was breaking the law."
The Health, Labor and Welfare Ministry sets regulations on working conditions for commercial drivers, including maximum driving hours and minimum break time, to ensure safety.
Compliance has been a burden, however, not only for the companies but also for the drivers. This is because they are too complicated to abide by during day-to-day work.
"For the drivers, it is not easy to think about regulations while also driving safely in ever-changing traffic conditions," Hishiki said. "Also, drivers are not comfortable if a staff member monitors them and warns them to stop driving and take a break."
So Hishiki decided to make use of digital tachographs, which record vehicle activity, such as distance traveled, fuel efficiency and other data. He commissioned them for use in trucks in conjunction with a program that shows the allowed driving hours and necessary break time needed to comply with national guidelines. It took more than four years to develop the system, which Hishiki patented in Japan in 2010. He has also applied for patents overseas, including in the European Union and the U.S.
Today, every Hishiki Unso driver makes use of the devices.
"It is a change in thinking about how to use information technology. The point is to create an environment that helps drivers' self-management, to abide by the regulations," Hishiki said. "Each driver can explain his availability to the clients based on the timekeeping system of our digital tachographs."
After the implementation of this safety mechanism to comply with regulations, annual sales fell ¥20 million, which was "initially anticipated," but costs stemming from accidents and insurance have also declined, Hishiki said.
"Rather than seeking immediate benefit," Hishiki said, "I believe that forming a proper operational framework based on a long-term view will be more of a help to our company's stability."
Hishiki said many clients used to think that trucking companies only have to carry their cargo as fast and cheaply as possible, but recently, they have started to realize the value of compliance, especially after a charter bus crashed on the Kanetsu Expressway in April 2012.
The deadly accident drew attention to commercial drivers' working conditions, their propensity to overwork and Japan's slack regulation of the industry.
"The issue of working conditions has been a major challenge for our industry," said Hishiki. "Our work management system using digital tachograph is a new methodology to tackle the issue."
This series has been prepared in collaboration with Enjin Co., which produces and operates a video website, kenja.tv, specializing in profiles of up-and-coming Japanese entrepreneurs.
---