Learn what it takes to have a successful future from these company leaders in our new series.
Buddhist supply firm takes nontraditional road
In the old central Tokyo district of Asakusa, one can find Buddhist temples and shops, including those that sell all manner of items related to the practice of the religion.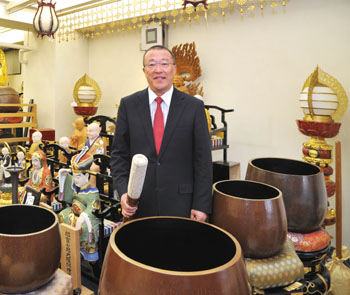 Suiundo Inc. is a family owned company that runs such shops. Of the Buddhist-related items offered, Suiundo is known for its "butsudan" Buddhist altars for the dead and the fittings for these objects.
Recently, however, Suiundo has started making "aburatorigami," small squares of oil-blotting facial paper, traditionally used by kabuki performers and geisha to preserve the appearance of their heavy makeup.
"So why would a butsudan dealer sell such a cosmetic item?" asked Yutaka Yamaguchi, the 64-year-old president of Suiundo, who took over the post from his brother last year. "That's of interest, isn't it?"
Established in Asakusa by Yamaguchi's father in 1947, Suiundo started as a small butsudan shop on the street known as Asakusa Butsudan Dori, where some 50 butsudan companies are located today.
Suiundo has since expanded its operations to the construction and repair of temple buildings and statues, and the selling of instruments and other ritual articles for temples.
Today, the company has three other locations in Taito Ward as well as branches in Setagaya Ward, Yokohama and Funabashi, Chiba Prefecture, with 108 employees overall.
Suiundo's first construction job was in 1962, when Ikegami-Honmonji Temple in Ota Ward, Tokyo, commissioned the company to construct a temple building and to arrange the interior Buddhist articles.
Suiundo brought together a team of skilled carpenters specialized in temple building. Subsequently, it established a temple building factory in 1967 in Matsudo, Chiba Prefecture.
Today, more than one-third of its annual sales, ranging between ¥3.5 billion and ¥4 billion, comes from the temple construction business.
"There is no other butsudan shop that also operates construction services," Yamaguchi said.
Except for retail sales in its stores of certain kinds of butsudan, Suiundo conducts business through an order-made production system so the company doesn't have to carry extra inventory. After receiving a request from a customer or temple, Suiundo commissions highly skilled craftsmen and artists, who specialize in wood carving, painting, lacquering, gold leaf papering and other practices to accomplish the task.
It was through conversations with some craftsmen who work with gold leaf that Yamaguchi came up with the idea of a new style of aburatorigami facial paper.
To decorate a screen or statue with gold leaf, the gold leaf is sandwiched between two sheets of special paper called "kinpaku uchigami," which is beaten to expand its size. This paper, which becomes extremely smooth after this process, has been used for a long time by geisha and "maiko" (apprentice geisha) to oil-blot their skin.
Three years ago, based on the traditional technique of kinpaku uchigami, Suiundo created original smooth paper, which the company calls Oil Control Tissues. A new version blends the paper with bamboo charcoal to strengthen its absorption ability and is called the Gold Oil Control Tissues as one side is covered with golden paper to make it opaque.
"The golden color, even though it's not real gold, makes this item much more gorgeous," said Yamaguchi, adding with a laugh, "Isn't it amazing if you see someone dabbing her face with golden paper?"
One of the reasons behind creating this product was to have young women become aware of the company and induce them to visit Suiundo's website.
"In order to help Suiundo attract customers, it is indispensable to reach young women, who usually do not care much about butsudan or temple decorations," Yamaguchi said.
Through word of mouth, including "a good reputation among Asakusa geisha," Yamaguchi said that the product is gaining in popularity. Josei Seven, a major women's weekly magazine with a circulation of 510,000, is packaging samples of the Gold Oil Control Tissues with its next issue, due out Thursday.
Yamaguchi is also planning to sell this product in China. The version for the Chinese market will be colored in a green that turns into the color of jade — traditionally Chinese people's favorite gem — when absorbing oil from the skin.
"Completely made in Japan, this item will be a good foreign exchange earner," Yamaguchi said. "I think it will be an interesting business."
The company's main business remains its butsudan and fittings, and Yamaguchi believes that these Buddhist artworks represent Japanese traditional culture.
"As a Buddhist object producer, I want to export Japanese culture to the world," he said.
"It requires great care to maintain our culture and reproduce it for the next generation," he said. "The only ones who are capable of doing this are producers of such Buddhist objects, I believe."
This series has been prepared in collaboration with Enjin Co., which produces and operates a video website, kenja.tv, specializing in profiles of up-and-coming Japanese entrepreneurs.
---