Learn what it takes to have a successful future from these company leaders in our new series.
Chemical maker thrives ditching old ideas for new
Johoku Chemical Co. operates in defiance of the business theory that minimizing inventory is a good thing.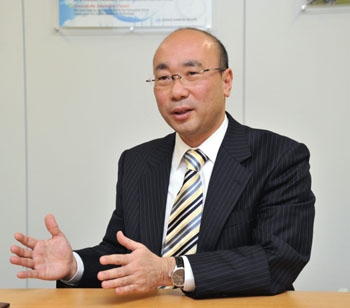 "What's wrong with having lots of inventory?" said Tomoaki Ota, president of Johoku Chemical. "With little inventory, once you are in trouble, you have nothing to sell. We have a responsibility to supply our products to customers all the time."
His philosophy proved effective after the March 11, 2011, disasters stemming from the Great East Japan Earthquake. Sales increased for the Tokyo-based maker of anticorrosion and other chemical agents because Ota's company had inventory while its rivals did not, he said.
"Business schools generally teach themes on the current business situation, but why do companies blindly believe what these schools teach? Companies and individuals have their own histories and personalities and are allowed to choose a way opposite to the business mainstream," said Ota, who has an MBA.
However, maintaining inventory comes at a cost. Storing chemical agents requires huge tanks, and storage costs in Japan are higher than in other industries, Ota said, without quantifying the cost.
Johoku Chemical makes phosphorus compounds and other chemicals that prevent metal corrosion and deterioration of plastics, urethane and other materials. It also produces chemicals that help lubricants last longer. Items using Johoku Chemical's products range from clothes and components for smartphones to coating materials for cars.
The company has been in the black since the 2009 business year ended March 2010. It posted record sales of ¥4 billion in the business year ending in March 2013.
The record was driven by chemicals used in environment-friendly products and components for smartphones, Ota said.
However, this does not mean he will shift the company's focus to these products. His enduring policy, in addition to having much inventory, is to make many kinds of products because he does not know which ones will sell well.
"Our company has the widest range of products among all the anticorrosive-agent makers in the world," he said.
Some 20 percent of Johoku Chemical's sales are to customers outside Japan, Ota said. Overseas orders come from China, Taiwan, India, South Korea, Thailand, the United States and Europe. China, Taiwan and India account for more than 90 percent of overseas sales, he said.
Regarding procurement, 80 percent is from overseas. Therefore, while a weaker yen increases Johoku Chemical's procurement costs, its customers are mainly Japanese exporters who benefit from a weaker currency. The increase in orders from Japanese customers offsets the rise in material costs, Ota said.
The company is also seeking to strengthen partnerships with overseas companies it procures materials from, he said. Following his individualistic style, Ota prefers not to use trading houses to procure materials, instead buying directly from overseas producers because he can obtain information directly from them and form long-term relationships.
Ota said he is cautious about building factories outside Japan because he is not sure if he can secure skilled workers locally. He is also afraid of losing technological secrets and company knowhow to other companies.
Ota's philosophical approach to the company is inspired by dialectics, a method of resolving arguments by letting two opposing views counter each other to create a completely new view.
"Looking at examples of failure in people, companies and countries, the problem is that they could not argue against themselves. When we as a company get stuck, I cancel everything and create something from scratch," he said.
"We have many people with high skills in specific fields, so we tend to be shortsighted and unable to look at the big picture. At that moment, as a leader, I start a new argument to argue against the way we have done things," he said.
He went against many courses of action that are considered theoretically correct for business, such as procuring materials from trading houses. Also, he does not hold regularly scheduled meetings, while enhancing efficiency at work and cutting transportation costs. He cut working hours to let employees have well-balanced lives without deteriorating productivity, he said.
His company used to have little cash and only borrowed small amounts of money to save on interest payments, but he later contradicted this method and borrowed lots of money, which helped the company survive the so-called Lehman Shock in late 2008, which made borrowing nearly impossible, Ota said.
Ota is also glad he did not cut jobs at that time.
"Company presidents are tempted to cut the workforce at a time like that, but wages for factory workers is not a very big issue for us. As you know, the economy bounced back and we enjoyed brisk sales because we didn't cut factory jobs," Ota said. "It was the right decision."
Ota does not create midterm business plans because he said they are meaningless at a time when nothing is predictable.
"I never stop the dialectic practice," he added. "I keep scrapping what came before and building anew."
This series has been prepared in collaboration with Enjin Co., which produces and operates a video website, kenja.tv, specializing in profiles of up-and-coming Japanese entrepreneurs.
---