Learn what it takes to have a successful future from these company leaders in our new series.
Caring for elderly proves a path to profit — and fun
Toshihiro Onishi, the founder and president of elderly care service provider Adonislife Corp., wants the public to know how much fun the job is.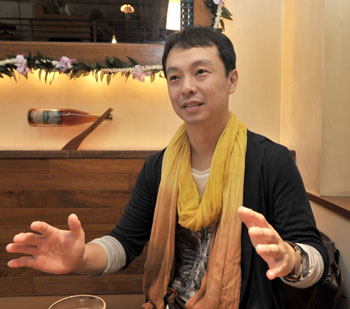 "When I was in training to get a qualification to be a caretaker for the elderly, I thought, 'I have never done a job this fun,' " Onishi said. "It's fun to interact with them, and caretaking itself is fun. They gain energy if they eat. They become able to do many things if we help a bit. Seeing that is fun."
Caretakers for the elderly are notoriously poorly paid in many companies, he admitted. But his company hires many more regular employees and fewer temporary workers than its peers and pays new graduates as much as regular salarymen, he said.
"Caretaking may be a tough job, but I don't know any easy jobs. On salary, I believe many presidents of companies are willing to increase their employees' salaries by making various business efforts," Onishi said.
Taking care of the elderly is not the first thing the 38-year-old Nagoya native wanted to do. He went to cooking school to become a chef at a hospital because "food in hospitals taste bad," he said.
After attending the famous Tsuji Cooking School he found it difficult to get a job at hospital because his alma mater was too prestigious, he said. Among the job opportunities that came his way, such as working for fancy restaurants, Onishi chose to cook in-flight meals for Japan Airlines.
After working for two years for JAL at Kansai International Airport, he felt something wasn't right about his occupation and he missed Nagoya. He quit and went back home.
In Nagoya he tried many jobs, such as selling fax machines to corporate customers for NTT Corp., selling cars and cooking again to gain restaurant-management knowhow.
When he was 29, a 20-year-old caretaker for the elderly recommended that he get the "Helper 2-kyu" (second-rank) qualification, and he began studying for it.
"It was very fun. I was earning enough money as a chef and already 29 years old. But the fun beat the security," Onishi said.
Working for several caretaking companies, he said he saw people come and go because of the poor working conditions.
"I thought the only way to change it is if I run a caretaking company," he said.
At one company Onishi was promoted to office manager, which afforded him a certain degree of independence from his company and allowed him access to financial records, which showed profits. It was this that convinced him the business of taking care of the elderly could be profitable, he said.
He asked his company to let him spin off his office, but the company refused, saying it was one of the few making money.
So he quit and established Adonislife in Nagoya in February 2010.
The first thing he did different from the other caretaking companies was to increase the ratio of full-time employees. One of Adonislife's offices in Nagoya has 25 full-time caretakers and 10 part-timers. Other companies' offices might have, for example, two full-time caretakers and 20 part-timers, he said.
"We focus on employee education. We pay higher salaries than our competitors. The profit goes down, but the employees' skills go up," he said.
In the near future, Onishi wants to open schools for taking care of seniors overseas, citing demand in the Philippines and Indonesia. The Japanese government has accepted hundreds of nurses and caregivers from Indonesia and the Philippines since 2008 to train and, once they pass the required qualification exams, to work in Japan under economic partnership agreements.
But not even half of the entrants have passed the exams, mainly due to lack of Japanese-language ability.
"Those Filipino and Indonesians could have passed the exams if they had had high education at home. They should learn Japanese to be able to speak Japanese, then come to Japan to get on-the-job training and reading and writing," he said. "Then they should be able to earn enough to live comfortably in Japan and send money to their home."
Adonislife in most cases sends caretakers to individual houses, not hospitals or other facilities. It gets new customers mainly by word of mouth. For the year ending next January, the company has budgeted for sales of ¥160 million and expects to break even.
The company often holds parties for its employees, and Onishi welcomes them to bring their children and family members.
"Some of our employees are single mothers and are licensed to be minders for small children. So, we have great demand and supply for minders at our parties," he said. "I want children to look at their parents' jobs and want to be caretakers when they grow up."
Asked what it takes to be a good caretaker, he said, "Not quitting. After all, endurance makes you stronger."
This series has been prepared in collaboration with Enjin Co., which produces and operates a video website, kenja.tv, specializing in profiles of up-and-coming Japanese entrepreneurs.
---