Learn what it takes to have a successful future from these company leaders in our new series.
Logizard carves out unique niche in inventory management field
Shigenori Kanazawa, president of inventory management and logistics service provider Logizard Co., says he first encountered the field of inventory management while working for a clothing company in Ibaraki Prefecture.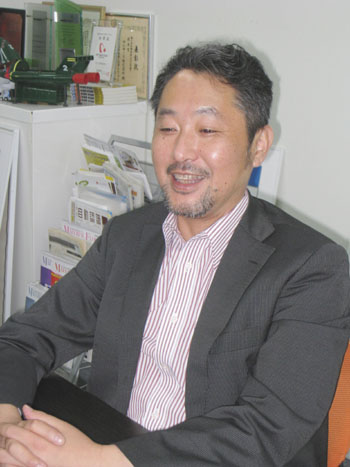 After joining the clothing firm in April 1990, the 45-year-old taught himself about inventory management and found out lots of people in many different businesses wanted to learn from him.
"In the clothing industry, I learned not having large inventories leads to a bigger profit. I thought this could be a good business," Kanazawa said. Eventually, the Ibaraki native quit the clothing company and became an inventory-managing consultant.
"Then I looked at warehouses of my clients. They were all messy, so I started a business of managing inventories, not just consulting," he said.
Since its launch in July 2001, Tokyo-based Logizard, which provides services to manage inventories and helps get goods from one place to another with a minimum of problems, is growing thanks to the increase in demand for online shopping.
"I was lucky that e-commerce was growing (when I started this business.) The need for a reliable inventory-managing system has increased," Kanazawa said. "We began focusing on online shop operators about five years ago. Now we have a reputation of strength in that area."
Logizard developed a plan to install an inventory-managing system in 30 days — something that used to take six months to a year, according to Kanazawa.
It leases customers hand-held bar-code readers that connect with its server, so inventory can be managed electronically.
According to Kanazawa, there are only two or three competitors in Japan who use cellphone-size devices that can manage inventories and logistics via bar codes. He said there are none abroad.
"There are few rivals because it takes high technology to create a reliable system. If the system is down five hours, it's over," he said.
Logistics companies account for about 80 percent of Logizard's sales, while other types of customers include clothing makers, retailers and auto parts makers, according to Kanazawa. He did not name any clients, but in general, the phrase logistics companies refers to big delivery firms like Yamato Transport Co. and Sagawa Express Co.
Sales outside Japan, mainly in Asia, account for only 2 percent of Logizard's annual income, but Kanazawa said he expects that figure will rise in the near future because Japanese companies are expanding their operations in Asian countries.
Kanazawa said the strength of Logizard's products is that they are cheap, compact and quick to install. Such strengths give Logizard an advantage over rival companies when Japanese companies expand into Asia, he said.
"Our customers make a very quick decision to move their factories and logistic functions when the business environment changes, such as appreciation of the yen," he said. "They want to move fast and still need reliable logistics systems. They go to Thailand, and if something like last year's flooding breaks out, they want to go to Vietnam as soon as possible. That's why a short lead time is important."
Kanazawa travels around Asia as much as 10 days a month to talk with potential partners or customers. Currently for overseas customers, Logizard provides its hand-held devices to local partner companies, which lease the devices under their brands to the end users.
Among Asian countries, China has the most potential because Japanese customers that are already using Logizard's products are expanding rapidly into that country, he said. But no other country has as much red tape as China when it comes to starting a new venture, and Logizard is required to obtain numerous licenses and documents to operate there, he said.
Logizard is planning to launch its first overseas branch — in Shanghai — sometime early next year.
Communications and cultural differences in doing business has not been a major issue for Kanazawa. This is largely because Logizard's products are self-explanatory and have little need to be customized for each customer, he said.
Logizard is getting quite a few business enquiries from retailers that have a number of outlets in many countries, Kanazawa said.
"Those companies want to quickly expand worldwide, and we are the only company that can do it fast," he said. "They want to manage inventories every day. They want to, for example, shift their inventories from Japan to South Korea when sales in Japan are weaker than South Korea."
Meanwhile, Logizard formed a business and equity alliance with computer and network equipment maker Contec Co. in February. The companies will develop services for logistics and inventory management together and sell each other's products. The alliance includes Contec owning 14 percent of Logizard shares.
Logizard posted sales of about ¥550 million and profit of ¥20 million in the 12 months that ended in June. For the current business year, it is targeting sales of ¥600 million and eyeing ¥50 million in profits.
Logizard, which currently employs 36 people, has showrooms in Tokyo and Osaka and a research and development center in Akita Prefecture.
This series has been prepared in collaboration with Enjin Co., which produces and operates a video website, kenja.tv, specializing in profiles of up-and-coming Japanese entrepreneurs.
---