Learn what it takes to have a successful future from these company leaders in our new series.
Power of Alloy Industry's future lies in lithium-ion batteries
It was the global financial crisis triggered by the collapse of Lehman Brothers in 2008 that prompted Alloy Industry to jump into the new market for lithium-ion batteries.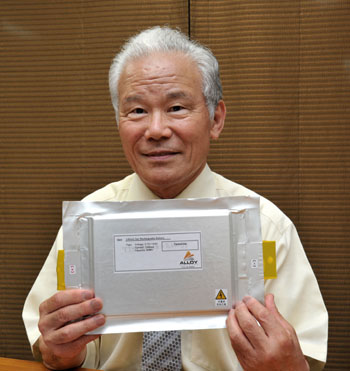 Four years later, the small Okayama-based firm, which normally produces cemented carbide, is busily preparing to engage in battery production starting in September to meet increased demand for green energy.
Aside from gadgets, lithium-ion batteries are often installed in houses or other buildings to store electricity generated by solar panels. In recent years, they have also found use in electric vehicles and electric motorcycles.
"I believe the lithium-ion battery market does not have any limits in terms of demand," Yoshinobu Shimoitani, Alloy Industry's chairman and founder, told The Japan Times in a recent interview.
Alloy Industry's main business has been cemented carbide, which is the hardest type of alloy used to manufacture precision parts for vehicles, ground excavation and drilling.
Since Shimoitani founded Alloy Industry in 1974, the firm has continued to grow steadily. During the period, its cutting parts were used in the machines that dug the Channel Tunnel linking France to Britain, and the tunnel under Tokyo Bay.
But when the cemented carbide market dropped during the global slump in 2008, the 71-year-old founder judged that the market had peaked.
"I thought that cemented carbide was not at the forefront of the industry anymore," he said.
Indeed, the market for cemented carbide halved in 2009 as industries using the alloy lost business.
By this time, however, Alloy Industry was already preparing its next business venture. In fact, the firm started searching for new opportunities in 2004 and had set its eyes on next-generation batteries.
Initially, Alloy Industry analyzed fuel cells for the first two years but gave up because of the high costs and prices. The next product it started looking into was lithium-ion batteries.
Along with the growing global demand for green energy, including wind and solar power, lithium-ion batteries have gained increasing attention in Japan and elsewhere as a means to store electricity.
In addition to the social trend, Alloy Industry was well-placed to enter the battery business.
First, the firm had the necessary business connections with suppliers of materials needed to produce this kind of battery. The firm's major products are cutter bits made of cobalt, tungsten and carbon, which are also required in the production process of lithium-ion batteries.
In addition, the firm had the knowhow to mix various metal powders together, which is a skill necessary to produce cemented carbide as well as lithium-ion batteries.
"The most difficult part of dealing with metal powders is the mixing. You need all knowhow to produce the alloy successfully," Shimoitani said.
Alloy started taking orders for its batteries in February, when it joined an exhibition with several other battery makers at Tokyo Big Sight.
At the show, Alloy received queries from house builders, automakers who made motorcycles, and department stores that sold the batteries to owners of luxury apartments and houses.
Starting in September, Alloy plans to produce 5,000 to 10,000 individual lithium-ion batteries each month. One 5- to 6-kwh battery set costs up to ¥4 million.
Some households are interested in storing electricity at night, when electricity rates are lower than the daytime.
Aside from these potential customers, "I'm focusing on batteries for hospitals and elevators because they would have urgent demand if natural disasters cause blackouts," Shimoitani said.
Currently, Alloy is searching for a site to build a new 6,600-sq.-meter plant in or around Okayama Prefecture, since producing lithium-ion batteries needs considerably more space than cemented carbide.
Alloy has already invested about ¥400 million on renovating a plant in Kume, Okayama Prefecture. With 40 employees, the company, which began with an investment of just ¥12 million, logged ¥600 million in sales for the business year that ended in November 2011.
This series has been prepared in collaboration with Enjin Co., which produces and operates a video website, kenja.tv, specializing in profiles of up-and-coming Japanese entrepreneurs.
---