Learn what it takes to have a successful future from these company leaders in our new series.
Former match company strikes gold with tennis
Staff writer
Tennis matches take on another level of meaning for Noah Indoor Stage. The indoor tennis school originated from a tennis club started by match manufacturer Nittosha in August 1980.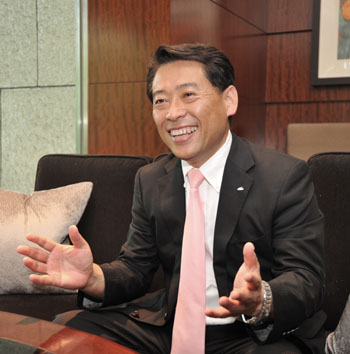 "As the match industry dwindled, the company started an outdoor tennis club on the vacant lot where the matchstick production factory originally stood," said Masayuki Onishi, representative director and president of Nittosha and Noah Indoor Stage, both based in Himeji, Hyogo Prefecture.
In 1987, Onishi was appointed to run the tennis business after the manager quit.
"There were 10 outdoor courts and the business was stalling. So I thought of starting an indoor tennis school that wouldn't be affected by the weather. Thanks to the tennis boom in those days, the business went well. Hence, we started to expand outside Himeji from 1998 and changed the name to Noah Indoor Stage," he said.
In those days, the coaches were the bosses and could take a heavy-handed, top-down approach. As times changed, however, more and more public tennis courts were created. Unpopular schools were thus forced to close down.
"We continued to be popular as we continuously stressed customer satisfaction and the coaches were friendly and kind," Onishi said.
But then in 2002, over half a dozen top coaches quit abruptly.
"This incident made me really start to rethink the business. I needed to make the company grow together with my staff. In our business, people are our products," Onishi said. "Whether we can satisfy each customer ultimately depends on the true cheerfulness, the smiles and the liveliness of our coaches and staff."
Stressing such a policy from then on, "we are finally reaching the stage of acquiring a high level of customer and employee satisfaction," Onishi said.
"I place priority on making my staff happy. That feeling is conveyed to the top managers. The employees appreciate such thoughts and work hard, and a good emotional cycle is created. That is why hardly anybody quits," he said.
Another point Onishi stresses is the continual introduction of some framework that improves the interpersonal skills and social awareness of each staff member.
"For example, I provide a special bonus of ¥10,000 when employees do a good thing for their parents. I make them write a composition on what they have done," he said. "I've also created a stamp card that allows employees to receive a travel coupon when they collect 100 stamps for doing something good for society, such as cleaning the park. Such activities really help to purify each person's feelings."
The company also retains a corporate spirit known as Noah-ism, a credo that calls for respecting the customers and the workplace, teamwork and maintaining the spirit to take on tasks. Furthermore, there is a policy to help the environment and each school cleans a specific area nearby for 15 minutes every day. Monthly checks are conducted and the best scoring school is awarded.
"We respect the human relationship of everybody, including the part-timers, so they also work hard and clean up. All these activities contribute to creating a unified feeling, making everybody happy when they obtain a full score," Onishi said.
Today, Noah Indoor Stage directly operates 18 schools and has three affiliates.
As the company grows bigger, Onishi admits that there is a limit to what a president can do.
"Noah is finally becoming an organization, as everybody voluntarily does what has to be done. The philosophy and thinking of the company has been properly conveyed to the executives. The executives are always talking about their staff. At the basis is our shared consensus of making each and every employee happy. If that thinking is disseminated thoroughly in the organization, the employees start having loyalty to the company. When they realize that they are loved by those around them, work becomes enjoyment. Because the workplace is fun, they can show their happy faces to the customers. Under such conditions, there is a synergistic effect of raising each employee's mind-set further and further," Onishi said.
"Ultimately, I want to make the company 'the second family' for everybody," he said. "This means that employees can speak up and convey their thoughts, and they know everything about each other.
"I go around to all the schools throughout the year to have a party with each school. I receive emails and voice mails directly from my staff. The middle managers have also matured and improved greatly. We are also hiring outstanding new staff. We train them well and they are providing good stimuli to all those around them," he said.
"The corporate terrain that we have nurtured over the years cannot be taught to others overnight. It took us three years to create a unified feeling that others cannot mimic easily. Finally, our unique character is starting to drive our business results forward. It's a true enjoyment to see each person change for the better. Putting a problematic worker under a good manager makes the worker grow. The manager may suffer, but through the process of suffering, that manager matures, too," Onishi said. "As Noah's next step, I hope to find more colleagues in the industry through personnel development activities."
This series has been prepared in collaboration with Enjin Co., which produces and operates a video website, kenja.tv, specializing in profiles of up-and-coming Japanese entrepreneurs.
---