Learn what it takes to have a successful future from these company leaders in our new series.
Pipe manufacturer 'turns specialists into generalists'
Neuron Japan Co. President Shinichi Iwamoto is strict with his employees in every aspect, from punctuality to quality control, hence they all have high working standards and are loyal to the company.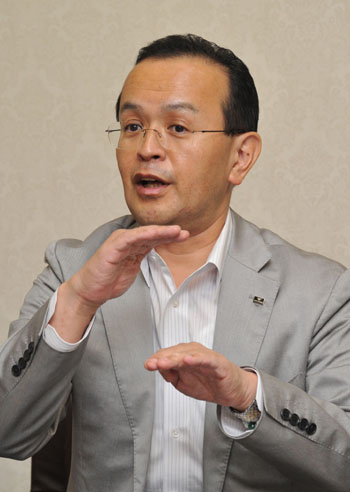 "If I count the people who have quit my company and check how long they have worked for my company, quitting in one day is the most frequent pattern," said Iwamoto, 51, who leads Neuron, which produces flexible pipes and other equipment. "Their reason is always that the workers' level is too high, and they know it by seeing them in just one day."
"Nobody mucks about. Nobody puts on gloves at the bell (for starting work) because everybody already has them on by then," he said in his office in Tokyo in June. Neuron's workers are paid more on average than others in the industry.
Although Iwamoto declined to disclose specific figures, he said his company booked record profit and sales in the year ended May, partly due to brisk demand from power companies that decided to bolster their equipment against natural disasters after the earthquake and tsunami of March 11, 2011.
The Seika, Kyoto Prefecture-based company, founded in 1973, benefitted from last year's crisis when suppliers to Tokyo Electric Power Co. needed high-pressure water hoses to cool the melting reactors at the crippled Fukushima No. 1 power plant, he said.
Neuron's pipes, which are used mainly for carrying hot liquids, are designed to be flexible so they can expand when heated or give in other ways when subjected to earthquakes or other irregularities.
Neuron's pipes are all made of such metals as titanium and hastelloy. An accordionlike layering of the metal pieces gives the pipes their flexibility.
Neuron commands 10 to 15 percent of the market in flexible pipes, making it the third-largest maker in Japan, Iwamoto said. The two larger companies probably have about 20 and 17 percent of the market, he said.
Besides high demand from utilities, the secret to Neuron's success is the quality of its employees, Iwamoto emphasized.
"We turn specialists into generalists. Everybody can do just about everything. People who are not busy go to work in busy areas" of our factory, he said. Many employees hold many licenses, such as for welding or for inspecting metal strength, he added.
He attributed his employees' skills to the training of elder engineers who worked for his father, the previous president.
Iwamoto graduated from Kwansei Gakuin University, majoring in economics, and began his career at a trading company. In 1989, he began working for Neuron, which was then called Nihon Shinshukukan K.K., where he was engaged in design, manufacturing and sales.
Nearly 80 percent of the factory workers are in their 20s and 30s, he said.
Machinery work accounts for only a quarter of the company's production procedures. Handwork, such as welding and assembling, account for the rest, he said.
Neuron, whose main customers are utilities and companies in the manufacturing sector, only makes products when it has received an order. Thus, it does not have any inventory, although it keeps a limited store of components, he said.
Another unique thing about the company is what he calls its "one door one floor" policy.
Under the policy, the company has a factory and an office on one floor and they are separated by just one door. Also, walls are low so that a person can stand up and see the entire company, he said.
"Communication is easy this way," he said. "We have been expanding our business. But because we stick to the policy, we couldn't just add adjacent land to build another factory building. Therefore, we had to move many times to find a piece of land satisfying our needs," he said.
Also, the company has applied for patents on production procedures, which Iwamoto said shorten production time. Neuron's quick made-to-order response time is one of its greatest strengths, he said.
While Neuron's customers are all Japanese companies, Iwamoto wants to expand beyond Japan. He is looking to expand to Southeast Asia, where he sees a potential market, he said.
He said he is thinking of making inexpensive products for customers in the region and may build a factory there if it can expect enough sales to justify the cost.
Iwamoto also thinks sticking to one type of product is risky and is thus trying to expand to other products than pipes.
"I always ask my employees, 'What if someone invents metal that does not expand with heat?' We should always consider the nature of the industry we are in and prepare for the worst," he said.
This series has been prepared in collaboration with Enjin Co., which produces and operates a video website, kenja.tv, specializing in profiles of up-and-coming Japanese entrepreneurs.
---