Learn what it takes to have a successful future from these company leaders in our new series.
Construction firm builds business in Philippines
Until about two years ago, Tadao Tsukamoto never really thought of running a business in the Philippines, or overseas, at all.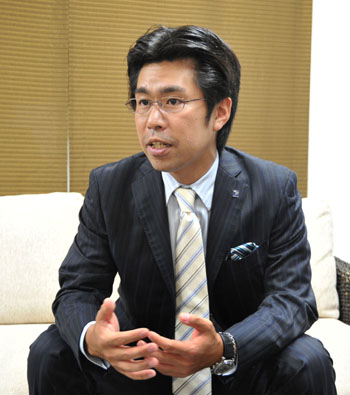 But after taking on Filipino trainees at his firm, Tokai Kogyo Inc. and its group firm in Kagawa Prefecture, the plan began to form in his mind.
He discovered that many of the trainees would have a hard time finding work back in the Philippines.
"It's unfortunate that they can't use the skills that they've learned here. . . . I thought maybe I can start a company and create some jobs," said Tsukamoto, a 35-year-old Kagawa native whose companies build temporary offices and houses.
"When I went to the Philippines and actually saw what it was like there, I thought our technologies to manufacture prefab houses can match the local needs for low-cost housing," he said during an interview on May 23 in Tokyo.
He said his company plans to target low-income and middle-class families, providing homes that cost on average about 1 million pesos, or about ¥1.87 million, while taking advantage of Japanese expertise and quick delivery.
According to Tsukamoto, there are basically two types of houses in the Philippines. Low-income families tend to live in tenement houses 30 to 40 sq. meters in size, while middle-class families generally live in detached houses of about 50 to 70 sq. meters.
Though his company's houses will be a little pricier than those made by local rivals, Tsukamoto stresses he has the edge in terms of quality and speed of delivery.
"Speed is our strength," Tsukamoto said. "It takes about eight months to build a house on average in the Philippines, and our trainees have told me that people still have to pay the rent during that period," an added cost for home purchasers.
"We can provide a house in half a month to a month," Tsukamoto said.
Moreover, local builders can't compete in terms of quality, Tsukamoto said.
His firm has already registered in Manila and hopes to start work in September.
"I am very excited (to run a business in the Philippines)," he said, adding he hopes that his company will help enrich the lives of local young people.
Amid Japan's sluggish economy and declining population, small to midsize firms are often advised to expand overseas.
"Sure, I definitely see that importance, but in our case, that's more of a secondary reason. If I hadn't met Filipino trainees, I wouldn't have thought of running a business overseas," he said.
Tokai Kogyo and its group firm, which took on their first trainees just three years ago, have so far had 19. Tsukamoto had wanted to launch his Philippine venture by this month to coincide with the end of the terms of his first two trainees.
He said one trainee already plans to work for his firm there.
But the start of the new firm was delayed a few months by the March 11 disasters, he said.
Tsukamoto added that if his business in the Philippines succeeds, he is thinking of expanding to other Asian countries, in particular India, a major provider of iron, which is vital for his business.
Tsukamoto has also been broadening his business in the domestic market, including renovating apartments and houses and building and selling detached houses for the past three years.
Over the past 10 years, the company has seen a downtrend in its main business, building temporary offices and houses, as demand from the private sector has declined during the sluggish economy.
He said public works projects predominate nowadays, helped by a surge in demand for temporary housing in the Tohoku region.
Tokai Kogyo has built some 1,000 temporary houses in Fukushima.
He said the main source of revenue still comes from the construction of temporary offices and houses, while new businesses have been gradually growing.
He pointed out that if the company simply manufactures temporary offices and houses, it is hard to interact with end users.
"We'd like to see the faces of the end users and share in their pleasure," which will motivate employees and is another reason why he started his new renovation business and selling detached houses.
In fiscal 2011, Tokai Kogyo had about ¥1.1 billion in sales and posted a net profit of ¥70 million, Tsukamoto said.
Tokai Kogyo was established by Tsukamoto's father in 1971, and Tsukamoto became the head of the company about 10 years ago. Tokai Kogyo and its group firms have about 100 employees.
This series has been prepared in collaboration with Enjin Co., which produces and operates a video website, kenja.tv, specializing in profiles of up-and-coming Japanese entrepreneurs.
---