Learn what it takes to have a successful future from these company leaders in our new series.
City Computer finds success going paperless
Staff writer
When City Computer Co. President Sumiyuki Kawahara thought of setting up an office outside Japan for data entry work, he ruled out China because a number of rivals were already there.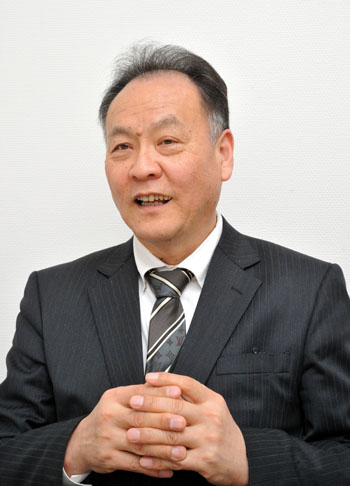 "There is no point entering a market where many (competitors) already are," he said at his office in Tokyo.
His firm's main job is to convert paper data into electronic data.
Examples of their work include prescriptions, customer lists, contracts and books. He had to look for a place to establish a data entry center outside Japan where he could hire people at low cost.
But Kawahara wanted to set up a foreign office not only for data entry, but also for sales, so that he could expand the company's clientele. This meant China was out as an option because many similar Japanese firms are already there, staking out the same claims, he said.
With China out, he turned to the Philippines and Bangladesh, setting up offices in both countries.
The Philippines is now the country with the largest number of employees, 300, of whom only two are Japanese and 60 to 70 percent are full-time employees, he said. In Bangladesh, the firm employs 80, while in Japan it employs 250, of whom about 40 are full time.
Kawahara says the two countries have been amicable toward Japanese.
He reserves special praise for the diligence of Filipino women, saying, "The Philippines is a country where women work hard. Women tend to work longer than men because women are more cut out for this type of work."
Employees at the Philippine data entry center take turns working different shifts so that the center has workers 24 hours a day, enabling the company to quickly finish its work, he said.
Alongside data entry, the company also says it provides support in entering the Philippine market, scanning paper documents into electronic files, temp staff services and other computer system support.
Another reason Kawahara says he chose the Philippines is because of the nation's English proficiency, which allows his company to translate Japanese paper data and create English electronic data, as well as Japanese-to-Japanese data entry work.
Kawahara chose Bangladesh because it is next to booming India, but also because wages in Bangladesh are lower than its neighbor, he said.
City Computer is also planning to set up a sales office in Los Angeles this year, he said.
Currently, the company only has customers in Japan, but will strengthen sales in the United States, the Philippines and other countries, Kawahara said.
A Filipino sales team is in charge of sales in the U.S., he added.
One potential sector that his company may target in the U.S. would be to dictate voice-recorded prescriptions because many doctors keep their records vocally, he said.
Kawahara thinks the potential demand for data digitization is big because many companies will realize sooner or later that space for paper storage is too costly.
"If you consider paper storage space as costs for part of office rent, it will be a lot of money," he said.
Kawahara's customers come from many industries, including the manufacturing, medical and banking sectors. But medium-to-small size companies are more likely to be potential customers than large firms because the former tend not to hire their own employees for data entry, he said.
Real estate agencies represent a large chunk of Kawahara's potential clientele since many of them still use fax machines to share apartment information among themselves, he said.
Private clinics that are too small to be included in a network of large hospitals are also good examples of potential clients, he added.
Kawahara, who was born in 1953 and grew up in Wakayama Prefecture, began working for a data entry company in the city of Wakayama right after graduating university in 1975.
He quit that company without lining up another job in 1988. But when his former customers asked him about his future plans, he answered that he would start his own company.
When one of the customers asked him when he would start, he looked at a calendar and randomly picked a date without actually preparing to set up a company, he said.
"I didn't have money or people, but I told him I planned to start my company. I made myself really busy," Kawahara said. "In the end, it was good that I pushed myself."
He established the company in 1989.
His company acquired International Organization for Standardization (ISO) on Information Security Management Systems in October last year.
Besides the Philippines and Bangladesh, City Computer has offices in Tokyo and Osaka. Its headquarters are in the city of Wakayama.
This series has been prepared in collaboration with Enjin Co., which produces and operates a video website, kenja.tv, specializing in profiles of up-and-coming Japanese entrepreneurs.
---