Learn what it takes to have a successful future from these company leaders in our new series.
Polaris puts money to use in private equity funds
Yuji Kimura does not want to end up being just another fund manager — he wants to make pioneer business arrangements between Japan and the rest of Asia.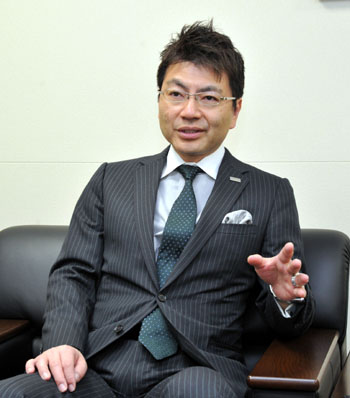 Since Kimura, 50, founded Polaris Capital Group Co., a company managing private equity funds, in September 2004, his company has invested money only in Japanese companies and collected funds solely from Japanese investors.
Private equity funds invest in companies whose shares are not listed on any stock exchange. Fund managers make their profits after a few years by selling the shares to third-party companies or investors, or by taking the company public and selling the shares on stock markets.
Polaris has so far set up two funds, and for the third one, it is aiming to solicit money from investors in other parts of Asia.
As a start, the company will open a Singapore office later this year, which will serve as the headquarters to expand into China, other Southeast Asian countries and India, Kimura, the president of Polaris Capital, said.
"Asian investors are really attracted to Japanese companies," Kimura said.
Polaris wants to not only source funds from Asian investors but also do consulting work for Japanese companies doing business in Asia.
Before starting Polaris, Kimura did business with other Asian companies while working for the Industrial Bank of Japan.
"This is quite rare for fund managing companies to do," he said, adding he also wants to help Asian investors lure Japanese companies, for example, restaurant chains, to their countries.
Polaris will not take any payment for giving business advice or making investment arrangements, he said.
The only profit the company will get is capital and income gains from investments in shares, he added.
Companies Polaris invests in are typically those showing solid profits or firms with aged owners whose children do not want to take over the businesses their parents have created.
"There will be more and more people like that. Especially after the (March 11) earthquake, many company owners want to cash in their shares," Kimura said.
Also, he said he finds investors living in western Japan tend to prefer private equity funds more than their counterparts in the east.
"The private equity fund is an alternative investment method, (shares listed on stock exchanges is a conventional one) and I guess investors in west Japan are more accustomed to the alternative method," he said.
Polaris established its first fund in November 2004.
It raised ¥29.6 billion for the fund which then invested in seven companies, including those making wrapping paper, operating pharmacies, making and selling baby clothes and making and recycling paper products.
The company set up the second fund in November 2007, with a total of ¥31.9 billion invested among six companies. For the third fund, Kimura aims to raise ¥40 billion.
Polaris holds shares for roughly five or six years, he said.
Among past successes, Polaris sold shares in Q'sai Co., maker of the "aojiru" green-leaf health drink, to Coca Cola West Co. and also sold shares in Ekitan, operator of a train fare website, to investors when it went public on the Tokyo Stock Exchange's Mothers section.
The company does not ask investors to pay all the money up front, but asks for a certain amount whenever it finds a firm it wants to invest in, Kimura said.
Kimura, who was born in Osaka, graduated from the University of Tokyo in 1985 and entered the Industrial Bank of Japan, which is now known as Mizuho Corporate Bank Ltd. He was engaged in investments in Asia, and later transferred to the bank's securities arm to deal with private equity funds.
Kimura believes he can help revitalize the Japanese economy by helping Japanese companies enter overseas markets.
Areas where he thinks Japan has strength are in the medical and high technology sectors. "Yakitori" (barbecued chicken) and sushi are also interesting because Asians like such Japanese food, he said.
This series has been prepared in collaboration with Enjin Co., which produces and operates a video website, kenja.tv, which specializes in the profiles of up-and-coming Japanese entrepreneurs.
---