Learn what it takes to have a successful future from these company leaders in our new series.
Invel health care products from Brazil touted
Special to The Japan Times
Yasuyuki Oi, founder and CEO of Invel Japan Corp., first encountered the Invel brand in Brazil about eight years ago when he was visiting to shut down the branch of a health food company he was working for.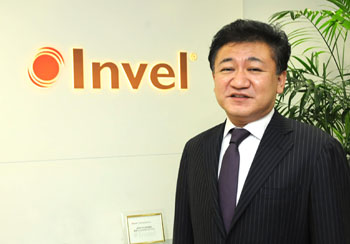 "When I visited the local Legal Affairs Bureau, I came across the Invel logo and felt something powerful," Oi said. "I was curious to find out what the company does, and learned that they develop health and beauty products. I tried their insoles, which are said to be effective in relieving fatigue or pain, and felt this product would be popular in Japan. So I negotiated for an exclusive distribution agreement in Asia. The owners are third-generation Japanese in Brazil, and were also interested in expanding their business in Japan, so things worked out."
Today, Invel Japan is the importer and vendor of far-infrared products developed in Brazil, such as insoles or underwear as well as body capsules for spas. The company also introduced to Japan cosmetic products based on the same far-infrared technology.
"Invel's Bioceramic infrared emitter products are shaped to utilize your own body temperature to create a hyperthermic effect, which has a positive effect in balancing your body and blood circulation condition," he said. "In Brazil, Invel products have been approved by the local Ministry of Health, and are also sold in clinics and hospitals."
Last year, the Huis Ten Bosch theme park in Nagasaki introduced medical tourism, which includes hyperthermic treatment said to improve immunity or diet therapy for weight loss as part of this wellness program. Invel's Biio Dome spa capsule, which emits far-infrared rays, was installed for this heat treatment.
This year, Oi aims to introduce Invel products in various ways.
"I would like to expand Invel in Japan so that everyone will recognize the Invel name within five years. One example would be to promote Invel together with the "king of soccer," Pele, who is an Invel supporter," Oi said.
In October 2011, Pele came to Japan to promote the 2014 FIFA World Cup in Brazil. The kickoff party held at a Tokyo hotel was supported by Brazil's Ministry of Sports and Embassy of Brazil in Tokyo, and sponsored by Invel. Oi accompanied Pele on his visit to disaster-hit Miyagi Prefecture, where he met with local schoolchildren and handed out soccer balls as gifts.
According to Oi, Pele, who is 71, said that he can travel all over the world because he is healthy and he can be healthy thanks to Invel, which is why he supports the brand.
"Hearing this, I felt that I should also be more passionate than ever in popularizing our products to the Japanese people," Oi said.
With upcoming Brazil-related sport events such as the 2014 FIFA World Cup and 2016 Rio de Janeiro Olympics, Oi intends to focus on athletes. His dream is "to have Japanese athletes use Biio Dome and other Invel products for faster recovery from fatigue and win the most number of gold medals ever for Japan in the Olympics."
Oi became interested in the area of health when he injured his leg while he was a member of a track and field team in school.
"If you are not healthy, you cannot achieve anything. Good health is above everything else. No matter how socially successful you become, you can't buy good health with money. I hope that Invel products will become popular in Japan to help improve people's quality of life in a healthier way," he said.
Since his childhood, Oi was fascinated by Brazil and was transferred to the Sao Paulo branch from the company he joined after graduating from university. He initially wanted to reside permanently, but the loss of his first child right after birth due to a fatal heart disease led him to return to Japan. Ten years passed before his second opportunity to move to Brazil came.
"Now that I look back, I feel a connection with the fact that Invel's products help balance blood circulation and that my child's disease was caused by massive obstruction of blood flow," he said.
Invel's corporate philosophy, written in Japanese calligraphy, hangs on Oi's office wall. It says, "Uchu ga mikata suru keiei" (Management where the universe takes your side). Oi mentioned the importance of "en," or the chance opportunity that is more than just a coincidence. He followed his instinct when he first came across the Invel logo in Brazil.
Oi is also a great believer in the power of imagination.
"Business plans do not have to be written on paper. If you can clearly imagine and visualize three years or five years from now, that vision will be realized," he said. "Even when you face a hardship, if you can believe that things will be better, you can overcome the difficulty and things will work out."
This series has been prepared in collaboration with Enjin Co., which produces and operates a video website, kenja.tv, specializing in profiles of up-and-coming Japanese entrepreneurs.
---