Learn what it takes to have a successful future from these company leaders in our new series.
Homebuilder sees the profit in low-cost housing
For many in Japan, buying a home is a once-in-a-lifetime decision, mainly because of the heavy financial burden.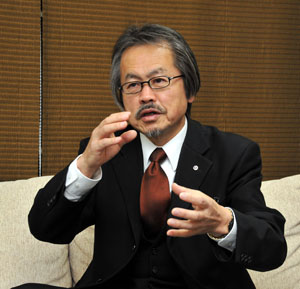 But Kazumi Arai, 58, who heads A-1, an architectural firm in his native Ibaraki Prefecture, believes buying a home should not be such a weighty experience and offers a low-cost approach.
"You know, people often say 'My dream home.' Owning . . . a house has literally become a dream — it's hard for average people to have one," Arai said.
"A house is supposed to protect people's lives. Why must it make them suffer?" he asked, referring to the many homebuyers who find themselves financially overextended.
Arai launched his firm in 1981 and began the low-cost housing business in 2004 to offer homes to buyers whose annual income is as low as around ¥2.5 million.
On average, the price of houses whose size is 82.5 to 89.1 sq. meters is around ¥12 million, including utility installation, Arai said. One of the lowest priced houses the company has offered was ¥3.2 million. It measured about 30 sq. meters.
Most of the houses are outside the Tokyo metropolitan area.
The trick to offering lower prices is cutting costs, Arai said, noting major homebuilders rack up excessive bills in construction and sales efforts. His ploy is to lessen promotional and labor costs.
Promotion can be costly, such as building and maintaining model homes for potential buyers, he said.
The top builders also tend to construct homes that are bigger than what buyers actually need, as a way to maximize profits, Arai said.
Because buying a house is such a big decision and a dream for many, customers tend to accept the expensive route.
But in many cases, the price of a home can come down if the design makes optimum use of space, said Arai. For example, hallways are not always necessary, and a living room can be a transit point for moving from one room to another.
"This helps cut costs and also helps families interact better."
Arai said his company promotes its products mainly on the Internet to save promotional costs and doesn't have display homes.
Instead, he asks people who have bought homes from A-1 to show their houses to potential customers. Owners earn ¥2,000 for a one-hour tour. If customers decide to buy a house, those owners who hosted a tour can receive ¥20,000.
Arai also said construction labor costs can be cut.
A standard home involves workers from more than 30 construction-related firms, he said.
But if workers can be trained to multitask, houses can be built with fewer human resources and costs. A-1 is currently testing a team of five to build a house.
A-1's low-cost approach has seen growth in recent years. Last year the firm sold 84 homes, whereas four or five years ago it only sold one a month.
Because the firm is small and can't accommodate all customer requests, especially from people not living near Ibaraki, Arai launched the A-1 project, aiming to create a nationwide network through partnerships with like-minded builders.
Arai hopes to create a network of 500 companies nationwide over three years. Once this is established, he hopes each partner will build at least 20 homes annually, or about 1 percent of new housing starts.
"It's like sardines getting together to become a large school and competing with whales," said Arai.
Currently, A-1 has partners in Miyagi, Fukushima, Saitama, Chiba, Nagano, Osaka and Tottori prefectures.
Arai meanwhile has been trying to provide low-cost homes in the devastated Tohoku region.
"From the beginning, we've always wanted to provide houses that help average people," he said.
Thousands of people lost their homes in the disasters and buying a new one is not an easy proposition.
Arai feels he can bring happiness with affordable homes, and said he has already found partners to provide houses in Tohoku. He sold one house in Miyagi for ¥6 million.
This series has been prepared in collaboration with Enjin Co., which produces and operates a video website, kenja.tv, specializing in profiles of up-and-coming Japanese entrepreneurs.
---