Learn what it takes to have a successful future from these company leaders in our new series.
Tofu maker is onto a winner with new tastes
Sagamiya Foods Co. President Junji Torigoe doesn't hesitate to boast about his achievements in expanding his tofu business into the industry's largest.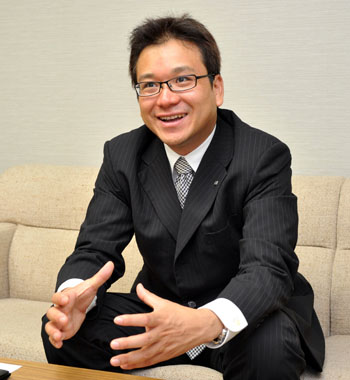 He led the company to become the top tofu manufacturer in 2008 while adding innovative new tastes to the traditional soybean product and built the world's largest factory along the way.
"Ingenuity, fighting spirit and guts" are what brought success to Sagamiya, explained the 37-year-old.
Based in Gunma Prefecture, Sagamiya sells tofu to supermarkets and shops in the Tohoku and Kanto regions. The firm, which posted ¥12 billion in sales last year, hopes to log ¥100 billion in sales by 2025.
"Having a dream is important. Saying (we aim for ¥100 billion) makes me feel I can actually do it," he said.
According to Torigoe, Japan's tofu market is worth between ¥200 billion and ¥800 billion but is really difficult to estimate because there are so many small tofu makers.
Sagamiya's sales have been steadily increasing but were less than ¥5 billion before 2007, when Torigoe became the president.
Born and raised in Kyoto Prefecture, Torigoe initially joined Sagamiya in 2002 when it was owned by his father-in-law. Before joining the tofu business, Torigoe, a Waseda University graduate, was a salesman for Megmilk Snow Brand Co. In his first year with Sagamiya, he also worked in sales before he became a board member the following year.
Tofu-making craftsmen are generally stubborn and do not want to change the taste or preparation methods, according to Torigoe. For example, they do not believe "goma" (sesame seed) tofu is real tofu because it does not contain soybeans, he said.
"They believe tofu has to be made of soybeans, 'nigari,' which is white powder produced from seawater after the sodium chloride has been removed and the water evaporated, and water. Anything containing other than that is not tofu," he said. Food companies, including Kibun Foods Inc., that make sesame seed tofu and many other varieties do not employ tofu craftsmen, he added.
But Torigoe challenged the industry and developed sesame seed tofu that also includes soybeans. The product has a rich taste and is now popular with consumers, he said.
Another unique Sagamiya product is a type of "atsuage" (deep-fried tofu) with a sticky texture that Sagamiya began selling three years ago. It quickly became the firm's top seller.
Sticky atsuage was a brand new concept for the tofu industry. Tapioca starch is added to make the texture, Torigoe said.
In addition to the product's originality, the sales surge is partly due to the support from supermarket chain York-Benimaru, which has branches in Yamagata, Miyagi, Fukushima, Tochigi and Ibaraki prefectures, Torigoe said.
A senior buyer of York-Benimaru Co. visited Sagamiya and tried the sticky atsuage brand Yaite Oishii Kinu-Atsuage 2 Mai and found it delicious. The firm then began buying the product and added it to the supermarket's new "oden" stew ingredient lineup.
Thanks to this, Sagamiya now sells 180,000 packages of the deep-fried tofu a day, Torigoe said. Ito-Yokado, Aeon and other supermarkets and shops also sell the product.
Sagamiya also sells Creamy Tofu, which the firm makes with powdered soybeans.
Torigoe keeps coming up with new ideas. When he was talking to someone about donating tofu to tsunami survivors in the Tohoku region, he realized he needs to make it easier for them to eat tofu when they may not have soy sauce or chopsticks available.
Currently, Torigoe said the firm is developing a package of tofu containing soy sauce and a toothpick so it is ready to eat. Part of the challenge is to package the tofu without water, he said. Normally, tofu is kept in water in plastic packages because water keeps the tofu fresh.
Another new product in development is tofu in a plastic tube, targeting children. Torigoe hinted some sweetness may be added to the product so kids will eat it as a snack.
"Lots of mothers want their kids to eat tofu, but there is no tofu specifically for kids," he said. "If children eat tofu and like it, they will keep eating when they grow up."
Torigoe analyzed the success of his business as being flexible in shifting management methods.
"No other tofu makers have ever posted ¥10 billion in sales. That is probably because other companies have inflexible management based on size," he said.
Large food makers such as Kikkoman Corp. and Mitsukan Group Corp. do not make tofu because it is cheap and thus does not make enough profit, according to Torigoe.
However, he pushed plans to build the company's third, and the world's largest, tofu factory, to expand the business.
"I know for sure (the third plant) is Japan's largest. One time, a factory manager of House Foods Corp.'s tofu factory in the United States came to see the plant last year and said 'This is bigger than our plant.' Their plant was said to be the world's largest, and so our plant is the world's largest now," he said.
This series has been prepared in collaboration with Enjin Co., which produces and operates a video website, kenja.tv, specializing in profiles of up-and-coming Japanese entrepreneurs.
---