Learn what it takes to have a successful future from these company leaders in our new series.
Developer aims high with 'democracy of technology'
Yoshimi Akimoto defies a prevailing characterization of realtors and landlords as shrewd business-minded people who only care about collection of monthly rents and key money from occupants.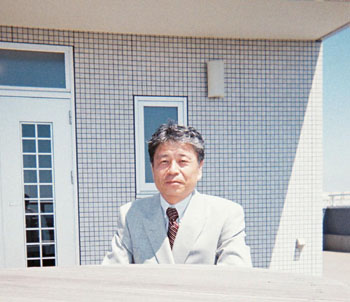 As president of a real estate management firm in his native city of Fujisawa, Kanagawa Prefecture, Akimoto naturally cares about the balance sheet of his one-man operation, named Universal Soft Co.
However, he seemingly worries more about what will become of his city in the future, and Japan at large.
"At the time of the megaquake on March 11, a 50-cm-high tsunami reached the shore of Fujisawa. If a major quake of an interplate type, like the one in March, were to occur off this coastal city, the entire residential area along the shore in the city would be swept away by a killer tsunami, leaving behind huge fatalities and damage to properties," the 54-year-old Akimoto warned.
With a population of about 400,000, Fujisawa is in the center of Kanagawa, facing Sagami Bay. With the graceful figure of Mount Fuji in the far distance, the Shonan Beach area surrounding Enoshima Island is noted for its beautiful scenery, rivaling those of Miami Beach and Naples. The area has long been a popular theme in numerous ukiyo-e woodblock prints of the Edo Period.
According to Akimoto, the wide-expanding Shonan coastal area, including Fujisawa, has developed into one of Japan's most famed high-class residential districts, because of the temperate climate and scenic beauty, as well as convenient access to central Tokyo.
"However, this area is notorious for the frequent assaults by earthquakes and tsunami. In 1293, for instance, a megaquake is said to have jolted Kamakura, then capital of the Kamakura shogunate, destroying almost all major structures and leaving a great number of people dead," he said. The ancient capital is adjacent to Fujisawa.
Alarmed, Akimoto has written ambitious proposals in the articles for his blog since the March 11 Great East Japan Earthquake, hoping to spare Fujisawa the tsunami devastation he fears would accompany an imminent megaquake.
His plan is simple: Immediately ban construction of low-rise and wooden houses in the coastal areas and instead, give building permits only to the five- to 10-story condominium complexes with reinforced concrete.
"These structures should be at least 15 meters high, the height that could withstand the 15-meter-high tsunami that hit many shores in the Tohoku region on March 11. The structures will also have a roof that would serve as an evacuation space for the residents and their neighbors as well, in case of emergency," he explained.
His proposals might fall on deaf local and central government ears, but he seems dauntless and set to follow his own path to get closer to his set goal in his own business turf.
His firm manages 10 rental condominium and apartment blocks in the city. All told there are 170 housing units, mostly for family use, which bring in some ¥20 million in rent a month.
All these structures are made barrier-free under the concept of universal design, which refers to the idea of designing all products and structures that are accessible to everyone, regardless of age, ability or status in life.
Akimoto's persistence to this concept of universal design culminated in the completion in June last year of a 13-story high-class condo complex just a five-minute walk from Fujisawa Station.
He described it as "Japan's most comfortable condo to live in." Each of its 40 housing units features barrier-free interior and exterior designs, a 2.67-meter-high ceiling, and auto-clearing air conditioners, floor heating, garbage disposal under the kitchen sink, an energy-saving and environment-friendly heat pump water heater, and an electronic key system at the entrance of the building and at each unit's door.
The monthly rents for the condominium range from ¥85,000 to ¥300,000, depending on unit size (from 28.56 to 94.50 sq. meters), which are a little higher than those of its nearby apartments, admits Akimoto.
"Nonetheless, all 40 units have been occupied," he said.
Akimoto believes his latest structure has been successful because it follows a social norm for urban dwellers who move upward as their lifestyle and life status improve.
"Today, the housing situation in Tokyo is in a state of oversupply, or overbuilding. And the government is responsible for it," insists Akimoto, who has been in the real estate business over the past 30 years.
In his observation, the government adopted a postwar national policy of building large-scale public housing complexes in large numbers for urban dwellers. But their offspring did not want to live in such complexes and moved out to their own small rental apartments and upon marriage, purchased ready-built houses or condominiums, which along the way acquired the term mansions. As the parents age and the older housing complexes become dilapidated, they appear as urban slums.
"This is the miserable end of Japan's state-planned economy and the failure of the state's postwar housing policy," he reckons. "Any attempt to date by the state to guide any industry in a certain direction has blundered in many cases."
It remains to be seen whether the words of one realtor/landlord in Fujisawa will impact the central and local governments, or Japanese society at large. But Akimoto has a range of things in mind.
"If the concept of universal design is meant to ensure that all buildings and public services be made easily accessible to the socially vulnerable, including the disabled, everybody should evenly benefit from the advancement of science and technology, and I have rephrased the concept the 'democracy of technology,' " Akimoto stressed.
In this context, Akimoto said he believes what ultimately matters for the general public in any country should be a "quality democracy."
"The now-defunct Soviet Union claimed to uphold democratic principles, so does North Korea. Today, the quality of life has become an established benchmark for gauging the people's happiness. Such being the case, we should attach paramount importance to substance rather than form of democracy, that is, the quality of democracy," he emphasized.
The eventual question is how he sees the quality of democracy in Japan.
"Japan is a democratic country for form's sake, but the quality of its democracy is degrading in that the general public does not act proactively to get government to respond to their voices and in that government does not lend its ear to their voices," he said.
This series has been prepared in collaboration with Enjin Co., which produces and operates a video website, kenja.tv, specializing in profiles of up-and-coming Japanese entrepreneurs.
---