Learn what it takes to have a successful future from these company leaders in our new series.
Firm's crash simulation software scores
A company with unique technology always has an advantage amid cutthroat competition in the fast-growing tech business.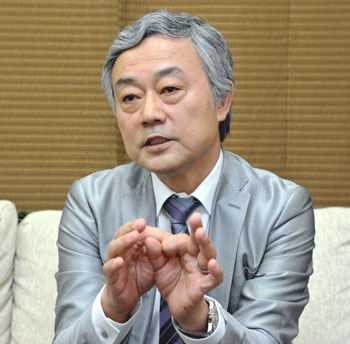 In the case of Osaka-based software maker Integral Technology Co., its technology to drastically reduce the time-consuming process of creating car crash simulation models has helped the startup firm boost its sales.
With the company's software, it takes just half a day for automakers to create the computer simulations used to test the safety of cars in collisions, said President Hirokazu Nishiura.
Without the software, it takes three to four weeks for three to five experts at an automaker to finish inputting the data used to describe the shape of a car body necessary to create simulation models, he said.
"Our software can process the data (to create simulation, or meshed, models) automatically without manual operations," the 58-year-old president told The Japan Times in a recent interview.
The focus of the technique is to make meshed models accurate enough for a computer to recognize the physical shape of a car as well as tailor the models for each automaker's simulation.
Modern car crash simulations require meshed models, which entail small squares on a computer screen to present mathematical data on a car's shape. The company's software helps create a meshed model automatically without manual data input.
Integral Technology has patents for the computer-aided-engineering technology in Japan, the United States and South Korea.
About 70 percent of the company's sales come from automakers, including Honda Motor Co. and Nissan Motor Co., Nishiura said.
Backed by the technology, Integral Technology's sales have grown about 20 percent each year since Nishiura established the firm in 2007. For the business year that ended in March, the company logged ¥80 million in sales and ¥400,000 in operating profit.
Nishiura said the operating profit posted in the previous business year was relatively small because the company hired new employees, but for the year to next March, he expects at least ¥100 million in sales and ¥20 million in operating profit. In a brighter scenario, his company may be able to log ¥120 million in sales and ¥40 million in operating profit in the same year, he said.
The software startup also works with mobile phone makers using its NAVIA software, which allows cell phone makers to create a computer simulation model and test the strength and quality of their products in half a day.
In the past, it took three weeks for die and mold makers to create a metallic cell phone mold to examine the quality of a product.
Nishiura started his company almost by accident.
He was in charge of computer simulation software at plastics maker Sekisui Chemical Co. when the firm in 2007 opted to withdraw from the business and focus on its mainstream chemical works. Sekisui's decision drew strong objections from a major client — electronics maker Sharp Corp. — as the demand for simulation software was strong.
So Sekisui asked Nishiura to carry on this business independently. The company sold the software business to him in April 2007 and he started his company the same month. But the real breakthrough came later when he created the car crash simulation software. The company also benefited by hiring two young engineers in 2008 — a fresh Kyoto University graduate and a Vietnamese graduate from Ho Chi Minh.
Now Integral Technology wants to expand its business overseas. As a first step, the company plans to establish a software production office in Ho Chi Minh City in October next year.
This series has been prepared in collaboration with Enjin Co., which produces and operates a video website, kenja.tv, specializing in profiles of up-and-coming Japanese entrepreneurs.
---