Learn what it takes to have a successful future from these company leaders in our new series.
Clinic head combines Western, Chinese medicine
Seeking not only to relieve but also to prevent the recurrence of pain so patients can lead a better life, Ko Shan-Chi, who runs the Painless Ginza Clinic, developed Enrac Collateral Meridian Therapy (Enrac CMT), a treatment method that combines Western and traditional Chinese medicine.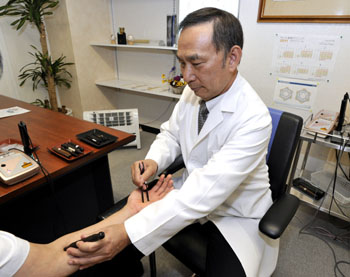 Although the treatment is not covered by the national health insurance system and it isn't easy to run a private clinic in a competitive medical market such as Tokyo, the treatment has attracted a number of patients who suffer from unexplained pains or intractable ailments and had already tried conventional treatments that didn't relieved their symptoms, such as backaches and postoperative pain.
Ko's treatment has also attracted medical professionals seeking alternative treatments to manage chronic pain.
Ko teaches the theory and techniques of Enrac CMT treatment at seminars organized by Enrac Co., which he also runs.
More than 500 doctors and nearly 800 licensed professionals, including acupuncturists, judo therapists and physical therapists, have attended Ko's seminars since 2002, according to the company.
Ko, 63, has come a long way to achieve his current success.
Born in Taiwan, Ko sought to become a doctor, following in the footsteps of his father. He failed the entrance exam for a medical college in Taiwan, but he didn't give up. Further efforts allowed him to gain admission to the medical department at Kagoshima University, which paved the way for him to become a doctor in Japan.
After graduating in 1981, he worked for several years as an anesthetist at Kyushu University Hospital and as a radiotherapist at the National Hospital Organization Kyushu Cancer Center. From 1988 to 2001, he led an internal medicine clinic in Fukuoka Prefecture.
He developed Enrac CMT during his time in Kyushu through "a series of desperate searches for cures for each of my patients," Ko said in a recent interview.
For example, Ko examined a patient who suffered from joint pain throughout the body due to rheumatism.
He administered general treatment for the ailment, but it did little to improve the patient's symptoms.
"I realized that modern Western-style drug therapy did not lead to a fundamental healing of rheumatism patients and I thought really hard how I could cure this patient," Ko said.
Faced with patients suffering from various types of pain, he went to Shanghai for half a year to study traditional Chinese acupuncture.
"I found that there was not much thought put into the theory of Chinese acupuncture," Ko said. "When I asked my teachers the reason for certain needle insertions in certain points, they often answered that they just followed tradition and did not question it."
Through trial and error examining body points and meridians, Ko gradually grasped a scientific theory of "pain points" and the effectiveness of "pressure points."
According to him, some symptoms, such as intractable pain, numbness of the arms and legs, and heaviness of the muscles, can be cured by understanding the principle of vital flow regulation.
Vital flow refers to all the elements that circulate in the human body, such as blood, lymph, nerve impulses, nutrients and ions, traveling within meridians that run vertically from the head to the extremities, in close proximity to the bones. If stagnation occurs in the vital flow within a certain meridian, pain or illness can result, Ko said. The principle of his treatment is to remove the obstruction and restore normal vital flow by stimulating pressure points, according to Ko.
"It is a different approach from Western medicine, which directly operates on the seat of diseases or paralyzes the pain sensation," he said.
Ko says his treatment method doesn't involve medications, injections, acupuncture or contact with the areas of pain. Instead, simple wooden sticks are applied to the pressure points.
Ko further developed his medical philosophy that attaches weight to the patients' mental status while he was treating a patient with terminal lung cancer. The patient suffered greatly from pain and could not move. According to Ko, the Enrac CMT treatment reduced the patient's pain a bit so that he could at least go to the bathroom.
He encouraged the patient to live for the good of others, which seemed to change the quality of life of the patient's final days.
Ko was inspired to moved to Tokyo in 2002 and open the Painless Ginza Clinic to help more patients.
At the clinic, Ko listens to each patient's complaints about various pains. These include backaches, numb shoulders, migraines, trigeminal neuralgia, complex regional pain syndromes (CRPS), postoperative pain, aftereffects of traffic injuries and some unidentified clinical syndromes. Then, Ko finds the pathophysiology of symptoms based on Western medicine. Before starting Enrac CMT treatment, Ko discusses with the patient the prospects of healing, including the cost of the therapy, which might be expensive.
Currently, Ko and another doctor at the clinic are involved in diagnosing patients, and three assistants, including physical therapists and a judo therapist, help in the treatment. The clinic treats around 20 patients per day and its revenue is about ¥70 million per year.
Ko's seminar tuition fees also bring in revenue, amounting to around ¥100 million in 2010.
He hopes to further spread his treatment beyond Tokyo, to Osaka and Fukuoka as well as overseas to Taiwan and Singapore, through his seminars.
"Medicine can treat patients, but the more important thing is that patients who recover from their suffering can contribute to society," Ko said.
This series has been prepared in collaboration with Enjin Co., which produces and operates a video website, kenja.tv, specializing in profiles of up-and-coming Japanese entrepreneurs.
---