Learn what it takes to have a successful future from these company leaders in our new series.
Optimized systems touted to boost profit flows
IT system services are intangible, so it can be hard to really confirm their benefit sometimes.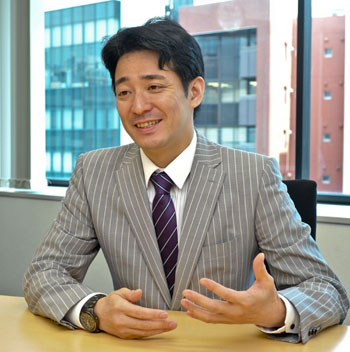 Thus, many Japanese firms tend to think that "IT systems are convenient if they are there, but it wouldn't be that bad if they weren't there," said Koichi Miyano, who heads Tokyo-based Digital Sphere Co., which produces system software for companies and public agencies.
"When customers request an estimate for a system and hear that it would cost, for instance, ¥10 million or ¥20 million, they'd think like 'if it costs that much, why don't we just hire people?' " Miyano, a 36-year-old native of Niigata Prefecture, said during an interview last month.
This is why Miyano's company puts particular importance on how customers' businesses can benefit through Digital Sphere's IT systems.
"The main characteristic of our business is to analyze and understand what customers' businesses are and how they make profits, so that we can provide systems optimized to help their profit flow run more smoothly," he said.
Digital Sphere, which was cofounded by Miyano and his engineer friend from college in 2005, has been growing quite steadily through that method, with about 22 employees now.
According to Miyano, who has also worked as an engineer and became president in 2008, the company was able to boost sales by four times in the first two years and then saw 30 to 40 percent annual increases until the fall of Lehman Brothers Holdings Inc. caused a global economic downturn.
Although the sales had dropped by about 30 percent due to the Lehman incident, the company has already made it back to where it was, and it saw about ¥170 million in sales in fiscal 2010.
Digital Sphere has produced systems, such as online application systems for public agencies, data warehouse and distribution management for retailing firms, and business communications enhancement systems within a company.
For system software providers, it is crucial to realize customers' requests to make operations more efficient, Miyano said.
But he said it is also vital for the providers to propose how those systems actually and specifically contribute to customers' businesses, which is the strength of his company.
For instance, he said there are cases where it has made it easier for retailing firms to see what products have sold well and make quick decisions for placing orders by providing a system to manage product distribution.
Also, before setting up IT systems to manage operation data, companies' management teams might have been able to check the data only once a week.
But the systems can give real-time data, so management can make important decisions more swiftly.
In addition, "I think the speed is vital for business, so we really focus on how quickly we can provide our services before the due date," said Miyano.
Although Japan's economy has been struggling and its prospects are not necessarily bright with the shrinking population, Miyano said the domestic IT system market still has potential to grow and can also play a role to energize the economy.
"In this economic downturn, the IT industry needs to assist Japanese companies' growth" by providing systems that facilitate companies' businesses more efficiently as well as help expand them, Miyano said.
"So I think there is still a lot of potential in the domestic market," he said.
Plus, there are fields that have been slow to incorporate IT systems, such as the medical field, in which many parts of management and distribution of medicine are directly handled by human workers.
Miyano also said he hopes to provide systems for various customers, such as small and midsize firms as well as individuals.
Meanwhile, Digital Sphere is also eyeing going overseas.
Miyano said he is thinking about doing business in Laos, where IT systems are not yet widely in use.
He noted that because computers and the Internet are not widespread, there are places like shops and hotels where they set up computers and let people use them there, similar to Internet cafes.
Digital Sphere is thinking about helping such businesses with its system technology, like offering maintenance service, said Miyano.
When it comes to going overseas for system software in developing countries, major Japanese firms tend to avoid it because it would be hard to balance the cost and profit.
"But there are markets that small companies like us can do business, so we think chances are there," Miyano said.
This series has been prepared in collaboration with Enjin Co., which produces and operates a video website, kenja.tv, specializing in profiles of up-and-coming Japanese entrepreneurs.
---