Learn what it takes to have a successful future from these company leaders in our new series.
Startup raising status of software engineers
Shoji Koga believes in the power of information technology and hopes to elevate software engineers and their industry.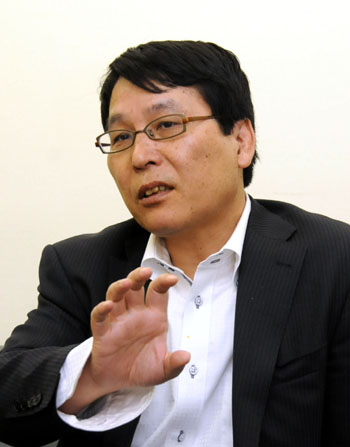 "Compared with Western countries, China and India, software engineers' social position has not been respected well in Japan, and their work environment and salary have not been very good either," said Koga, president of Tokyo-based Koga Software Co., which creates system software for companies. "I wanted to change the situation at my previous company, but I couldn't, so I decided to found my own company."
Koga, a 55-year-old native of Nagasaki Prefecture, also wants to prove that small and midsize companies can make innovative products through IT and change existing Japanese industry structures by connecting different industries with IT to create new values.
Historically, system software makers have been subcontractors of major firms, which contributed to establishing a pyramid structure in the IT industry that placed software makers at the bottom, Koga said.
When the need for IT services rose around the mid-1980s, many software makers did not have enough engineers and started hiring en masse without really checking their suitability.
This resulted in the hiring of many mediocre engineers who churned out buggy products that forced engineers to put in long hours to fix them at low pay. This was an unhealthy cycle, said Koga, who worked as an engineer for about 20 years.
Hoping to improve the situation for software engineers, Koga founded his own company in 2000 and has been mainly creating system software for large companies and public organizations
The products include reservation systems for airlines, settlement systems for securities companies, production management systems for manufacturers, and online payment systems for Internet banking.
The firm increased sales from ¥54 million in fiscal 2000 to ¥727 million in fiscal 2010 and succeeded in turning a profit every year. It now has about 100 employees and aims to list itself on the Jasdaq stock exchange between 2015 and 2016.
In keeping with his original motivation, Koga is trying to create a good work environment for engineers at his company.
"I tell them that they don't need to do long overtime work," he said.
Hiring people with a strong interest in learning, training them and not depending on outsourcing are the keys to creating a good working environment, said Koga.
Being a system engineer is mentally challenging, so it is important they have intellectual curiosity. They also must be trained with the skills to keep up with the latest technology and provide quality products swiftly, he said.
Some companies depend on outsourcing when they lack the manpower, but this can hamper communications and negatively affect product quality, requiring engineers to eventually spend a lot of time trouble-shooting, said Koga.
Creating all its products in-house thus makes it easier for the company to oversee quality and achieve smoother teamwork. With this kind of efficiency, the industry's bad cycle of long, hard work hours can be broken, he said.
"After all, I think it is best to develop engineers' skills (to improve their working situation)," said Koga, who encourages his employees to acquire licensed IT skills.
Koga also welcomes the idea of a government-set standard for IT skills in the industry to promote higher quality and easy identification of standout engineers.
The IT skill standards set by the industry ministry entail a seven-level index for engineers to gauge their levels and have been used to encourage IT firms to motivate their engineers.
While running the system software business and expanding the company, Koga has also worked on research and development in cooperation with other industries and universities to make new, innovative products.
"Our industry is good at making a system based on customers' requests, so it is probably the best approach for us to listen to the requests of other industries and create systems to realize them," said Koga.
For instance, the company tapped its IT skills to create a recycling system for used cooking oil in Tottori Prefecture.
With the IT-incorporated system, people who recycle the oil receive integrated circuit cards that keep track of points they receive when recycling oil, adding further incentive to recycle.
Also, since the amount of recycled oil is computer-monitored, companies that collect the oil do not have to make visual inspections.
Koga Software is now participating in a project authorized by the communications ministry to facilitate remote medical care.
Japan's various industries do not really actively interact, even though they may boast innovations. "I am convinced that it is best to interact with different industries to produce new value," Koga said.
He added that since the IT industry has a pyramid structure, "I want to show what small and midsize companies can do," he said.
This series has been prepared in collaboration with Enjin Co., which produces and operates a video website, kenja.tv, specializing in profiles of up-and-coming Japanese entrepreneurs.
---