Learn what it takes to have a successful future from these company leaders in our new series.
Restaurateur gutting out China expansion plans
Staff writer
For Masahiro Nakata, the March 11 earthquake, tsunami and nuclear crisis came as a "bolt from the blue" and is casting dark clouds over his business in China.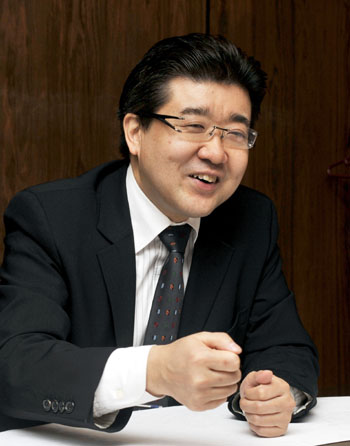 "Overnight, the Japanese food fad vanished among Chinese people as unfounded rumors spread over the radiation contamination of Japanese food products," said Nakata, president of Shanghai-based Xenlon International Co., which operates five deluxe Japanese restaurants in Shanghai and one in Dalian.
Nonetheless, the 47-year-old Nakata seems coolheaded.
"Sudden changes in circumstances are inherent in business," he said. "What is most important is to adapt to new circumstances and act flexibly according to them."
Despite the adverse circumstances, he is committed to doing business in China by providing Japanese cuisine and services through his Japanese restaurant chain to the Chinese market.
According to Nakata, his company is adhering to its earlier plan to open five new Japanese restaurants in China this year, three in Shanghai and two in Beijing, to raise the total in its chain in China to 11.
At present, it should be stressed that the introduction and development of the traceability of ingredients is an important prescription against the current severe environment in China toward Japanese food. This is especially true of marine products from Japan, which are being either banned or strictly regulated depending on the area. Nakata's company is now importing ingredients for its restaurants from other countries, including Spain, and procuring some from China's local sources.
"Almost all the necessary ingredients are available at lower prices," Nakata said, adding the restaurant business has had experience overcoming various food safety issues, including mad cow disease and avian influenza.
Nakata admitted it may take time before customer traffic returns to the previous level. However, he maintains an aggressive stance toward China, apparently due to his success in Japan running Chinese restaurants.
The Chinese restaurant business world was and still is very conservative. People in this world must adhere to the traditional recipes created by master chefs. It is also out of the question for professionals of Chinese cuisine to serve wine with their dishes, Nakata said.
"Very few Japanese drink wine in Chinese restaurants. Therefore, I faced strong opposition more than 10 years ago from seniors, including my father, when I proposed the launch of new Chinese cuisine to be served with wine. My father was operating a chain of top-class authentic Chinese restaurants and I was just an employee in his company," Nakata said.
Yet Nakata could not abandon his inspiration. He sought the cooperation of an experienced Chinese chef and a leading Japanese wine producer and finally managed to open, in spring 1998, what he called a "New York-style" Chinese restaurant with commanding views from the 19th floor of the Hotel Century Southern Tower near Shinjuku Station in Tokyo. Named China Grill Xenlon Tokyo, it turned out to be a success, especially with young Japanese women.
Despite the success of the Xenlon brand in Japan, Nakata's attention has been glued to the Chinese market for over 20 years ago.
"Today, everybody is impressed by Chinese economic development, while experiencing business difficulties in dealing with Chinese people," he said. "But I had noticed a sign of the advent of prosperity in China over 20 years ago. My instincts told me that the Chinese economy would develop and the Japanese one would shrink. So it was quite natural for me to be interested in China. I just followed my interests and inspiration."
Nakata added: "Japanese intellectuals show a tendency to consider consumption as vicious while standing at a respectful distance from wealth. I wonder if Japanese people and the mass media really understand capitalism that emphasizes, in short, profitability and marketability. Global business has no national boundaries and a global corporation has to comply with the tax system of each country as a rule or regulation and has to compete with many multinational conglomerates.
"In that sense, I think that deindustrialization in Japan is happening, and I'm sure that small and medium-size corporations will be 'naturally selected' and only global multinational conglomerates will survive in the future," he said.
"I'm afraid that whether Japanese corporations will be able to survive depends upon the survival capability of small and medium-size companies through the process of natural selection. We must train or nurture overseas Japanese merchants, instead of overseas Chinese merchants to live up to global market fluctuations and to pave the way for selling globally the 'Made in Japan' concepts."
Though the average income of Chinese people remains low, an amazing number of Chinese are joining the middle class. These new-rich Chinese strongly desire a sophisticated lifestyle and level of comfort, wanting higher-quality products and services that are not readily available in China today, according to Nakata.
"I am now tackling new challenges: the expansion of restaurants and other new lifestyle businesses in fast-growing China," he said.
In addition to the restaurant business, the Shanghai-based company is promoting the import and distribution of foreign wines and liquors, the fostering of professional sommeliers, and the operation of a health and beauty business.
"The new-rich Chinese people's interests in health and beauty are gaining strength. This year, we are planning to launch a health and beauty business not only for women but also for men, which will include dieting plans, hair-loss care, hair-growth care and facial treatments. In this business turf, Japanese expertise and quality service still excel," he said.
Putting his interests in China aside, Nakata is fully aware of the so-called country risk of doing business in China. Xenlon International is exploring the feasibility of expanding its business to the Philippines, Thailand and Vietnam. Especially, Nakata sees great potential in Vietnam, to which many Japanese businesses are transferring some of their manufacturing and operating bases from China.
However, the size of the Chinese market, with a population of around 1.3 billion, is incomparable with these Asian countries and Japan. More importantly, the Chinese economy is well-managed by the authorities, according to Nakata.
"Chinese people feel that their living is improving every day with certainty and that tomorrow will be better than today, whereas most Japanese are quite sure that tomorrow will be worse than today," he said. "The difference in people's mind-sets, between Japan and China, will mean much."
This series has been prepared in collaboration with Enjin Co., which produces and operates a video website, kenja.tv, specializing in profiles of up-and-coming entrepreneurs in Asia.
---